Apple has issued a temporary fix for the bug that saw a set of characters crash their Messages app, as it emerges they can also affect other iPhone functions.
A new support article has been posted to the technology giant's official site which encourages users to deploy digital assistant Siri to read unread messages and then reply to the malicious message, which will then make it possible to use the Messages app again.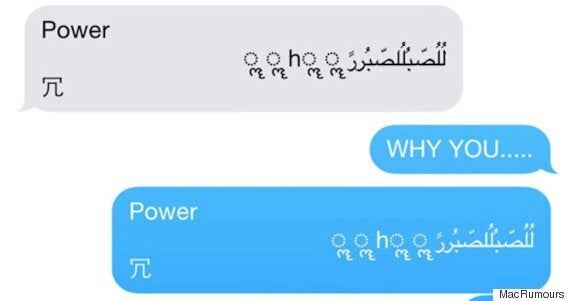 The iPhone maker said: "Apple is aware of an iMessage issue caused by a specific series of unicode characters and we will make a fix available in a software update. Until the update is available, you can use these steps to re-open the Messages app."
However, it has since been discovered that the same set of non-Latin characters can also affect both the Twitter and Snapchat apps when used on an iPhone. The Guardian reported that when the characters were used in a tweet mentioning another user or sent in a direct message, it would crash the receiving iPhone.
Perhaps more seriously, when sent using the text chat feature within photo-sharing app Snapchat, the conversation it is contained within is permanently affected; crashing the app each time a user attempts to revisit it. However, other conversations and features of Snapchat are unaffected.
The bug was first discovered by users of web forum Reddit, who found a flaw in the way notification banners on the iPhone deal with a string of non-Latin characters, including Arabic and Chinese.
So far the bug has been used as a prank between iPhone users looking to crash each other's devices, and security experts have suggested it is unlikely the bug could be used to carry out more malicious cyber attacks.
Mark James, security specialist at anti-virus firm ESET said: "I am sure we have all had our desktop machines reboot after a seemingly random event has triggered the dreaded reboot. These mobile computers we call phones today have the same core instructions - if all else fails then reboot.
"This does not necessarily mean it's a security flaw or indeed an exploitable bug but Apple will none the less try and rectify this as soon as they possibly can."