Qatar's former prime minister has accused the west of "ugly" racism against his country following claims that the state bribed Fifa officials in order to win the bid to host the 2022 World Cup.
Sheikh Hamad bin Jassim bin Jaber al-Thani, who ruled Qatar from 2007 to 2013, and served as foreign minister from 1992 to 2013, said those claiming corruption against his country were bitter about losing out in "a fair competition".
On Wednesday, a number of Fifa's senior officials, including vice-president Jeffrey Webb,were arrested in Switzerland as part of a separate US investigation into corruption claims.
Officials said the arrests will not affect the next two World Cups, scheduled to take place in Russia in 2018 and Qatar in 2022.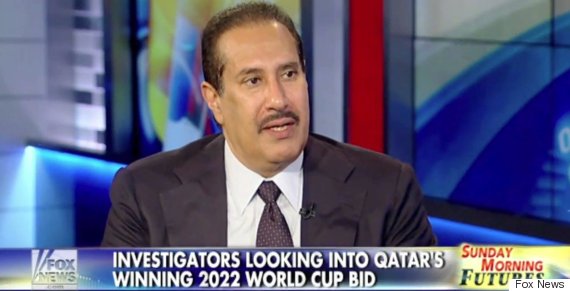 Sheikh Hamad bin Jassim bin Jaber al-Thani told Fox News that allegations were being directed at his country because of 'ugly' racism
Qatar's bid has received mounting criticism since the right to host the competition was awarded to the desert state in 2010, with rumours of secret payments and bribes circulating, which led to a senior politician calling for a full and transparent investigation into how the 2022 World Cup was awarded to Qatar.
Speaking to Fox News, Sheikh al-Thani said people in the region feel that investigators are focusing on Qatar "because (it is) an Arab, Islamic, small country".
His comments echo that of recently re-elected Fifa president Sepp Blatter, who in the aftermath of the arrest of some of his most senior team, claimed that he was a target of a "hate" campaign by European officials.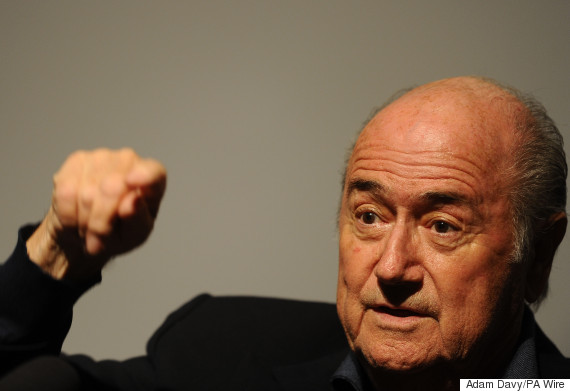 Sepp Blatter accused European officials of mounting 'hate' campaign against Fifa
Sheikh al-Thani said that the allegations could damage relations between his country and the West, adding: "I don't think this attack will help because my knowledge (is) that we dealt with this in a fair competition and there was no corruption in these things."
He continued: "I believe that (this) shows the ugly face of the other party when they did not win a fair competition."
The hosts of the 2022 World Cup have been the subject of increased scrutiny in recent weeks, after shocking figures emerged suggesting that more than 1,000 workers had died during the construction of Qatar's infrastructure in the run up to the huge sporting event.
The International Trade Union Confederation estimate that 1,200 workers have died while building infrastructure for the event, and estimate that a total of 4,000 will be killed before it takes place. That is 62 deaths for each game played.
Sponsors of the Fifa World Cup had their logos hijacked following reports of Qatar's human rights violations.
A Guardian investigation last year revealed workers were dying at a rate of one every two days in 2014.
On Friday, former Sky Sports presenter, Richard Keys, sparked a huge backlash on Twitter after he denied allegations that any labourers had died.
I know you like accuracy @ColinMurray. Been doing some checking. 3500 workers on 5 stadia sites 6 million hrs worked - no fatalities.

— Richard Keys (@richardajkeys) May 29, 2015
The presenter, who was sacked from his post at Sky Sports after making derogatory comments about female assistant referee, Sian Massey, now works for beIN Sports, a global network of sports channels jointly owned and operated by Qatari Sports Investments.
Mr Keys was lambasted by many Twitter users, and accused of being a "liar".
Last month, five international footballers, including former Tottenham midfielder David Ginola, demanded Qatar abolish the labour system that allows migrant workers to be "held hostage on the world's biggest building site" ahead of the 2022 World Cup.
The letter, which was organised by Avaaz, highlighted concerns raised by experts that 4,000 people could lose their lives before the fist game is even played.
A chart illustrating the body counts of workers involved in construction for the last four Olympics and two World Cups, and comparing them to the reported death toll for the 2022 Qatar World Cup has been released.
The disturbing difference in the number of lives allegedly lost so far in Qatar compared with other World Cup construction works is highlighted in the chart, titled 'an unprecedented death toll in Qatar'.
If we hold a minute silence for each migrant worker killed in Qatar, kick-off will be delayed 20 hours. #FifaCongresspic.twitter.com/FnU8Ay8HuE

— Fascinating Pictures (@Fascinatingpics) May 31, 2015
With each day that passes, more allegations of corruption and wrongdoing are surfacing.
Last week, the Serious Fraud Office announced that it would be investigating the potential involvement of three British-based international banks in the possible Fifa corruption scandal.
The banks have now launched internal reviews of transactions linked to the alleged corrupt payments by Fifa officials, The Independent reports, following the claims outlined by American investigators in the wake of last week's swoop on football's world governing body.
Bank accounts at Barclays, HSBC and Standard Chartered Bank were allegedly used to transfer cash as part of the conspiracy.
The banks were cited in the 164-page indictment put forward by US prosecutors following the arrest of seven officials in Zurich.
A payment for $500,000 (£326,000) reached the HSBC account of a luxury yacht manufacturer in London in 2013, while one million US dollars was funnelled through a HSBC account in Hong Kong and a Standard Chartered Bank account in New York before ending up in the Cayman Islands in 2012, the charges said.
About $200,000 US dollars were also wired between two Barclays accounts in New York and the Cayman Islands.
SEE ALSO: