A fisherman has been killed – by the very fish he was attempting to slay.
Captain Randy Llanes spotted a broadbill swordfish swimming in Hawaii's Honokohau Harbour on Sunday morning.
.
The 47-year-old, who ran a deep-sea fishing charter, leapt into the water and harpooned the fish but was then impaled on the fish's bill in what appears to have been a freak accident.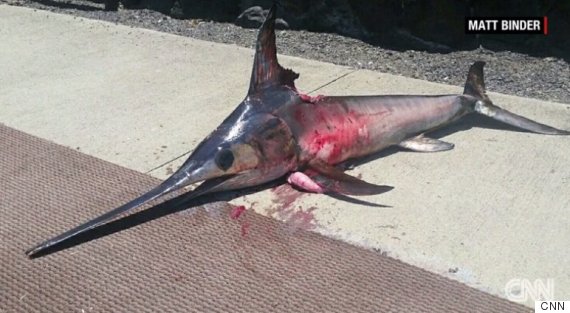 The swordfish which fatally impaled fisherman Randy Llanes in the chest
The fish was a swordfish about 3 feet long with a bill about 3 feet, the state Department of Land and Natural Resources said in a statement. It weighed about 40 pounds.
"All we know is next thing they know, the man is seen floating," said West Hawaii Acting Battalion Chief John Whitman of Hawaii County's fire department.
Firefighters tried to resuscitate Llanes, who had a puncture wound to his right, upper torso. He was taken to Kona Hospital, where he was pronounced dead, Whitman said.
Hawaii County police and state conservation officers are investigating the incident.
Whitman said this isn't the first time he's heard of billfish fatally impaling someone. "They are very aggressive animals," he said. "If you mess with them they defend themselves pretty good."
Andrew Rossiter, director of the Waikiki Aquarium, told CNN affiliate KHON the fish may have been pursuing a school of smaller fish into shallow water or was injured.
A Facebook memorial page has been set up for Llanes appealing for donations to support his wife and son.