Police ask for permission to access people's private communications data once every two minutes - and are granted access more than 90% of the time, a new report claims.
Big Brother Watch said its research raised transparency concerns at a time when the government is pushing ahead with legislation granting law enforcement and security services greater powers to access information to help combat crime and terrorism.
The analysis found that UK forces made 733,237 requests for communications data between January 2012 and last December, with 679,073 granted internally and 54,164 (7.9%) rejected.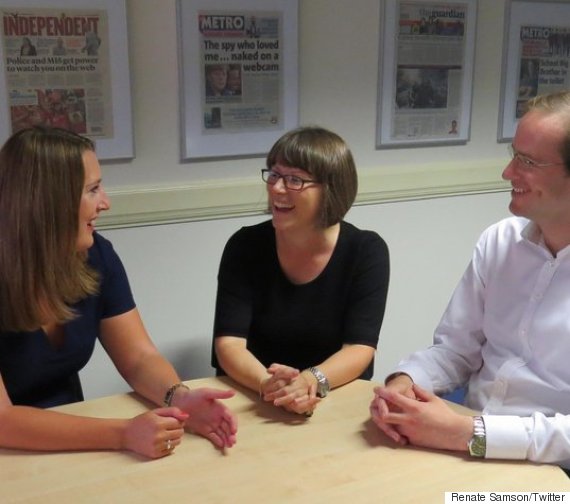 Big Brother Watch's Renate Samson, middle, has called for standardised rules governing access to private information after figures revealed police are granted access to phone and email records 93% of the time
The organisation called for standardised rules governing access to information after finding approval results varied considerably between forces.
Renate Samson, its chief executive, said the figures showed that the "political mutterings of diminishing access to our communications are clearly overstated".
She said: "If greater access to our communications, clearer internal procedures is to be granted, increased transparency and independent judicial approval should be introduced as standard.
"Until these safeguards exist, the public will have little confidence that the powers to access their communications are being used only when it is truly necessary and proportionate."
Last week's Queen's speech saw the Government lay out plans for the Investigatory Powers Bill, designed to "provide the police and intelligence agencies with the tools to keep you and your family safe".
It covers all investigatory powers and is expected to be more wide-ranging than the 2013 Communications Data Bill - labelled a Snooper's Charter by critics - which was shelved after opposition from the Liberal Democrats.
Gloucestershire Assistant Chief Constable Richard Berry, communications data lead for the National Police Chiefs' Council said it was open to suggestions and would consider Big Brother Watch's proposals.
He described communications data as a "vital resource" for everything from combating international terrorism to locating missing persons.
SEE ALSO

David Cameron Accused Of 'Stifling Democratic Consideration' Of Surveillance Laws After Queen's Speech

Edward Snowden GCHQ Revelations Show Spies Are Accessing Thousands Of Messages A Day

Edward Snowden Revealed Spying By The UK Government That Was Illegal, Watchdog Rules
He said the practice was governed by strict laws and codes of practice, with applications assessed by specially trained and vetted staff.
"They consider the important principles of necessity, proportionality and collateral intrusion. They can decline applications for communications data; this is a sign that the checks and balances in the system are working as they should."
Big Brother Watch's report, Police Access to Communications Data, found that the Metropolitan Police, the country's largest force, made by far the most requests, with 177,287 in three years, followed by West Midlands Police, 99,444 and Police Scotland with 62,075.
Scotland Yard had 32,879 requests (18%) rejected, while Police Scotland approved all but 1,080 (1.7%) of requests.
Cheshire Police had the lowest percentage of refused requests, with seven out of 5,848, or 0.1%, turned down. The force with the highest proportion of refusals was Essex, with 5,560 (28%).
The Big Brother Watch report makes five policy suggestions, including introducing judicial approval for all requests, a new definition of what constitutes "communications data", standardised procedures for making requests for all forces and telecoms companies, and making police forces produce "transparency reports".
Chief Superintendent Stephen Graham, head of West Midlands Police's intelligence department, said: "Mobile phones now play a vital role in the investigation of crimes and help to locate missing people or cases where we have threats to life.
"The information gives details of when a call was made and which phone number was called. It may also give details of the location of the people making and receiving the call but would not include what they say or what data they pass on within a communication, including text, audio and video.
"People may think that it is an extension of police powers when all it is doing is giving us the ability to do what we already do."
The Metropolitan Police declined to comment and Police Scotland did not respond to requests for comment.