Simon Cowell is reportedly launching an investigation after this year's 'Britain's Got Talent' winner Jules and Matisse used a stunt dog as part of their act.
SEE ALSO:
The cops and robbers-themed routine saw the dog team win the £250,000 prize and a place at the Royal Variety Performance.
But show boss Simon Cowell and the 13 million viewers at home were led to believe that a crucial part of the act, which saw 'Matisse' walking a tightrope, was actually done by a stunt dog called Chase.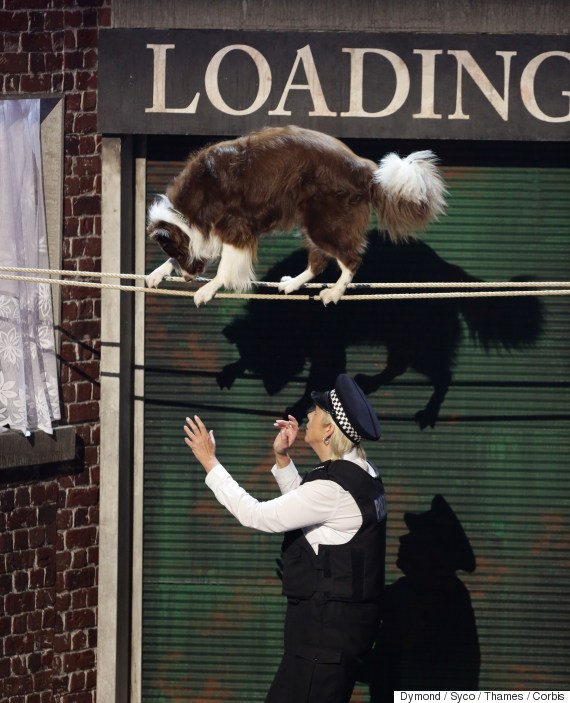 Matisse did not actually perform the tightrope trick, but a stunt dog called Chase
Trainer Jules, admitted the border collie lookalike was used for that part of the act on ITV's Lorraine show, saying: "Matisse is a bit afraid of heights so although he could officially do it, Chase is the action dog, so he plays the double."
According to the Sun, Simon Cowell has now ordered an investigation to discover why producers kept the public in the dark. Not happy: Simon Cowell
A source said: "He is shocked and angry. He had no idea. He wants to know who is responsible. Heads could roll."
But Jules insisted she hadn't deceived viewers, saying: "I'm creating a story. It's the magic of the whole act. It's not that we were trying to mislead people, we were trying to entertain.
"Matisse can do all those things. I chose not to do that on the night because I chose to split the act up so as not to over-work my dogs, so every dog can take a role."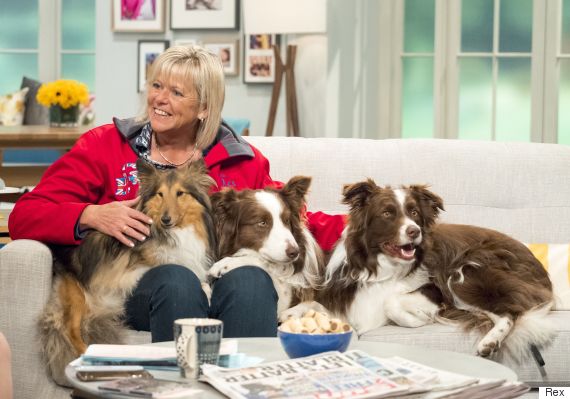 Jules appeared on 'Lorraine' with Matisse, Chase and Skippy
'Britain's Got Talent' producers apologised over the dog switch, saying: "The audience had previously seen from Jules' semi-final routine that she works with a second dog Chase alongside Matisse.
"For the final performance, as Jules has said publicly herself, Chase completed the tightrope walking section of the act.
"During the competition viewers have seen Jules' act involves a team of dogs, including Chase and Skippy, alongside starring dog Matisse, to perform her unique mixture of dog agility and storytelling.
"We are sorry if this was not made clearer to the judges and viewers at home during their final performance."
But many outraged viewers are calling for the act to give up their place at the Royal Variety Performance after beating second placed magic act Jamie Raven by just 2% of the votes.
@MirrorCeleb@DailyMirror@BGT@SimonCowell disgraceful, Jamie should be given the prize !

— Sam Harland (@sjharland1) June 1, 2015
@jamieravenmagic it was a paw decision really wanted you to win specially cross now it turns out dog had a stunt double #cheated@BGT

— Gill (@Giwwy) June 1, 2015
Another fan added: "@ BGT I think that the magician should be given the money as a cheat doesn't deserve to perform to the queen."
"I think BGT should make Jamie Raven the winner! #Matisse #cheat #BGT @jamieravenmagic @Offical_BGT," another added.
Following the controversy surrounding the dog switch, Jamie took to Twitter, writing: "I just found out that I lost by 2% of the votes, thank u everyone again for everything :-) my friend said it was "a paw decision" :-)"
I just found out that I lost by 2% of the votes, thank u everyone again for everything :-) my friend said it was "a paw decision" :-)

— Jamie Raven (@jamieravenmagic) June 1, 2015
LIKE US ON FACEBOOK | FOLLOW US ON TWITTER