Students from an all-girls school in Australia have set up a campaign against a cosmetics company over a lipstick advert which tells men to kiss girls without their consent.
A Change.org petition was started by 19-year-old student, Alexandria Mourelatos, who previously attended Fintona Girls' School in Balwyn, Melbourne, in response to the ad by Klara Cosmetics.
Mourelatos and her fellow students started the petition calling on the company to immediately remove the makeup advert that includes the headline: 'Just kiss me don't ask'.
The petition states: "The ads essentially tell impressionable young girls that you're only attractive if someone cant help but launch at you and kiss you without consent. It encourages them to define female attractiveness in the most vulgar way possible."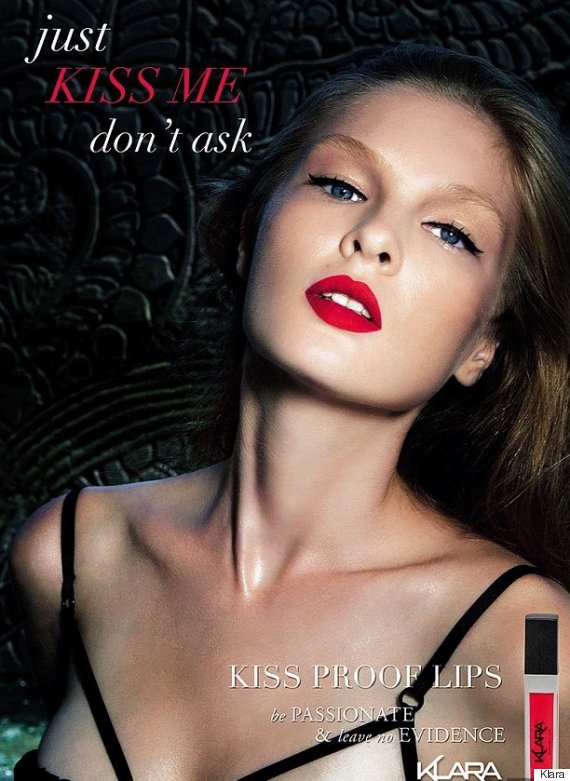 Mourelatos claimed that although it is just one ad campaign, this could encourage a trend of promoting rape and sexual violence. She said: "One ad might not make a difference but 20 of these ads from 20 companies starts to create a culture and breeds a deformed pre-pubescent psyche that accepts it." She believes the campaign is encouraging girls to believe that they have no control over what they want, and cannot make decisions for themselves.
The student became aware of the misleading ad after her 17-year-old friend spotted it on display in a Melbourne store in May 2015.
"She posted a picture of the ad, saying that she'd seen it in the city and was disgusted."she told Daily Mail Australia.
"I inboxed her commending her post but said that we needed to do more about it in the form of a petition."
The campaign has proved to be a success, with 13,472 supporters singing the petition. Supporters have cited their reasons for signing the online petition, one petitioner stated, "It's sending the wrong message. How do we educate young girls when this tripe is in ads??."
Rebecca Webb was angered by the message of the ad, claiming it is "Disgusting. Grooming young girls for abuse."
Shane Betts from Pakenham, took a stand against the whole industry, asking: "When will the cosmetics and fashion industries get the message? It's not 1974 any more people!"
Following the petition and the outpour of outrage, the Klara Cosmetics marketing director Daniel Jacob defending the ad, claiming that the company had not initially aimed to target young girls in their advert.
"Saying it's a new ad is quite misleading, it's a false declaration, and [teenage girls] are not our target market at all," he said.
"Our target audience ranges from 21 to 45 year old women who are independent, bold and want to make something of themselves. Our intention was more towards the fact of women being so independent, they can stand up and say 'This is what I expect.'
"'Kiss me don't ask' means she takes what she wants, she's in control and she knows her product really well. She knows a good product and when she needs to use it."
Jacob continued to defend the ad but stated that the company are listening to the response: "We're taking all this feedback on board even though it's from last year. We listen to the feedback but that's the best we can do as a company."