Multiple bomb threats have been made against aircraft in the US and passengers removed from a plane as a precaution, in a second week of apparent hoax calls.
Philadelphia police say the threat on Tuesday indicated there were multiple devices aboard US Airways Flight 648, which was en route from San Diego to Philadelphia International Airport.
The scare followed chemical weapon threats made against aircraft last week, which were later found to be fake. NBC News reported that there was speculation the threats were made by an ISIS "lone wolf".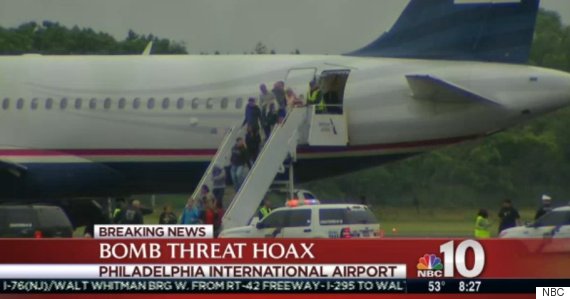 Passengers were removed from the US Airways flight at Philadelphia International Airport following bomb threats
Police with search dogs boarded the US Airways flight at Philadelphia following the bomb scare. The Airbus A320, carrying 88 passengers and five crew members was held on a taxiway, after landing safely around 6.15am.
The FBI said dog units and a bomb squad searched the plane and luggage.
No injuries were reported and there has been no indication that the threat was real, authorities said.
Airline spokeswoman Victoria Lupica says passengers were taken off the plane and transported to a terminal where they collected their luggage and were cleared to leave the airport.
Ms Lupica said the airline was assisting passengers with reaching connecting flights.
The incident did not affect airport operations.
SEE ALSO

Wembley WW2 Bomb Sparks Fears Over Pret Sandwich Order And Weekend Football

Man Strips Naked In Airport After Being Told Flights Were Overbooked

Military Airbus A400M Airplane Crashes Outside Seville Airport In Spain
Threats were also made Tuesday about a Delta flight to Atlanta, a United flight to Chicago O'Hare, a Korean Air flight to San Francisco and a Volare Air flight to Gudalajara, Mexico, government sources told CNBC.
The broadcaster reported that all but the Korean Air flight had landed safely. It is due to land around 7PM, UK time.
The threats come after Homeland Security Secretary Jeh Johnson announced his resignation as the acting administrator for the Transportation Security Administration after earlier ordering improved security at US airports.
His resignation followed reports that checkpoint screeners failed to detect mock explosives and weapons in 95% of tests carried out by undercover agents.