A 13-year-old girl who went missing from her home died as a result of hanging, police have said.
Over 400 police officers took part in the search for Amber Peat who had not been seen since leaving her home in Bosworth Street, Mansfield, Nottinghamshire, at around 5.30pm on Saturday after a row with her parents.
Nottinghamshire Police confirmed today the cause of death as hanging.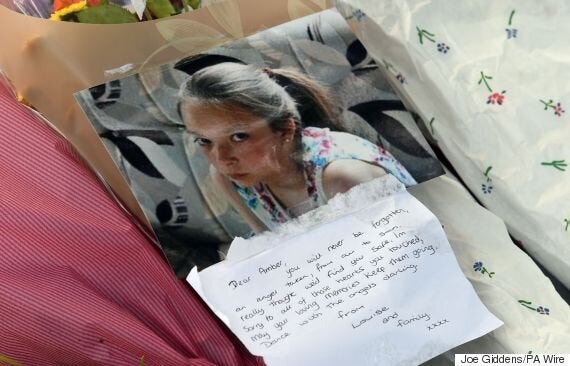 A photo of Amber Peat on a tribute left to her
Superintendent Matthew McFarlane said: "Sadly this was not the outcome that any of us were hoping for."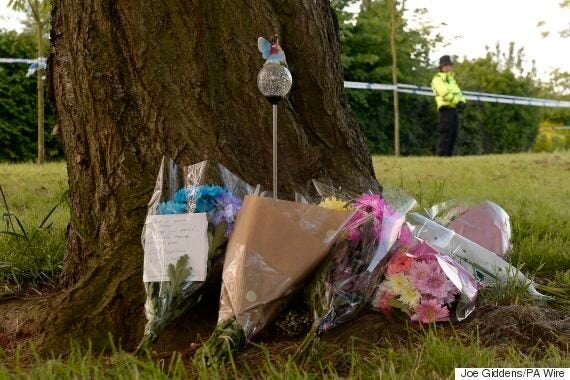 Tributes have been left close to where Amber's body was found
One neighbour said she could not understand why it had taken so long to find the body.
Yolanda Cassidy, who lives next to the site, told the Mirror: "It is a very public area. I wondered if she had climbed over gates (into a nearby property) but they have dogs so I can't imagine she would be in there.
"I went shopping on Monday and walked across there. People are back and forth, it's a nearly main road, people go up and down, I can't believe she's been there since Saturday."
Amber's mother Kelly and stepfather and Danny said they would always remember Amber for her love of singing and dancing.
In a statement, they said: "She was never happier than when reading to her younger sisters and being surrounded by her family.
"We will always be grateful for our last family holiday with our beautiful daughter. We will always miss her."
A major hunt involving over 400 officers and staff who hailed from several East Midlands forces was launched when the teenager went missing.
In thanking those who took part in the search, Mr McFarlane said: "From the moment Amber was reported missing our teams worked tirelessly alongside the community to try and find her."
He added: "Our thoughts are with Amber's family, and we do ask that you please respect their privacy and that of her wider family."
If you've been affected by the issues in this article, please call the Samaritans on 08457 90 90 90.