If you're a Royalist Labour party member who is undecided about who should be the next leader, the latest batch of letters between ministers and Prince Charles could help you make your mind up.
These letters, written between 2007 and 2009, follow those published last month after a long legal battle to keep them secret.
The batch includes letters from then housing minister Yvette Cooper and then health minister Andy Burnham during Gordon Brown's premiership. Both of them now vying to be the next leader of their party.
But their signatures show very different degrees of deference to the future king.
Cooper signed simply "Respectfully yours" while Burnham went flat out super-Monarchist, signing his letter: "I have the honour to remain Your Royal Highness' most humble and obedient servant."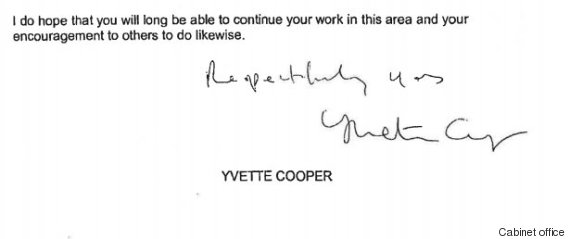 Yvette Cooper's sign-off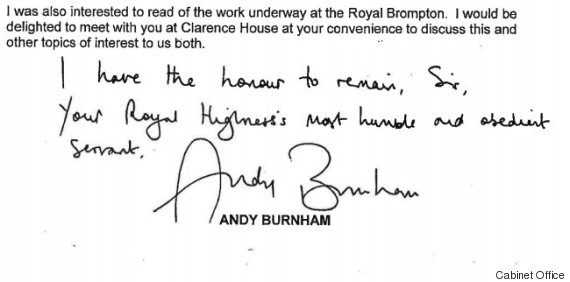 ...and Andy Burnham's
John Rentoul feared the worst after seeing the signature
That's @andyburnhammp's leadership ambitions over pic.twitter.com/XYPPW9R1Wg

— John Rentoul (@JohnRentoul) June 4, 2015
But some pointed out it did not necessarily mean Burnham was trying to express his undying support for the Royal Family as he was only following protocol.
For those fussing over Andy Burnham's addendum in letter to Prince Charles - he was simply following etiquette. pic.twitter.com/FKkJv2DIZH

— Jonathan Roberts (@robertsjonathan) June 4, 2015
Good to see proper valedictions are still surviving, that form is the old civil service standard. https://t.co/5JqVGHLX3H

— Ned Donovan (@Ned_Donovan) June 4, 2015
The letter to Cooper was about affordable rural housing. Charles wrote: "I have seen from my visits around the country the real problems finding an affordable home causes for those on low incomes in the countryside - many of whom are carrying out essential jobs, such as farm workers, teachers, shopkeepers and health workers and on whom the future viability of rural life depends."
Burnham's letter was in response to one from Charles congratulating him on his new appointment as health secretary.
Burnham wrote that his predecessor, Alan Johnson had made "great progress in furthering the debate on complementary medicine" - an issue Charles had previously advocated - and suggests a meeting to discuss this.
In an earlier letter to Johnson, Charles wrote he could not "bear people suffering unnecessarily when a complimentary approach could make a real difference".
The latest letters follow a batch that were released last month after a legal battle that lasted nearly a decade as The Guardian and the government fought over whether they could be released.
Clarence House said in a statement that the latest correspondence showed "the range of the Prince of Wales' concerns and interests for this country and the wider world."
SEE ALSO
The statement added: "The letters published by the Government show the Prince of Wales expressing concern about issues that he has raised in public like affordable rural housing, the quality of hospital food, the preservation and regeneration of historic buildings, an integrated approach to healthcare, climate change, and others.
"In all these cases, the Prince of Wales is raising issues of public concern, and trying to find practical ways to address the issues."
The letters are not Charles's famed "black spider memos" - so-called because of his use of black ink, underlining and exclamation marks - but typed correspondence.
The prince writes the initial greeting in his own hand and signs the letters.
Some highlights from the last batch of Charles' letters: