Peter Kay has undoubtedly created a comedy gem with his show 'Car Share', showing him at the wheel of his car, driving a colleague to and from the supermarket where they both work.
But it transpires the comedian was not, in real life, quite so confident in the driving seat, taking an astonishing - and surely expensive! - 176 lessons before he passed his test.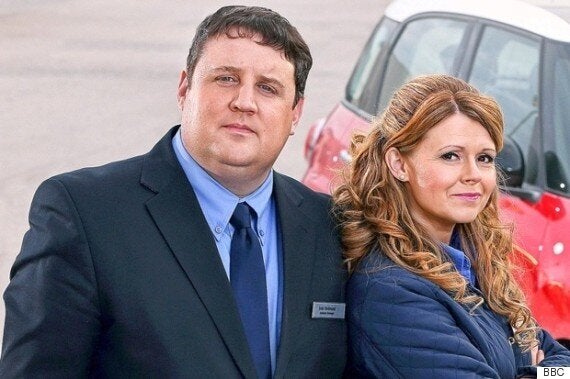 Peter Kay with Sian Gibson on BBC comedy hit 'Car Share'
And, as he tells Alan Carr on 'Chatty Man', it took him five attempts at the test before he finally succeeded.
Peter tells Alan: "I was not very good at driving. It would not click. It took me six years, 176 lessons. I started when I was 16 in 1990 and passed in 1996. Best thing I ever did - but you have to persevere.
"I had five instructors. One, a guy called Barry, used to get his pipe out and do some shag and talk to me. I remember him saying he would bring me photos from Bulgaria. Another one called Mandy had a club foot. I don't know how she did it but she did."
Nearly two decades later, Peter admits he's still no Lewis Hamilton behind the wheel.
"I've no sense of space. I am always bashing my car or hitting things if you go into bays or things. I just don't think I was ready when I was younger. It cost a fortune. I did it that long they brought out the theory test. That was hard.
"People were like, 'Why don't you just give up?' People ran out of references when I kept failing my test. My mum can't watch 'Car Share'. She says, 'I can't enjoy it as you are not watching the road,' but I have told her that I can't act and drive. I don't want to shine light on the magic for her."
The series, which sees the dawning friendship between Peter's character John Redmond and his colleague Kayleigh, played by Sian Gibson, has been a critical hit for the BBC, and a record-breaking success when it was shared on BBCiPlayer before being shown on BBC1. A second series is in the offing, plus, hopefully, a Christmas special.
Popular in the Community