The pictures, released by Kensington Palace on Twitter, show the Royal siblings sitting together, with Prince George cradling his little sister.
The photo released by Kensington Palace of the first picture of Prince George and his sister Princess Charlotte together
Charlotte, who was born just over a month ago on May 2, looks happy and content as her older brother puts a protective arm around her in the four photographs.
The pictures were taken by their proud mother, the Duchess of Cambridge, at their family home, Anmer Hall in Norfolk, a few weeks ago when Charlotte was around two weeks old.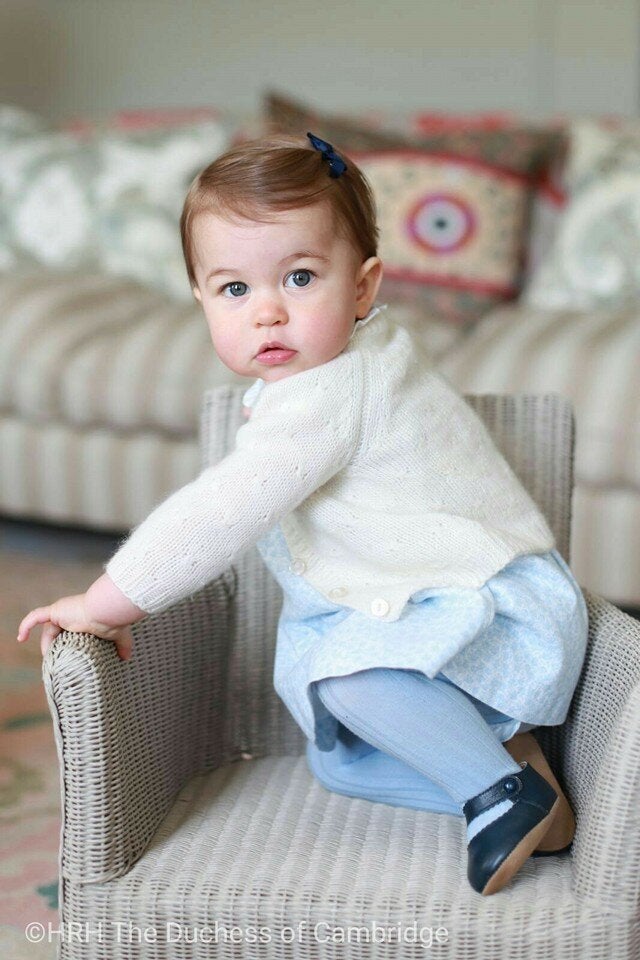 Princess Charlotte
In one image the baby princess looks as if she is just about to smile as her brother, aged 21 months at the time, plants a kiss on her forehead.
George is smiling in another picture as he puts his hand on his sister's stomach and stares at something beyond the picture frame, and in another similar photograph he looks in a different direction.
A fourth picture, showing the prince looking down lovingly at his baby sister, was previewed earlier on the official Kensington Palace Twitter and Instagram accounts.
All the images show the royal siblings sitting down with Charlotte propped up in George's lap by a pillow.
The princess appears to be wearing a romper suit with a jumper, while Prince George wears a white shirt with blue piping detail around the collar, cuffs and front, and matching blue socks and shorts with shoes.
George visited his sister the day she was born in the private maternity wing of St Mary's Hospital in Paddington.
In the photographs the toddler prince appears to be dressed in the same shorts, socks and shoes he wore on the day of the visit.
The fourth picture was previewed on social media as a thank you from Kensington Palace to the hundreds of thousands of new followers the accounts have attracted since the royal birth.
The baby princess was taken by her parents to their Norfolk home a few days after she was born and she will be christened at a nearby church on the Queen's Sandringham estate.
Charlotte will be baptised at St Mary Magdalene Church on Sunday July 5 at a private ceremony led by the Archbishop of Canterbury, Justin Welby.
Within minutes of Kensington Palace releasing the image, it was shared and favourited tens of thousands of times on Twitter.
Earlier in the day Kensington Palace whet the appetite of royal fans by tweeting photographs of the multitude of gifts the Cambridges received after Princess Charlotte's birth.
In the first of a series of tweets it promised a photo of the adorable siblings, saying: "We'll be posting a very special photo of Prince George & his little sister Princess Charlotte late tonight. Can't wait to share it with you!"
This was followed by a picture of large stacks of letters - many on pink paper - with a post that read "The Duke & Duchess are very grateful for the wonderful messages they've received."
The palace announced that sacks with "warm wishes and congratulations" for the new princess had arrived from around the world shortly after her birth.
Other pictures that were shared showed a collection of handmade cards and knitted gifts, including a pink crochet bonnet and booties.
Those who sent presents were thanked for their "impressive" contributions, with special mention being given to the schoolchildren and Girlguiding groups who sent their wishes.
Popular in the Community