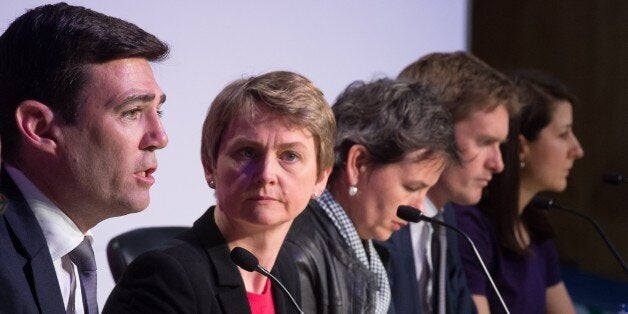 The Labour leadership contenders clashed over EU referendum tactics, Tory policies and union links today as they each sought to persuade fellow MPs to back their campaigns.
At the Parliamentary Labour Party (PLP) hustings, Andy Burnham, Liz Kendall, Yvette Cooper, Mary Creagh and Jeremy Corbyn faced questions from colleagues before delivering short speeches setting out their stall.
Front-runner Mr Burnham said in the coming EU referendum campaign the party had to 'learn the lessons' of the Scottish referendum by not allying itself too closely to the Tories or opposing 'big changes' in Brussels.
With an eye on the threat posed by UKIP, the Shadow Health Secretary said that there were dangers in being seen to block reform of the EU and the impact of that in English constituencies in particular.
But Ms Kendall said that while Labour needed a 'distinctive' campaign, but warned 'it would be a profound mistake to somehow boycott the wider Yes campaign'.
Ms Cooper and Ms Creagh agreed that the party couldn't divorce itself from a wider EU Yes campaign. One ally of Mr Burnham said Ms Kendall believed that the Better Together campaign was not to blame for the SNP's rise, adding 'that's a minority view in the PLP'.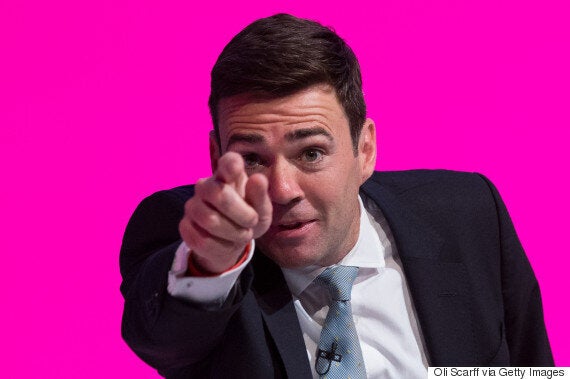 Mr Burnham said that on the deficit, welfare, immigration, business and the EU referendum, he was the candidate offering 'big change' and 'strong leadership'.
He pointed out that he was the only candidate who had vowed not to take any money from any trade union for his leadership campaign, putting him in a 'stronger position' to defend the union link.
Labour's leader needed to make 'an emotional connection' with the voters, he said. "We need a voice that will carry."
Mr Burnham was careful not to junk all of Mr Miliband's legacy, however, stressing that on the issue of tackling inequality "we need to take care not to distance ourselves from the last five years".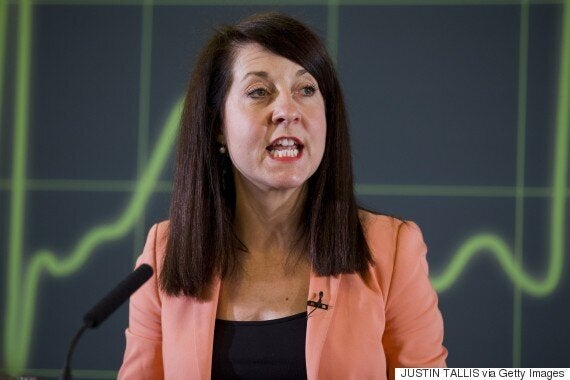 Ms Kendall - who is set to publish her 35 MP backers any day - argued that trade unions had to modernise to get more members in the private sector and in smaller businesses. She was set to outline her plans in more detail at tomorrow's GMB hustings in Ireland.
The shadow health minister, often seen as the 'Blairite' in the race, was unapologetic about her brutal assessment of the way Ed Miliband had lurched to the left.
"We won't help the weak simply by railing against the strong or blaming someone else," she told colleagues, saying too often Miliband had defined himself by what he was against rather than what he was for.
"I don't want to be the leader who plays into David Cameron's and George Osborne's hands. I'm not going to repeat the mistakes of the last five years," she added. Aides said this was a reference to Miliband's habit of walking into Tory traps in opposing cuts.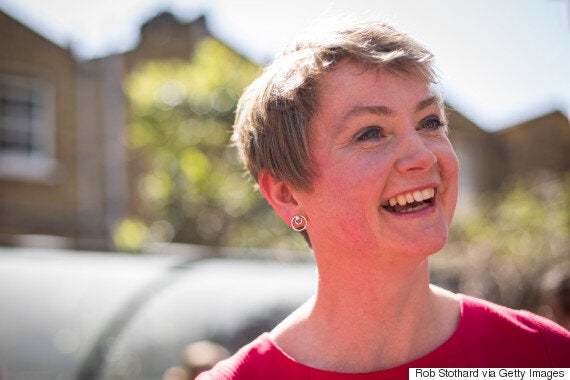 Ms Cooper said Labour should not rely on a 'comfort blanket', a line seen as a dig at Mr Burnham, nor 'turn into Tories', seen as a reference to Ms Kendall's support for Free Schools and defence spending.
She stressed that while the party had to defend the poor, it could not do so without winning the votes of the wider public.
The Shadow Home Secretary told how on election day she met a woman in her Normanton constituency who was in tears because of bedroom tax arrears.
"She did vote. She voted for me. For us. But we've failed her. We won in Normanton - but we lost in Elmet, Morley [her husband Ed Balls' seat], Sherwood, Swindon, Paisley. We were too narrow. We need to reach out. Not by moving our narrow party to the left or right, but by growing. "
Ms Cooper also made a direct plea to MPs to choose her based on her experience as a minister and senior Shadow Cabinet minister.
"Remember the person you choose, you'll be sitting behind every week for the next five years in Prime Ministers Questions – we need someone who will take Cameron on, not be taken apart."