Daily Mail readers across the country were presumably dusting off their lunchboxes on Monday morning after the paper informed them of what really happens in sandwich factories.
In a two-page picture spread across pages 22 and 23, which was re-produced as a splash online, a series of photos showed workers at a factory that produces lunches for a number of high-street stores.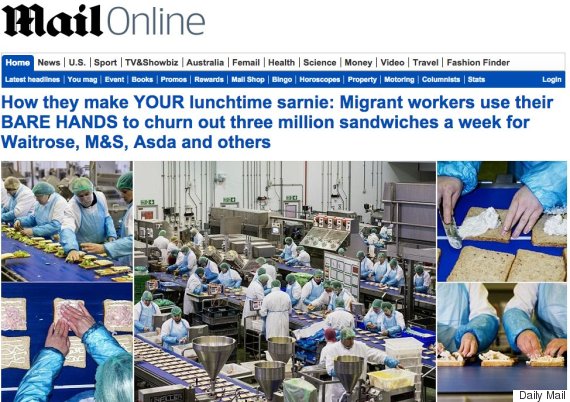 And they were migrant workers.
And they had bare hands.
Despite there being no laws on the compulsory wearing of gloves, a multitude of other hygiene paraphernalia on display and a reasonable excuse for the bare hands (it makes it easier to feel for foreign objects), Daily Mail readers were having none of it.
SEE ALSO: The Daily Mail Just Got Absolutely Torn Apart For This Article About Annabel Giles
well this made me kind of sick. Never buying pre-made sandwiches ever again. http://t.co/RUyfEmdphC via @MailOnline

— CHRIS HARRISON (@ChrisHaHarr) June 8, 2015
They were outraged...
(Story continues after slideshow...)
To clarify, The Society Of Food Hygiene And Technology recommend certain times such as when handling cooked meats when gloves should be worn but it is not a legal requirement.
Reaction elsewhere was decidedly different...
#DailyMail "MIGRANTS ARE MAKING YOUR SANDWICHES WITH BARE HANDS" "article" is basically "Migrants are dirty" - absolute and utter racism.

— Vittoria (@Vitt2tsnoc) June 8, 2015
I'm glad the Daily Mail has informed us all of how "migrant workers use their BARE hands" to churn out our lunchtime sandwiches......

— Faria Khan (@Faria_Khan_) June 8, 2015
Daily mail outrage 'foreigners making our sandwiches with bare hands' because you know, foreigners, must be dirty. ffs

— HappyToast (@IamHappyToast) June 8, 2015
The Daily Mail's top story is about sandwiches.

They are made by MIGRANTS!

With their BARE HANDS!

It's amazing we are not all dead.

— Louise Jack (@xloubellxx) June 8, 2015
Today's charmingly racist Daily Mail headline: Migrant workers use their bare hands to make ready meal sandwiches. Ug. The disgusting other.

— Alistair Brown (@alibrown18) June 8, 2015
Who said bigotry was dead? "How THEY make YOUR sandwiches" #dailymailpic.twitter.com/59zm8KM2eJ

— Lucas Jones (@lucasjones) June 7, 2015
SEE ALSO: