Katy Perry looks set to hit back at her rival, Taylor Swift, in a new song.
SEE MORE:
Katy is thought to be the inspiration for Taylor's latest single, 'Bad Blood', which she has admitted is about a fall-out with a fellow popstar, though she's never specified who.
Speaking before the release of her album, Taylor told Rolling Stone she was "straight-up enemies" with the subject of the song, adding: "She would come up at awards shows, say something and walk away, and I would think, 'Are we friends or did she just give me the harshest insult of my life?'"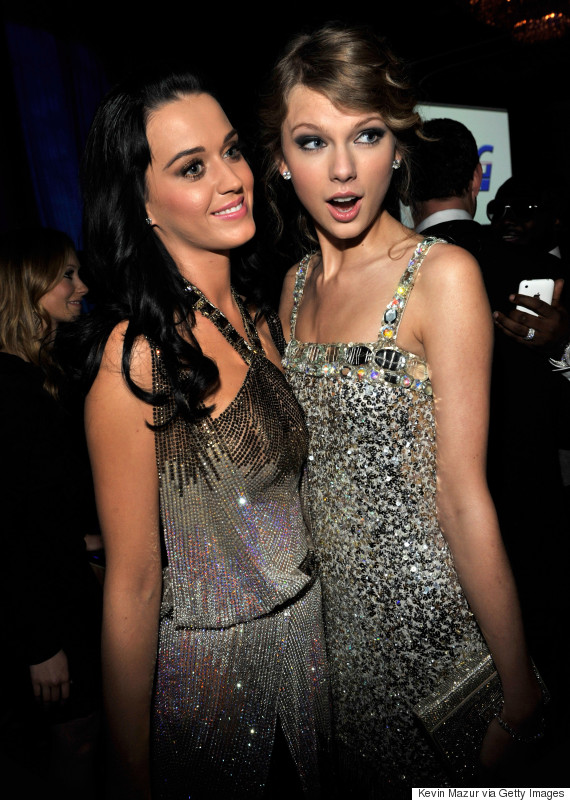 Katy Perry and Taylor Swift at the Grammys
The track's music video also features Taylor getting her own back on a character played by Selena Gomez, wearing a very familiar-looking black wig.
It has now been reported that Katy is to hit back with her own track, '1984', thought to be a reference to to Taylor's chart-topping album, '1989', after a song was registered in her name under that title.
The majority of Katy's best-known hits, including 'California Gurls', 'I Kissed A Girl', 'Roar' and 'Dark Horse' were co-written or produced by Max Martin, who was also behind 'Bad Blood', but it should be noted that '1984' lists different co-writers to her usual collaborators.
What's more, Katy is one of several about to appear in Madonna's upcoming 'Bitch I'm Madonna' music video, which looks like it could be set to topple Taylor's 'Bad Blood' clip as the most star-studded of the year.
Earlier this year, it was claimed that another of Katy's newly registered tracks, 'She's So Creepy', was also a "diss track" about the 'Shake It Off' singer.
LIKE US ON FACEBOOK | FOLLOW US ON TWITTER