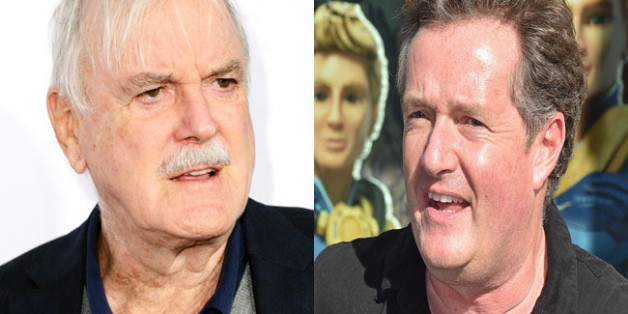 Getty
The usually combative Piers Morgan appeared to have turned over a new leaf and actually apologised to John Cleese after their three day long Twitter spat.
The pair were the latest celebrities to become embroiled in an online war last week after Morgan penned an article for the Daily Mail about how Cleese ignored him in a New York restaurant.
SEE ALSO:
Former Daily Mirror Editor, Morgan, wrote: "I ordered a fine bottle of vintage claret, sighed with almost indecent pleasure at the gastronomic delights heading my way … then turned to my left and spied Cleese at the very next table. Literally two feet away.
"For one tiny nanosecond, our eyes locked in mutual shock, then equally mutual withering contempt. For the next two hours, we avoided all form of contact – physical, verbal, visual. It was magnificently British".
Cleese hit back with a tweet that has since been favourited over 46,000 times.
Piers Morgan writes that I didn't recognise him in a restaurant in New York.I did.I just didn't want to speak to someone I truly detest

— John Cleese (@JohnCleese) June 5, 2015
He then went on to make reference to phone hacking, which Morgan vehemently denies.
Anyway,I thought he was in jail after admitting he'd authorised phone-hacking at the Daily Mirror.Still,our Briish legal system works slowly

— John Cleese (@JohnCleese) June 5, 2015
Morgan went on to say that revulsion was mutual, then followed suit by lashing out at Cleese losing his comedy value, to which he responded: "Piers, when are you going to be talanted? It's been a lifetime."
PS. when are you going to be funny again @JohnCleese? It's been a few decades.

— Piers Morgan (@piersmorgan) June 5, 2015
Cleese credited Morgan for his "most successful tweet ever"...
I see my tweet about Piers M is 'favourited' by 15,000 JC twits.Clearly I must insult the slimy,attention-seeking little prole more often

— John Cleese (@JohnCleese) June 5, 2015
My thanks to Piers M for providing me with my most successful tweet ever. 10K favour me for saying I detest him.In two hours ! Thanks,twits

— John Cleese (@JohnCleese) June 5, 2015
After three days of Twitter feuding, Morgan called it quits and apologised on Monday...
My humble & sincere apologies to @JohnCleese. He clearly IS a comedy genius:

(via @snow_is_rad )

— Piers Morgan (@piersmorgan) June 8, 2015
Well, kind of...