Another major character from 'The Simpsons' looks set to be killed off later this year… although, thankfully, it's not permanently.
SEE MORE:
As part of this year's 'Treehouse Of Horror' Halloween special, recurring guest star Kelsey Grammer will return as Sideshow Bob, and it seems he could finally get his revenge and kill his long-standing nemesis, Bart Simpson.
Hinting at what's to come, 'Simpsons' executive producer Al Jean tells Entertainment Weekly: "You're gonna see Sideshow Bob do something he's wanted to do for a long time.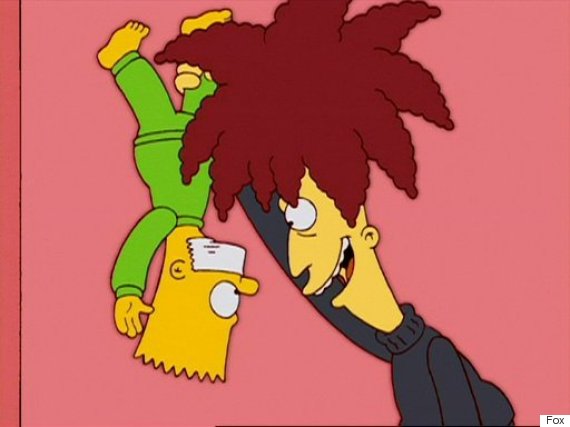 Sideshow Bob and Bart
"I'm one of the people who always wanted the Coyote to eat the Road Runner, so you can see where this is going… I hated frustration comedy so we'll scratch that itch on the Halloween show."
Over the quarter-century 'The Simpsons' has been on the air, Sideshow Bob has been at the centre of no less than 12 episodes.
Sideshow Bob and Bart's long-standing feud led to one of the most critically-acclaimed episodes of 'The Simpsons' ever, 'Cape Feare', which has repeatedly been named among the show's best.
Before the launch of the current series of the cartoon sitcom, producers teased that a popular character was to be killed off, and they later revealed it to be Krusty The Klown's father, Rabbi Hyman Krustofski.
The character of Mrs Krabappel was also recently retired, following the death of voice actress, Marcia Wallace.
Also appearing in the 27th series of 'The Simpsons' will be the 'Spider-Pig' character, first introduced in 'The Simpsons Movie' and then never seen again.
Last month, it was reported that Harry Shearer - the voice behind beloved characters like Ned Flanders, Principal Skinner and Mr Burns - was stepping down from the show, with producers later claiming his characters were going to be recast.
LIKE US ON FACEBOOK | FOLLOW US ON TWITTER