Story contains strong language
Annabel Giles has torn into the Daily Mail for using a comment she made in the wake of the death of Charles Kennedy as the basis for a diary story about a 'tryst' between the pair.
Writing a week later in the Mail, the paper's diarist Sebastian Shakespeare published an article based on the tweet titled: "Annabel - my tryst with sad Charles Kennedy."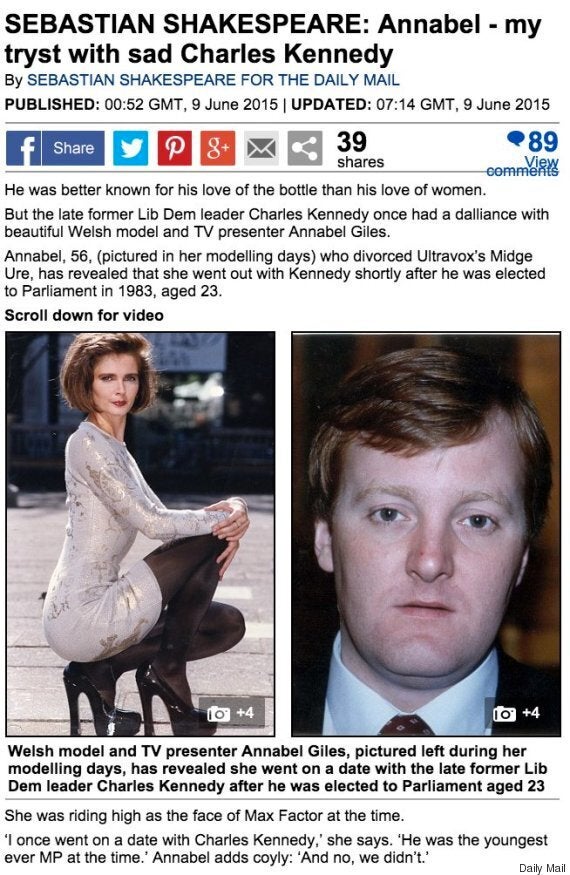 In the piece he re-produced Giles' tweet: "'I once went on a date with Charles Kennedy,' she says. 'He was the youngest ever MP at the time.' Annabel adds coyly: 'And no, we didn't.'"
Giles was quick to react, presumably upset that she felt Mail's article implied more had gone on between her and Scots politician.
SEE ALSO
:
The word tryst is often used to to describe an appointment to meet at a certain time and place, especially one made somewhat secretly by lovers, but can also mean a meeting or place of meeting.
The Daily Mail's deputy diary editor tweeted the story, referencing her ex-husband.
Which just seemed to make Giles angrier.
Many people came out in support of Giles expressing their feelings over the article.
Related