That's why they founded Supa Academy - and on the 24-26th of July, they're taking their mission to the next level with the Hackathon.
The Hackathon is the UK's first pop-up supermarket, which will be set up in the Old Truman Brewery, London. Participants will be able to "trade across market-stalls, an e-commerce platform and auction room - and take home a percentage of the revenues".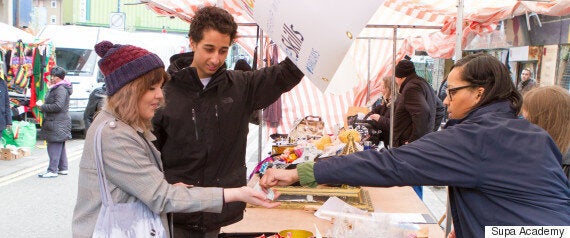 There will be mentors from some of the world's biggest brands - including Pepsi, Facebook, River Island, and Barclays-owned Life Skills on hand to support the participants.
Tootill told us the Hackathon's central importance lay in the practicality of its focus.
"There are many enterprise organisations that do the theory stuff really well: teaching how to register a business, lessons on legal sessions, on accounts and finance, sales and marketing etc. The thing is, rarely do they incorporate a practical element to the work they do and that's what Supa Academy is really trying to address.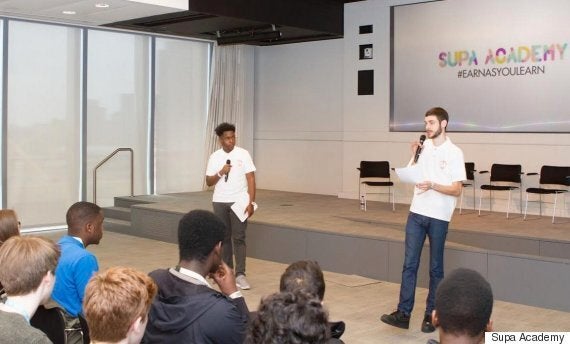 Bejay and Liam telling an audience about Supa Academy
"We believe that the fun in business, enterprise and entrepreneurship are the actual transactional exchange that happen when business is happening and being generated. At Supa Academy we believe that for people to learn about business they need to be immersed in one, have the right support network and have an incentive that drives them to succeed."
On the site's testimonial, River Island CEO Ben Lewis declares his enthusiastic support for the project: "It's our hope that through this initiative, we can play a part in helping to shape the future of young enterprise across the country and foster an interest in business and retail."
Supa Academy is open to young people across the country, and the Hackathon has a similarly universal beat. Of 500 successful applicants, 100 of them will be eligible for financial support, covering those from low-income backgrounds, responsible for their own living expenses, or who are still enrolled in full-time education.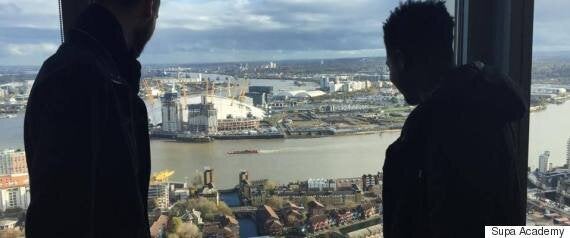 Bejay and Liam survey their playground
Chairman Brent Hoberman believes Supa Academy is going beyond the inspirational, and is tapping into something vital in the future of business: "There is a wonderful trend of more entrepreneurship and younger entrepreneurship in the UK right now. Supa Academy is right on trend. Young people can get energised by starting businesses much more easily than they might think."