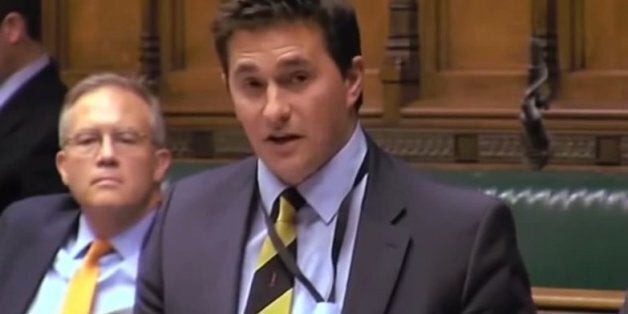 After knocking on doors, sticking flyers through letter boxes and begging for votes, the political dream came true for 176 new MPs on May 7th.
Their ambition of sitting on the famous green leather House of Commons benches and having a say on decisions that affect all parts of the United Kingdom was fulfilled.
But before the 2015 intake get too comfortable and start dreaming of high office, each of the new MPs has to deliver a maiden speech in the Commons chamber.
Palms sweating, hands shaking, and the odd bead of sweat appearing on the brow, the new MPs traditionally praise the person they either ousted or replaced, give a spot of promotion to their constituency and try to reveal a bit of their personality.
Here are some of the very best so far.
Johnny Mercer, Conservative, Plymouth Moor View
The former British Army Officer delivered not just one of the best maiden speeches of this Parliament, but of any Parliament, as he described how a former soldier took his life after returning from active service. He also recounted how a close friend died in his arms in Afghanistan.
"Dan liked to take on his demons alone in the mountains, where perhaps the outside arena made him feel more empowered. However, in 2012, during the period of new year's celebrations—that time of year when all the world is celebrating—Dan recorded a video message for his mum on his mobile phone. He said: 'Hey Mum. Just a video, just to say I'm sorry. Ever since I came back from Hell I've turned into a horrible person and I don't like who I am anymore.' He went on to say: 'I've tried everything, and there's nothing that seems to be working. I love you, and I'll see you, okay? I love you.'"
"Next Monday, it will be five years to the day since I conducted a particular dawn patrol in southern Afghanistan with my troops. We were enduring one of the most contested fighting seasons of that campaign in 2010, and fear was rife. I was particularly blessed to have with me in my small team a man of colossal courage called Lance Bombardier Mark Chandler, who in our role was duty-bound to protect me in close-quarter combat while I continued in our primary trade. While most people in this country were still in a morning slumber, we closed in on an enemy position, and in an intense close-quarter gunfight Mark was shot in the face right next to me and died in my arms."
Tommy Sheppard, SNP, Edinburgh East
The former comedy club worker reassured the Commons he and his 55 colleagues had not come to Westminster "to argue the case for independence". But he also told the Labour MPs to "get over it" – a reference to them losing the General Election – and pointed out even if the SNP earthquake had not occurred they would still not be in power.
"I urge Members not to mistake our intentions. I say that because we have already received a few jibes. We do, of course, want self-government for Scotland. There is no secret about that. But we had a referendum last year, and we know the result of that referendum. We lost it. We accept that we lost the referendum. We may not agree with it, but we did. We did not in this election seek a mandate for independence, and we did not get one. We have not come to this Chamber to argue the case for independence. That debate, and the debate about the next chapter in Scotland's history will take place in a different Chamber in a different Parliament 400 miles to the north of this one. We have come here to give Scotland a strong voice in this Parliament. We have come here to represent the people who elected us, and you will find us constructively engaged in order to deliver that."
"I would point out, however, that the reason why we have a majority Conservative Government is not that the Labour party lost to the SNP in Scotland but that the Labour party lost to the Conservative party in England. Even if Labour had won every Scottish seat, there would still be a majority Conservative Government. So I appeal to the people on these Benches to get over it; let us work together constructively to advance as much as we can and defend the people who elected us."
Cat Smith, Labour, Lancaster and Fleetwood
The 29-year-old used her maiden speech to highlight the at times duplicitous nature of Britain's foreign policy, which wants to tear down some terrible regimes but support others.
"Given that we are debating Britain in the world, I want to highlight the need for a consistent and ethically driven foreign policy. All too often, the UK has turned a blind eye to repression by regimes it considers its allies, but has all too quickly rushed to military action against those it opposes, resulting in catastrophic consequences.
Although the UK has been a major donor supporting Syrians displaced in their own country and in neighbouring states, I urge Ministers to reconsider the pitifully small number of refugees admitted to the UK under the vulnerable persons relocation scheme."
"I had the privilege of visiting Palestine in 2012. It is shameful that Ministers have so far refused to heed this House's call to recognise Palestinian statehood. I call on this new Government to address that. I am also gravely concerned about the UK's approach to Saudi Arabia, where our Government continue uncritically to support a regime currently on course to execute a record number of people in a single year. I look forward to campaigning alongside my constituents to ensure that the UK plays a positive role in the world, acting as a leading advocate for peace, human rights and poverty eradication across the world."
Conor McGinn, Labour, St Helens North
It is not uncommon for new MPs to invite their families along to watch them make their maiden speeches, but Conor McGinn also invited Northern Irish singer Feargal Sharkey down as well.
The Undertones star is a friend of Mr McGinn's family, as the St Helens North MP originally hails from Northern Ireland.
Mr McGinn touched on his heritage during his speech, describing himself as "a child of the peace process"
"If we are to describe generations as children of a seminal figure or defining events, I am most certainly a child of the peace process. The changed relationship between Britain and Ireland, and the end of the terrible conflict that caused so much pain to the peoples of these islands, have afforded me opportunities that were denied to many who came before me.
"I am in debt to all in the House and outside it who have, through their sacrifice, courage and leadership over many years, helped to build peace and reconciliation in Northern Ireland. I do not wish to disrupt the etiquette of the House, but I hope that I may be allowed to call them all my honourable friends.
"Where previously there were suspicion and mistrust, today there are friendship and co-operation between the United Kingdom and Ireland. There is no longer any contradiction in being Irish and British, and having feelings of loyalty and affinity to both countries."
Scott Mann, Conservative, North Cornwall
The former postman raised some smiles in the Commons as he revealed he had been delivering his rivals' leaflets during the election campaign.
Whereas Mr McGinn had to explain why an MP for St Helens North spoke with an Ulster inflection, Mr Mann's broad Westcountry accent left the House in no doubts of the area he was representing
"Until three weeks ago I worked as a postman, a job I thoroughly enjoyed for 20 years. After being elected to Parliament I received national press when it became known that I was delivering leaflets not only for myself but for my political opponents. I never realised how vast the corridors of this place were. I spent more time walking during my first week here than I ever did walking the streets of Wadebridge with my delivery pouch."
"During my candidacy, I literally delivered a six-point plan for North Cornwall."
Have you heard any maiden speeches you think should be in this list? Email owen.bennett@huffingtonpost.com with any suggestions.
Related