UPDATE: Kay Burley Has Been Cleared By Ofcom Over THAT Alton Towers Interview
More than 1,100 complaints have been made over Kay Burley's interview with the chief executive of the company which owns Alton Towers, Ofcom has revealed.
Nick Varney faced a a grilling by the Sky News anchor over a rollercoaster crash at the theme park which left four seriously injured, one of whom had her leg amputated.
Watch the full interview with @KayBurley and Alton Towers boss Nick Varney http://t.co/ePKAFZg8kN

— Sky News (@SkyNews) June 5, 2015
The toe-curling interview saw Burley press the Merlin Entertainments chief over what were at the time unconfirmed reports that one victim had lost a limb, as well as pushing him for an answer on whether he thought the safety measures in place were adequate.
Varney went on to accuse Burley of misrepresenting what he was saying and putting words in his mouth.
An Ofcom spokesperson said: "Ofcom has received 1,485 complaints about Kay Burley's interview with Alton Towers Chief Executive, Nick Varney, on Sky News on June 3rd.
SEE ALSO:
"We will assess these complaints before deciding whether to investigate or not."
Reaction to the news that the interview attracted so many complaints had a mixed response.
Some welcomed the news that Burley could face investigation…
Over 1000 OfCom complaints. Let's hope they fully investigate @KayBurley and @SkyNews shocking journalism.

— Karina clarke (@Rinaroo28) June 10, 2015
This interview actually confirms that @kayburley is a cnut The way she treated that man was shocking http://t.co/7m6wUBNcZo

— Leonard Skelton (@leonard76_) June 10, 2015
So glad to hear @Ofcom received over 1000 complaints regarding @SkyNews @KayBurley and the @altontowers interview. Just awful interviewing

— Jack Taylor (@JackVTaylor) June 10, 2015
I was disgusted when I saw this interview on @SkyNews a few days ago. Looks like I wasn't alone,xoxo http://t.co/Wygst7Dm8O

— Mazelino (@Mazelino) June 11, 2015
Kayburley should apologise

Has somebody lost a limb on that ride? Over 1,000 complaints Kay Burley interview http://t.co/7NzPtEVrpm

— Mick Hannigan (@mickhan) June 11, 2015
While others were less impressed…
Don't understand this at all. 1,162 complaints about a TV journalist doing their job and grilling a guest? http://t.co/CsslNAPT5H

— Alastair Coote (@_alastair) June 10, 2015
1k complaints about kay burley being aggressive with poor little Alton towers who have only crippled 4 children by gross negligence a didums

— Geordie Marx (@geordielord1) June 10, 2015
@guardian Some people need to get a life, whingeing about such things is sad!

— Cheeky Latte (@cheekylatte) June 10, 2015
@guardian she was right to grill him,minimum wage workers operating dangerous machines with inadequate training

— The Reason 1867 (@LBoyling) June 10, 2015
Burley took to Twitter to defend the interview and said: "For those concerned I was hard on Alton Towers boss, he'll get over it. Not sure those on his ride will be so quick to recover #perspective."
She also found herself with a surprising ally in the form of Katie Hopkins.
The outspoken columnist tweeted: "Given a young girl lost her leg during the Alton Towers incident, I can't understand why so may were outraged by the Kay Burley interview."
For those concerned I was hard on Alton Towers boss, he'll get over it. Not sure those on his ride will be so quick to recover #perspective

— Kay Burley (@KayBurley) June 5, 2015
Leah Washington, 17, suffered the most serious injuries in the rollercoaster crash last Tuesday and had her left leg amputated above the knee, the University Hospitals of North Midlands NHS Trust confirmed last week.
Her family said yesterday that she had showed "amazing strength" throughout her ordeal and has already begun to stand up.
Speaking on local BBC radio, Luke Washington said his sister's condition had improved dramatically, so much so that when he saw her yesterday she was standing up.
"It's a world of difference," he said. Initially, his sister was heavily sedated in intensive care and relying on "medical help" to breath.
"To see her from the condition she was in to now being stood up, it's great."
Luke said his sister was making a "rapid" recovery, and despite the tragedy "not being easy by any means" for the family, Leah's attitude had united them.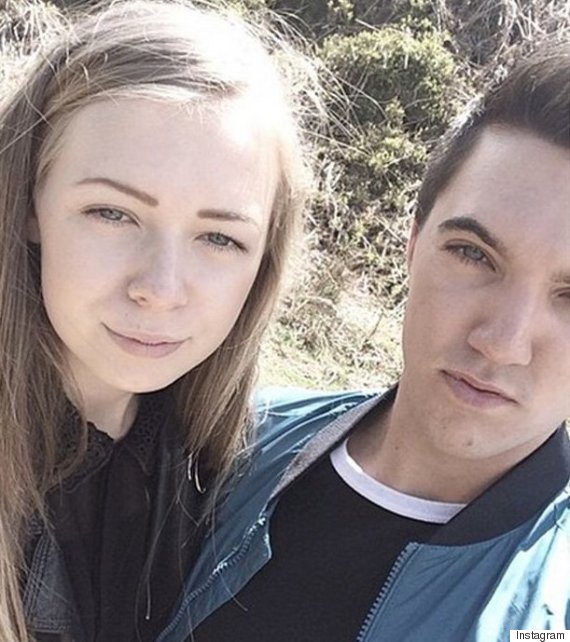 Leah Washington and Joe Pugh
Joe Pugh, who was on a first date with Washington, along with Vicky Balch and Daniel Thorpe were also seriously injured in the incident.
Pugh, who suffered two broken knees and extensive hand injuries, also expressed his gratitude for the public's support on Twitter.
So overwhelmed with the response I've had from my accident at Alton towers, Thankyou for everyone's concern

— Joe (@JoePugh_) June 4, 2015
Vicky Balch was forced to spend her 20th birthday in hospital after having both of her legs crushed, and has been described as being in a "serious but stable" condition.
On Monday, Alton Towers reopened to the public.
Alton Towers has been accused of not ringing emergency services soon enough, after it was revealed staff waited 10 minutes before making the first 999 call.