Brown, who stood down as an MP this year after ardently campaigning against independence campaigner during the last year's referendum, said the Tories had alienated Scots by talking up the threat of SNP influence in Westminster and presenting themselves as an "English nationalist party" in their bid to fend off Ukip.
Writing in The Guardian, he said the UK was on "life support", and blasted the Tories and the SNP for their "sectarian war of words".
Brown called for the creation of a cross-party piece of legislation that would bind the country's four constituent parts with a common statement of values.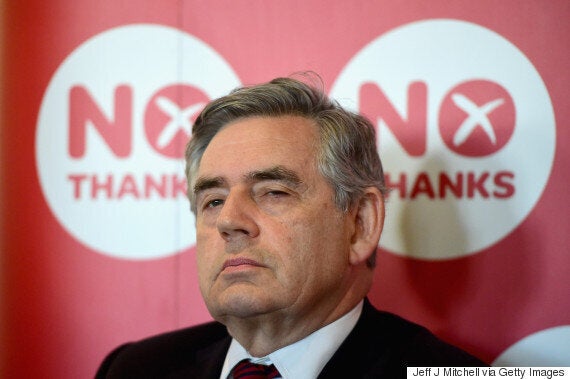 Brown pictured during the independence referendum
He wrote: "If the United Kingdom collapses, it will not be because a majority of Scots are hell-bent on leaving but because the UK government is giving up on saving it.
"No union can survive without unionists and, after an election in which, to head off Ukip, the Conservative and Unionist party presented itself as the English Nationalist party. It is clear that the union is on life support."
Brown's comments come just days after Cameron announced he would soon push ahead with the proposed withdrawal of voting powers from Scottish MPs on matters concerning England.
The suggested 'English votes for English laws' legislation was hailed by Cameron as desperately needed to address the country's "complicated democratic picture".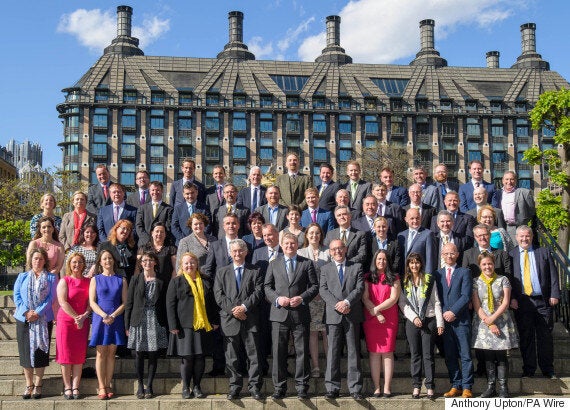 All 56 of the SNP's MPs gather at Westminster
Speaking before the election, he said: "English MPs will be unable to vote on the income tax paid by people in Aberdeen and Edinburgh while Scottish MPs are able to vote on the tax you pay in Birmingham or Canterbury or Leeds.
"It is simply unfair and with English votes for English laws we will put it right."
But Brown hit back at the plans in his article on Friday, writing: "In the last few weeks SNP and Conservative politicians have descended into a sectarian war of words, raising the spectre of Scottish and English 'vetoes' and suggesting there are irreconcilable differences between the two nations.
"It reveals a bigger truth: that while Scotland has not yet written off Britain, the Conservatives are starting to write off Scotland."
Roger Mullin, SNP MP for Kirkcaldy and Cowdenbeath, hit back at the former Prime Minister's comments, saying: "Gordon Brown rightly points out that the Tories don't care about Scotland - he himself used the term 'anti-Scottish' to describe their election campaign - which begs the question of why Labour stood shoulder to shoulder with them in the referendum.
"Brown's legacy is Labour's disastrous alliance with the Tories, and his broken vow from the referendum - which contributed to Labour losing 40 of their former 41 Westminster seats in Scotland to the SNP."
The Huffington Post UK approached the Conservative Party for comment but had received no reply as this story went live.