The Briton who stripped on a sacred Malaysian mountain is expected to fly home Saturday.
Eleanor Hawkins, who appeared in court Friday along with three other tourists, admitted indecent behaviour and was sentenced to three days jail and fined £1,000.
Because Hawkins has been in custody since her arrest on Tuesday she was to be released late Friday. Her lawyer Ronny Cham told the Press Association she would be freed after her leave documents were completed.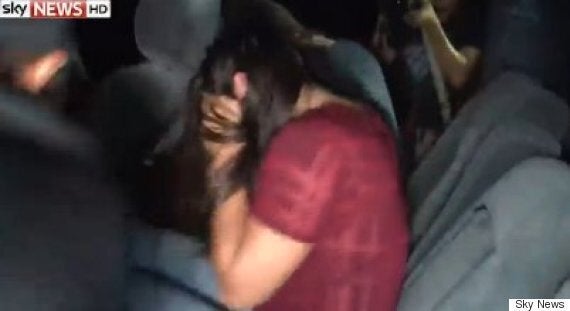 Eleanor Hawkins, pictured above leaving court, is expected to fly home to the UK on Saturday
Mr Cham said the earliest flight his client could catch back to the UK was 6am Saturday.
Hawkins, 23, appeared in court alongside Canadian siblings, Lindsey Petersen and Danielle Petersen, and a Dutch woman, Dylan Snel, after an image of them posing for nude photos on Mount Kinabalu was circulated online.
Miss Hawkins' father, Tim Hawkins said his daughter's sentence was "appropriate and fair for the offence committed", Sky News reported.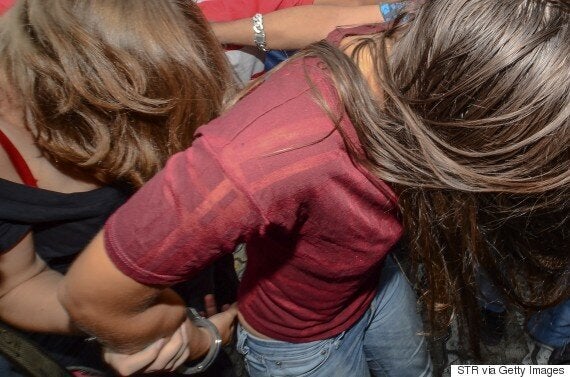 Hawkins, handcuffed and with her head down, is led into the court,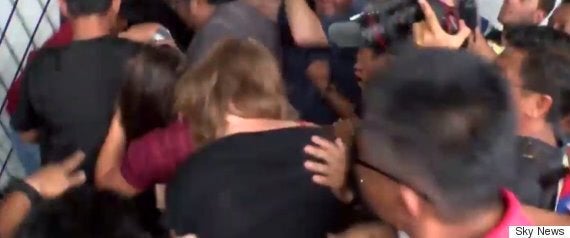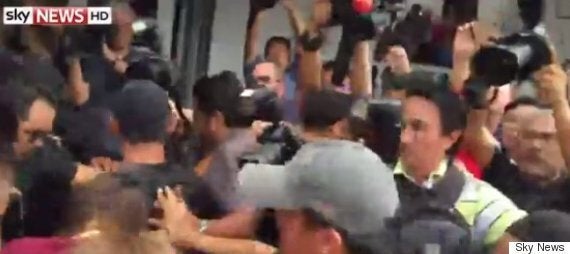 Mr Hawkins added: "I am grateful that the Malaysian authorities reached this decision.
"Eleanor knows what she did was wrong and disrespectful and she is deeply sorry for any offence she has caused."
Authorities had to shelter Hawkins through a huge mass of photographers as she entered the Kota Kinabalu Magistrates' Court where she had been driven by officials wearing balaclavas.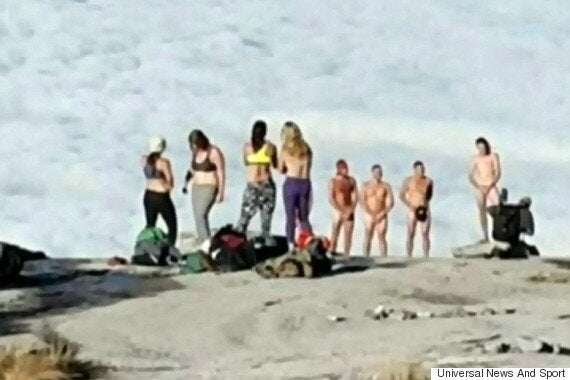 The mountaineers snapped stripping off on the sacred mountain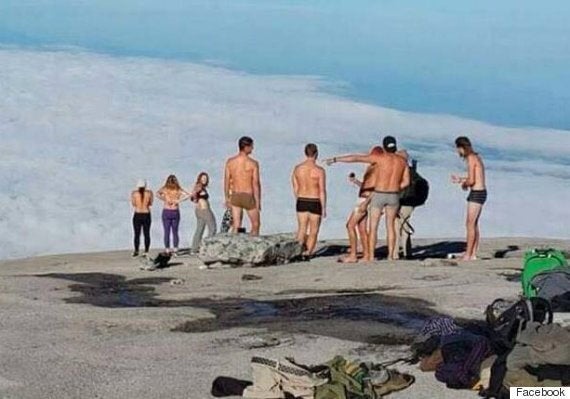 The court heard that the group had been making a lot of noise on the mountain and some members of the group had also urinated in a pond during the incident.
Prosecutor Jamil Ariffin was reported as telling the court that the tourist's jail sentence would serve as a "deterrent" to others .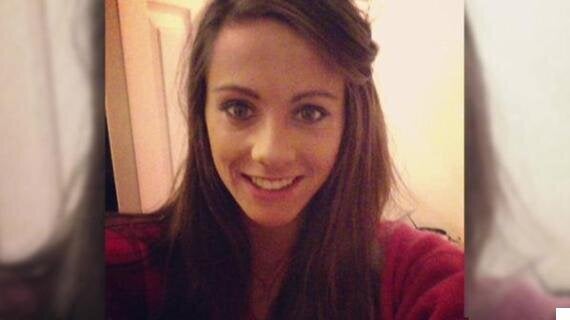 Hawkins seen posing for a photo prior to her arrest
According to Sky News he said: "Many Malaysians will have seen the photos and their actions have caused annoyance. We expect them to obey the law and respect our culture.
"Just because we extend our hospitality to them it doesn't give them the right to behave like this."
Mr Cham told the court the tourists were "ignorant" of the cultural traditions and just how sacred a spot they were on.
He said the group belonged to a generation "defined by their own peculiarities" and the countries they were from.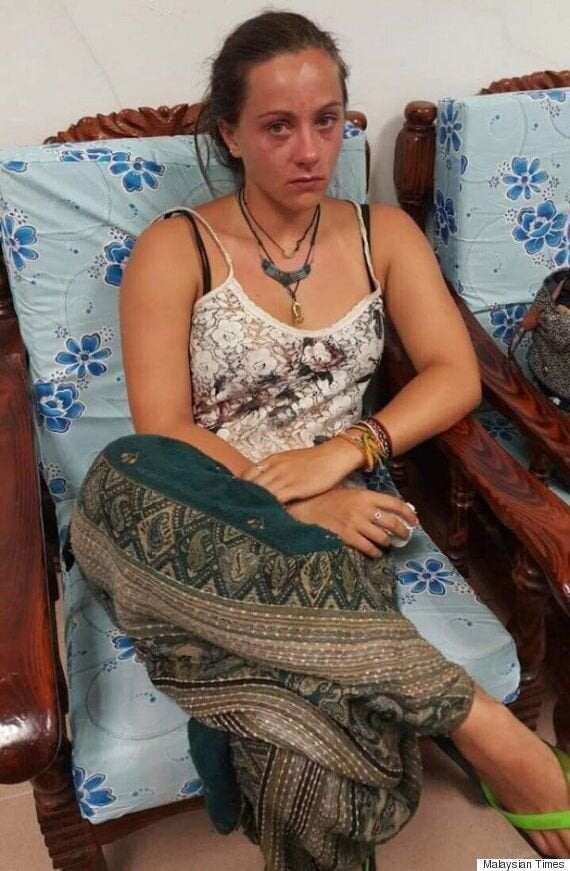 Hawkins, 23, was also fined £1,000 for committing the offense
Mr Cham told the court that the group understood the "hurt and injury to feelings and emotion and sentiment" they had caused.
Many locals believe that the mountain the group took the nude photos on holds the spirit of their ancestors, and that the tourists actions had caused an earthquake that killed 18 people days later.
Canadian Emil Kaminski, 33, posted a photo on Facebook of other members of the hiking team stripping off, and in a separate post, later deleted, criticised officials for blaming them for the earthquake.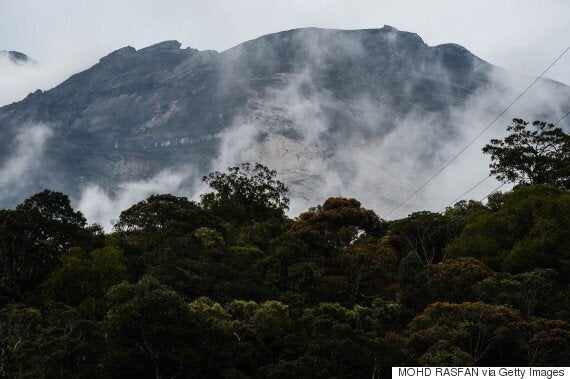 Mount Kinabalu's peak pictured after the earthquake struck
He wrote: "Oh, Malaysia, why are your politicians so stupid?
"Some deranged prick has linked earthquakes and mountaintop nudity."
After a 5.9 magnitude earthquake hit the 13,400ft-high mountain on Friday, Sabah deputy chief minister Joseph Pairin Kitingan blamed the tragedy on the tourists for showing "disrespect to the sacred mountain" by posing naked at the peak.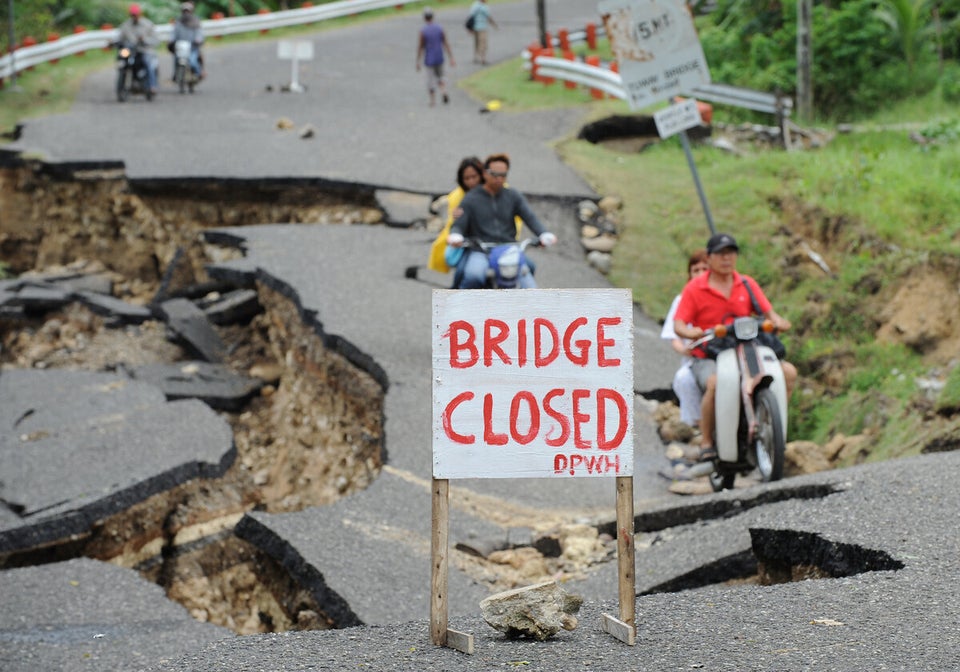 Devastating Earthquake Photos
Hawkins, who recently graduated with a master's in aeronautical engineering, was in the middle of an extended trip around south-east Asia which began in January, according to reports.