Mick Davis - who is being knighted for services to holocaust commemoration - has donated £1.47m to the Conservatives.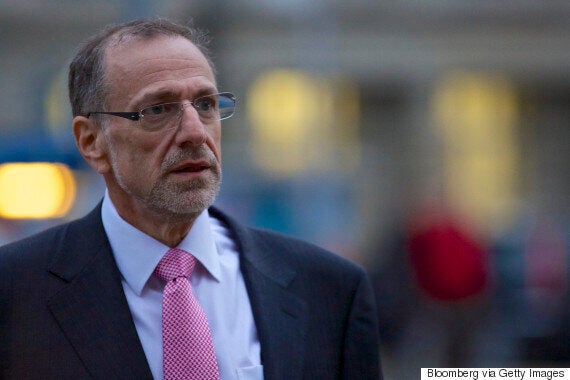 Former Conservative Party Treasurer Henry Angest is also being knighted.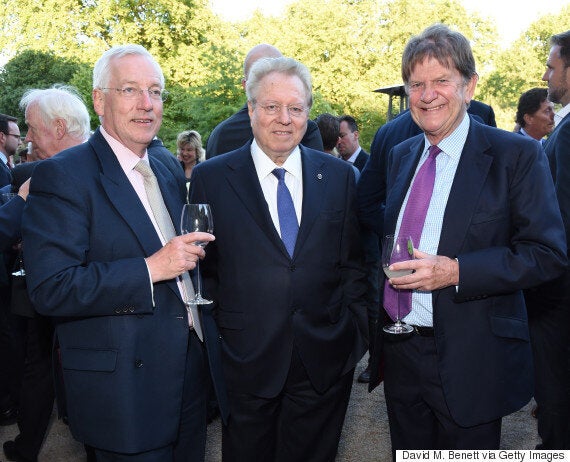 The banker has given £1.9million to the Tories and provided a £5 million overdraft facility to the party through a private bank in which he is the majority stakeholder.
His knighthood is for "political service".
Rory Brooks is to be given a CBE for charitable services. He has donated £300,311 to the Tory party.
Jeremy Isaacs, former Europe chief executive of Lehman Brothers, has given the Conservative party £416,500.
In response to the announcements, Labour MP Graham Jones warned: "People will be rightly concerned if it emerges that the Tories are rewarding their donors with honours."
Others honoured include Oscar winner Eddie Redmayne is continuing a career-defining year with an OBE alongside television regular Martin Clunes, while 12 Years A Slave actor Chiwetel Ejiofor and the creator of much-loved Paddington Bear, Michael Bond, were both awarded CBEs.
American actor and artistic director of the Old Vic theatre Kevin Spacey said he feels like "an adopted son" after being awarded an honorary knighthood for his services to British theatre and international culture.
Spacey, who will step down from the role in the autumn after a 10-year reign at the London arts venue, said: "I am honoured and humbled by such recognition from the Queen. I must thank the British public for being so supportive of my efforts on behalf of the Old Vic. I feel like an adopted son."
Once again the names of some high-profile winners were leaked, with newspapers reporting Sherlock Holmes actor Benedict Cumberbatch's CBE days ahead of the official announcement.
Sir Jonathan Stephens, chair of the Honours Committee, said he was "very disappointed" about the leaks, which followed attempts to tighten procedures and access.
Ebola nurse Will Pooley, 30, who was urgently evacuated to London when he contracted the deadly virus in Sierra Leone last year, only to return to his life-saving work just months after recovering, was named an MBE for his services in tackling the outbreak in Africa.
The Suffolk nurse, who is now back in England, was the first British person to be diagnosed with the disease and sparked an outpouring of support when he flew back to the country to help the thousands of sufferers.
His family said they were proud of him for "doing something that most people would not dream of".
Also honoured for his major role in the Ebola crisis is Dr Oliver Johnson, whose swift actions in response to the initial outbreak saved many lives, the Foreign Office said, as it named him an OBE for his overseas service in Sierra Leone.
Dr Johnson, director of King's Sierra Leone Partnership, said: "Everything we achieved is due to the efforts of extraordinary local health workers and international volunteers, who have bravely led the fight against Ebola and did not hesitate to put their lives at risk to save others."
Another recipient whose compassion captured the hearts of the nation is mother-of-one Katie Cutler, 22, who launched a fundraising campaign for disabled pensioner Alan Barnes after he was mugged outside his home.
Miss Cutler, who has been awarded a British Empire Medal (BEM), hoped to raise £500 for Mr Barnes after learning of the attack but was staggered to see donations rise to more than £300,000 when her appeal went viral, affording the 67-year-old a new home.
She said: "It was horrible, what happened to Alan. I think it touched and affected everyone and I just wanted to help him. But receiving an award is surreal."
Prominent sports figures who have made it on to the list include former Welsh rugby star Gareth Edwards, who has been awarded a knighthood for his long service to the game.
Making up 5% of the recipients, other sporting stars to receive awards include former England footballer Frank Lampard, who was named an OBE, record-breaking cricketer James Anderson, also named an OBE, and England women's football captain Casey Stoney, currently competing in the World Cup in Canada, who was named an MBE.
Rugby star Jonny Wilkinson, who was left embarrassed after his name was wrongly reported to be in the last set of honours, was awarded a CBE for his dedication to rugby union.
A number of women's campaigners were recognised for their work in tackling gender inequality in a list which saw 51% of the awards go to women, equalling the previous highest record of the 2014 New Year's Honours list.
However, at the top end of the list only seven women were named a Dame while more than three times as many men were named Knights.
Journalist Caroline Criado-Perez, whose successful campaign to keep a woman on a British banknote resulted in a backlash of online abuse against her, has been named an OBE for her work towards equality and diversity, while fellow feminist writer Laura Bates, founder of the Everyday Sexism Project, was awarded a BEM.
Miss Bates, 25, launched the project in 2012 to catalogue women's experiences of sexual harassment in the UK but it has since accelerated into a worldwide movement touching upon all issues affecting women and has attracted some 100,000 online entries.
She said: "I'm enormously surprised, really honoured and very excited. For me, it suggests that this work around gender equality is being recognised and taken seriously."
The Cabinet Office said 7% of the successful candidates come from ethnic minority communities, a small increase on recent lists, while 6% consider themselves to have a disability.
Dr William Frankland, a pioneer in allergy research who first introduced the study to the UK, is the oldest person on the list to receive an MBE at 103, while 17-year-old Natasha Lambert, who has athetoid cerebral palsy is the youngest, receiving a BEM for her work in fundraising.
Two historians instrumental in the discovery of Richard III's remains in a Leicester council car park have been highlighted for their complex work which culminated with the king's reburial at the city's cathedral earlier this year, following a legal battle about where his final resting place should be.
Philippa Langley and Louis Ashdown-Hill, who led the campaign to find and rebury the 15th century king, were both awarded MBEs for their tireless work piecing together the complicated case.
Mrs Langley today described it as "epic battle" which "succeeded against all the odds and informed history".
GMB leader Paul Kenny has been awarded a knighthood in the latest honours, after a lifetime in the labour movement, for his service to trade unions.
He said: "I have accepted this as recognition of the crucial role trade unions play in society.
"We get denigrated for standing up against exploitation and bullying, so I'm delighted our role is finally being recognised."
Among the politicians to feature on the list for their public service is Tory donor and friend of David Cameron Henry Angest, who was awarded a knighthood along with Simon Burns, who has been Conservative MP for Chelmsford for nearly 30 years. Former Liberal Democrat deputy leader Simon Hughes, who lost his seat in May, also features.
Duwayne Brooks, the friend of murdered black teenager Stephen Lawrence, who witnessed the attack which led to flawed inquiries that exposed institutional racism within the Metropolitan Police Service, was awarded an OBE for public and political service after serving as a Lib Dem councillor.
Mr Brooks, 40, said he was "humbled" to be recognised for his work in local politics and fairer policing.
In education, Nicholas Weller, executive principal at Dixons Academies in Bradford, received a knighthood for his dedication to teaching, but the announcement came in a dark week for the chain of schools following the stabbing of a teacher during a science class at Dixons Kings Academy on Thursday.
He is among hundreds of people away from the public eye who have been honoured, with nearly three-quarters (70%) of the list made up of people who have dedicated themselves to outstanding work in their communities.
They include businesswoman Zarine Kharas, founder of JustGiving.com, who was awarded a damehood for her innovative work in business and charity; Clarissa Baldwin, former chief executive of the Dogs Trust, who was named a CBE; Captain Christopher Fagan, named an MBE for services to the Gallipoli Association; James Jukes, founder of UK Homes 4 Heroes; and Fay Maxted, chief executive of The Survivors' Trust, named an OBE for her work with victims of rape and sexual violence.
Also recognised for their public service are Michael Davis, chair of the Prime Minister's Holocaust Commission, and Professor Ian Weller, a research specialist in sexually transmitted diseases, who have been awarded knighthoods.
Jonathan Hill, an investigator with the Independent Commission for the Location of Victims' Remains, was named a CBE for his services to the Northern Ireland Peace Process, while Anthony Steen, chairman of the Human Trafficking Foundation, was awarded an MBE, and Andrew Wallis, founder of of Unseen, an OBE, both for their efforts in fighting modern slavery.
Former MP Mr Steen, who stood down from Parliament following controversy over his expenses claims, said he was "delighted" to have been recognised "in exposing what had been seen as hidden and underground".
Sir Jonathan, who has taken over from Sir Bob Kerslake, said: "This list, of course, celebrates an enormously wide range of people who have been doing extraordinary things in their local communities and for the nation."