Scientists who gave up searching for their pioneering space probe have had the "incredible news" that it has reappeared and resumed communicating with them.
Comet lander Philae landed on a fast-moving comet hundreds of million miles from earth - the first ever to accomplish the feat - in November and sent extraordinary data about life on the surface of the body.
But it went into hibernation 60 hours later when its power ran out. The European Space Agency (Esa) called off its dedicated search for the probe in January.
Last night, it got back in touch.
After the comet moved close to the sun and the probe used solar energy to restore its power, Philae broadcast to for around 85 seconds and sent 300 packages of data to earth via its mothership Rosetta.
Others attached to the project and in the scientific community reacted with relief and astonishment. Professor Monica Grady, one of the UK's leading space scientists, was so elated she hugged the driver of the taxi she was on while I heard.
Philae is designed to analyse ice and rock on the comet, which is known 67P.
Philae communicated with Rosetta at 9.28pm UK time on Saturday, the German Aerospace Centre, which operates it, said.
"Philae is doing very well. It has an operating temperature of -35ºC and has 24 Watts available" project manager Stephan Ulamec said in an Esa blog. "The lander is ready for operations."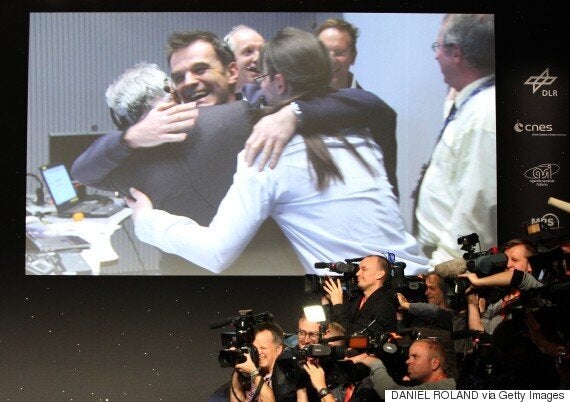 Journalists film Esa scientists' reaction to Philae landing in November 2014
Philae's exact location on 67P is unknown. When it landed, it "bounced" on the surface twice before settling.
Rosetta was launched carrying the Philae probe in 2004.
In the blog announcing Philae's contact, Esa wrote: "Now the scientists are waiting for the next contact. There are still more than 8000 data packets in Philae's mass memory which will give the DLR team information on what happened to the lander in the past few days on Comet 67P."
The blog added: "More information when we have it!"