This Frozen-themed shot of an all-girls softball team is nothing short of brilliant.
Pro-photographer and mum, Betsy Gregory, took the fierce shot of team 'Freeze' in their Frozen princess dresses.
The girls - who are between four and five years old - play t-ball, which is a combination of softball and baseball, and is designed to get youngsters playing sports and having fun from an early age.
"This is my daughter's softball/t-ball team," wrote proud mum, Gregory on Facebook.
"We had an absolute blast trying to get this image and the fact that I did not have to switch any heads is an absolute miracle! Meet the Freeze… we may have only won one game this season, but we sure did look cute doing it!"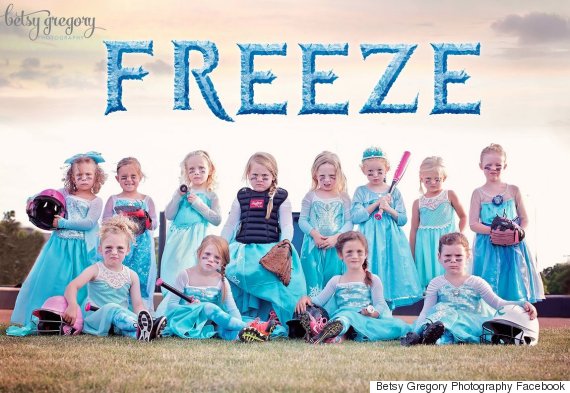 The photographer revealed that the idea behind team 'Freeze' came when she was sitting with a group of friends waiting for their daughters to finish dance class. (Gregory's daughter is the "catcher" in the middle of the photo above.)
"We joked that we should start a softball team with a Frozen theme," Gregory told Planet 5D.
"We were going to be called the Sparkling Elsa's and then the Freeze was thrown out and we knew it was the name for us!
"We laughed about uniform ideas, recruited friends to coach, asked Elsa-loving girls to play and the Freeze was born."
Best idea ever? Yuh huh.
SEE ALSO:

Kid's Reaction To Finding Out He Is Going To Disneyland Is Priceless

Girls Become Self Conscious And Stop Playing Sport As Young As Seven, Report Finds

Sexism Is Putting Women And Young Girls Off Sport - Is Viewed As 'Unfeminine' Says Report
[H/T Planet 5D]