A sixth person has died in a balcony collapse at a luxury apartment in Berkeley, California, which killed five Irish students.
The Irish government has now confirmed six of the victims were Irish citizens, while many of those hurt have life-threatening injuries. The students were celebrating a 21st birthday, according to an ABC7 reporter, and were in the US on a work visa for the summer as part of the country's J-1 programme.
They were named by officials on Tuesday evening as Ashley Donohoe, 22, Oliva Burke, 21, Eoghan Culligan, 21, Niccolai Schuster, 21, Lorcan Miller, 21, and Eimear Walsh, 21.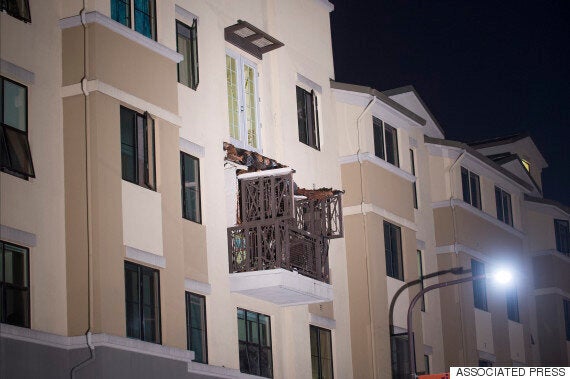 A fourth floor balcony rests on the balcony below after collapsing at the Library Gardens apartment complex in Berkeley
Police received a noise complaint concerning a loud party in the building about an hour before the balcony collapsed at 12.41am, but had not yet responded, said Officer Byron White, spokesman for the Berkeley Police Department.
The balcony, estimated to have been 5 feet by 10 feet, separated completely from the building and landed on a lower balcony.
"What the first responders said is it was quite disturbing," White told AP. "Anytime you have a tragedy like this it's quite awful."
Two Irish students asleep in the building said they heard a bang during the accident.
"I walked out and I saw rubble on the street and a bunch of Irish students crying," said Mark Neville, who has been in the U.S. for three weeks under the J-1 visa program.
"I just heard a bang and a lot of shouting," added Dan Sullivan, 21.
RTE reports there was an Irish 21st birthday taking place in the apartment when the balcony collapsed onto the one below, and then onto the path.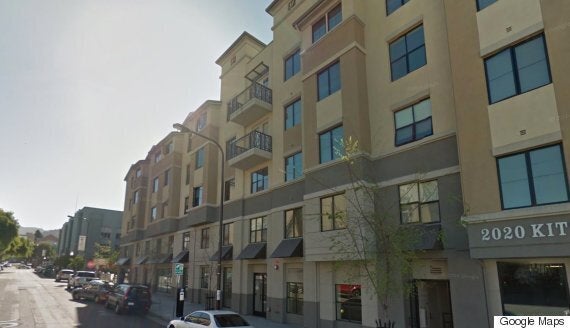 A Google street view of the Library Gardens apartments on Kittredge Street
Jennifer Coats, an officer in the Berkeley Police Department, said the force was alerted shortly after 1am to the collapse on Kittredge Street, which police believe took place at 12.41am.
"We don't have a lot of specific detail at this point because they (investigators) are still trying to work through it all," Sky reports her saying.
Charlie Flanagan, the Irish minister for foreign affairs, said it was "too early to know the full extent of this dreadful accident".
In a statement, Flanagan said: "It is with great sadness that I confirm that a number of young Irish citizens have lost their lives while a number of others have been seriously injured following the collapse of a balcony in Berkeley, California, earlier today.
"My heart goes out to the families and loved ones of the deceased and those who have been injured in this appalling accident."
The Irish Immigration Pastoral Center, which provides a "home away from home" for Irish people in the States, is now urging all San Francisco-based students who were on the J1 programme to call their families "asap".
President of Ireland Michael D Higgins, who heard of the news during a visit to Italy, said: "My heart goes out to the families and loved ones of all those involved. I have been informed of the consular assistance being provided to assist all of the families involved and I have asked to be kept informed as further details emerge."
The Union of Students in Ireland released a statement saying: "The thoughts and sympathies of the whole student movement in Ireland are today with the families and friends of those young people caught up in this terrible event. We are anxiously awaiting further information from the authorities."
Ireland's Department of Foreign Affairs said it was trying to contact families of the victims and could not give details of their identities.
Anyone with concerns about their family can call the Ireland Emergency Consular Response Team on 00 353 1 418 0200.