An emotional US first lady Michelle Obama has delivered a highly personal speech to British students on the first of a two-day visit to the UK to promote her charity work.
Mrs Obama is visiting Britain to discuss her campaigns for girls' education and better support for military families.
She told students at Mulberry School for Girls in Tower Hamlets in east London that she was just like them, saying "your story is my story".
"I may come from a country that's an ocean away. I am a bit older than you all. Yeah, I am. I know i don't look it, I am... just a little older. In so many ways your story is my story."
Mrs Obama told the students that she had come from "a working class neighbourhood" on the south side of Chicago and that her parents had told her "that I could do anything... but only if I worked as hard as I could to succeed at school".
Mrs Obama said she was at the school "because girls like you inspire me".
She was also there to discuss joint work between the two nations to boost education for adolescent girls across the world through the Let Girls Learn initiative, championed by her and her husband, US president Barack Obama.
Mrs Obama told the students: "I dreamed one day of going to... the best universities but... there were people who told me that I was setting my sights too high."
She said with an education, anything was possible: "With an education... you all have everything you need to rise above all the noise and fulfill every last one of your dreams."
She added: "It is so important that you do that. Not just for yourselves but for all of us. You have a unique voice to add."
Mrs Obama told the students "the world needs more girls like you" to lead parliaments and board rooms, and to tackle issues like climate change and extremism.
She added: "People like me and my husband... and so many leaders here in the United Kingdom... are standing with you."
"I know what's inside of girls like you and like me. I Know... how much of a difference we can make for those around us."
Pupils at the single-sex comprehensive will get the chance to grill the first lady - along with former prime minister of Australia Julia Gillard, who chairs the board of the Global Partnership for Education.
Writing in the Financial Times, Mrs Obama cited figures suggesting more than 62 million girls were out of school across the world, which she described as "a heartbreaking injustice".
Girls faced obstacles to education such as forced marriages, early pregnancies, abuse and sexism, she said.
Story continues below pictures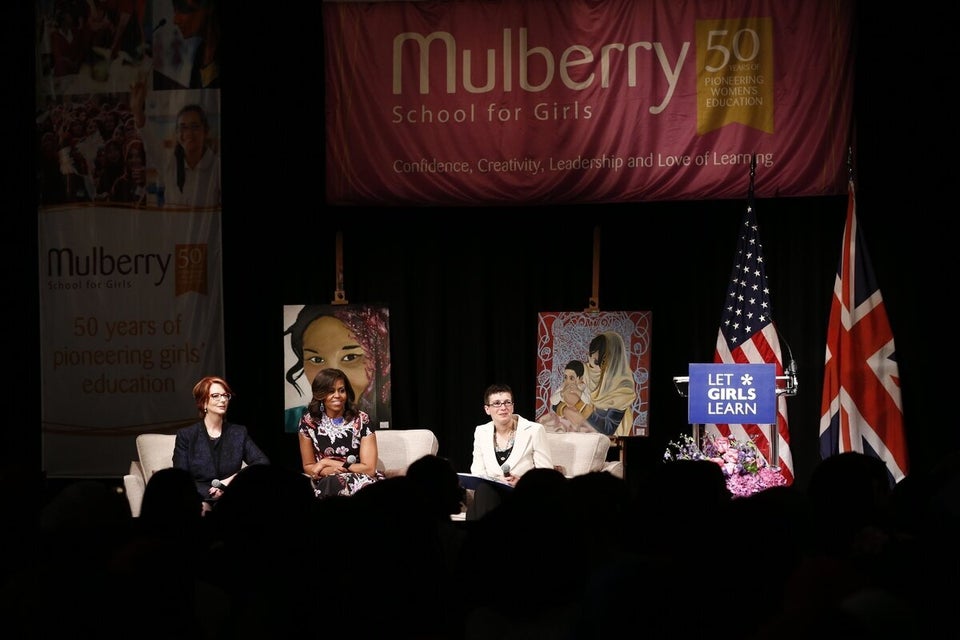 Michelle Obama London
"That kind of life is unthinkable for the girls in our lives, so why would we accept this fate for any girl on this planet?" she wrote.
"This week I will join Prime Minister David Cameron in London to begin to answer that question, and announce a series of partnerships between the US and UK to educate adolescent girls in developing countries around the world."
She praised the UK as a "global leader" for girls' education and said one joint scheme included a 180m-dollar investment in the Democratic Republic of Congo.
She added: "In addition, our development agencies and two of countries' leading universities will collaborate on evidence-based research to determine the best ways to educate adolescent girls. And British and American partners will work together to support teacher training, girls' leadership camps, and other community-based programmes in developing countries.
"Combined, these efforts total nearly 200m dollars - but, given the scope of this challenge, even that is nowhere near sufficient. Girls' education is a global issue that requires a global solution."
Upon arrival last night, the first lady was greeted by US military families as she stepped off the plane at Stansted Airport, followed by her mother and two daughters.
The White House said Prince Harry was hosting Mrs Obama two years after attending a tea for military mothers with her in the US.
Her chief of staff Tina Tchen said: "He was wonderful and it was wonderful to have him here. And we hear from his staff that he is happy to return the favour."
Ms Tchen added that they would be able to talk about "that shared interest that they have on military families".
The Joining Forces campaign - another of those spearheaded by the first lady - "works hand in hand with the public and private sectors to ensure that service members, veterans and their families have the tools they need to succeed throughout their lives".
After London, the party will fly on to Italy to meet US armed services families based in Europe and to visit the Milan Expo as part of the third strand of her work, encouraging healthier diets for children.