The father-child relationship has changed.
Why? Because dads want to be more involved in their children's lives; dads are getting longer paternity leave; and dads are getting more recognition.
So because we are #CelebratingParents in June, here are 12 things you should know about what it's like to be a dad in 2015, according to our HuffPost UK dad bloggers. 1) Dads are not babysitters.
"I'm beginning to think that dads are slowly becoming more 'baby' sensitive," Al Ferguson wrote.
"But DADS DON'T BABYSIT! It is impossible to babysit your own kids. Actually impossible.
"When a mum is out with her kids, no-one in their right mind would suggest that she is babysitting. Yet throw it round to dads and all we ever do is apparently 'babysit.' Since when did looking after your own kids become babysitting?"
2) A dad and his child have an unbreakable bond.
"Soon after my wife was killed in November 2012 I decided to start a blog," wrote Benjamin Brooks-Dutton.
"The words I published would capture the struggles facing myself and my three-year-old child, Jackson, as we learned to balance the emotional conflict of living through loss.
"On one side was the crippling physical and mental torture of losing the woman we both love, and on the other were the unexpected moments happiness that our new life together as a twosome would bring."
3) Becoming a dad is one of the best moments of their lives.
"Announcing I was expecting my first son last year, I might as well have hung a neon sign around my neck reading 'regale me with months of stories about how hard it all is, how little sleep I'm going to get, how life as I know it is over...'," said Nic Stevenson.
"I don't really know why there seems to be relentless negativity about children from so many parents, but perhaps it's time to set it aside...
"When someone you know tells you they're expecting, set them off on the right foot by simply telling them it'll be the best thing that's ever happened to them."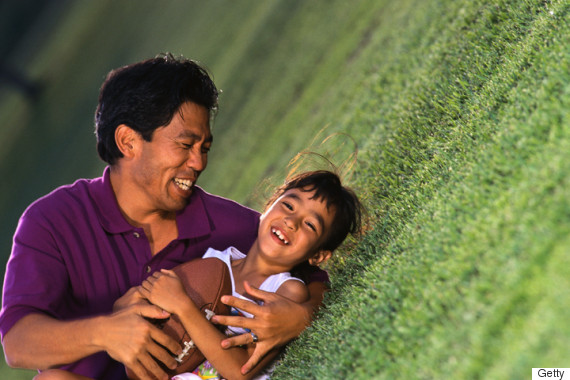 4) Foster fathers experience the same life-changing moments.
"One of the joys of foster care is being a witness to extraordinary, life-changing moments," wrote Martin Barrow.
"I shall never forget the day we took our three young foster children to the beach for the first time ever, even though they had lived no more than 15 miles from the sea.
"As they splashed about in the waves it was as if someone had thrown a switch on to life's endless possibilities."
5) It's not only women who experience postnatal depression.
"Depression can hit up to around one in five fathers by the time the child reaches adolescents," explained Mark Williams.
"In a published report in 2015, it states that at least 10% of fathers will suffer with postnatal depression, which can include the birth itself and up to a year after."
SEE ALSO:

This Video Of Men Finding Out They're Going To Be Dads Will Make You Cry
6) Dads really value parent parking spaces.
"Today at the leisure centre, maybe through sheer luck, we managed to get ourselves a parent parking space," began John Hibbs.
"As the little lady was asleep, I decided to wait for a while. I was at first struck by the number of cars already parked in the parent parking.
"My naivety suggested that it may be a surge of healthy parents already in the changing rooms set for a splash session with their child.
"In the vacant space (parent parking I might remind you) came and parked a pool attendant. Out of his car, he sprung and made his jolly way to work. Now, this is not the only time I have seen this happen.
"I do assert that when a space has been designated for a purpose, it shouldn't be used by someone who doesn't require it for any other reason than laziness!"
7) Dads want to spend more time with their kids.
"This is my tale of the jealousy of a working dad," Ashley Beolens wrote.
"I want to be there to pick my kids up from school every day, or be there when my kids walk in the door.
"I want to spend the holidays drawing, painting and creating all manner of weird and wonderful craft projects with them, or wandering through the fields and avenues of our surrounding town as we go on adventures in the great outdoors.
"I want more time with my beautiful daughter, I want more time with my handsome sons. I don't want to miss watching them grow for a single moment." 8) Modern dads appreciate their own parents.
"I have had an epiphany. It's hard being a mother," said Ben Adams.
"My two boys mean the world to me, but it isn't easy being a single parent.
"So I'm sorry I've been such an ungrateful son all these years Mum. I'm sorry for the cheap flowers on Mother's Days gone by.
"And while I am at it, I'm sorry that my dog chewed up your wallpaper when you so generously gave us a roof over our heads last year."
9) Nothing compares to a neck hug.
"Why am I raging about being a dad? Well firstly, until you have had a neck hug (you know the ones, arms flung tightly around your neck) from one of your little ones then you have not had a real hug!" said Ashley Beolens.
"These cuddles beat everything, hands down, after a stressful day trouble melts away with a good neck hug.
"Down about something, a neck hug will help. Angry? Again, grab a good neck hug from your little one you'll calm right down."
10) Sex with your partner is harder, but necessary.
"Parents need to get creative and patient when it comes to sex," said Torsten Klaus.
"I found the less you stress about it and accept what it is and are honest with each other, the more you enjoy the intimacy.
"Maybe you have decided to schedule in regular 'sex dates' in the week. Or you feel that you are not ready for it just yet.
"Often just sharing the warmth of the other's skin is enough to recharge and get closer again, whatever you decide, make sure you talk about it!"
11) Playground politics are best avoided (online and offline).
"There will be times when I won't understand why a school are doing something in a particular way," said Joe Ellis-Gage
"There may even be times when I really disagree with the way a school is doing something.
"But I hope I stick to my word and deal with it like a grown up, in a supportive and cooperative way and don't get lured into bitching about it at the gates, or worse still on Facebook."
12) Waiting isn't the worst part of a baby's birth... crowning is.
"People will tell you that waiting is the worst part, they are talking bollocks - it's crowning, crowning is the worst part by miles," wrote James Conmy.
"I, of course, am speaking as an observer, but holding hands with someone can give you some insight in to how they feel.
"Listening to their screams and pleads can provide a good indicator as well. I can assure you that whilst 'waiting' my hand was absolutely dandy, a little clammy perhaps but overall it was fine, delightfully uncrushed.
"Between contractions we even had conversations, don't ask me to remember what they were, but they were conversations nonetheless.
"There is a marked difference with crowning. You don't have conversations during crowning."
HuffPost UK Lifestyle are running a month-long campaign called Celebrating Parents throughout June, to highlight the great things parents do every day, as well as the times they've gone above and beyond the call of duty.
If you would like to contribute, either with a special message of thanks to your mum and/or dad, or if you know of a parent (your own or someone else's) with an inspiring story to share, then please email us here with "Celebrating Parents" in your email's subject line.