Jimmy Page has confirmed his latest tranche of Led Zeppelin remasters will be the last material to be released by the band.
The legendary guitarist was speaking at an exclusive playback session featuring highlights of the band's final three albums all of which are to be released in all manner of glorious reissues next month.
He said: "As far as the studio side of things, this is it.
"Unless something might pop up on international Record Day or something like that. But it will be a long way off."
The latest release wraps up a momentous project involving "hundreds of hours of listening".
He said: "What it means for the Zeppelin fans is that there's not twice as much information out there and it;s of really good quality. As far as I'm concerned I've done my job here.
Page openly declared his intention to get back to playing now the fourth and final part of the series is complete.
He said: "I won't take it easy. I'll be working on the guitar now, that's the next thing to be obsessive about.
"It's clear what I'm going to be doing next; I want to do something, which involves being seen to play the guitar.
"I mean, better doing that than a violin project!"
Deluxe editions of the rock legend's studio LPs will be accompanied by companion audio comprised of previously unreleased music related to the original release selected and compiled by Page himself.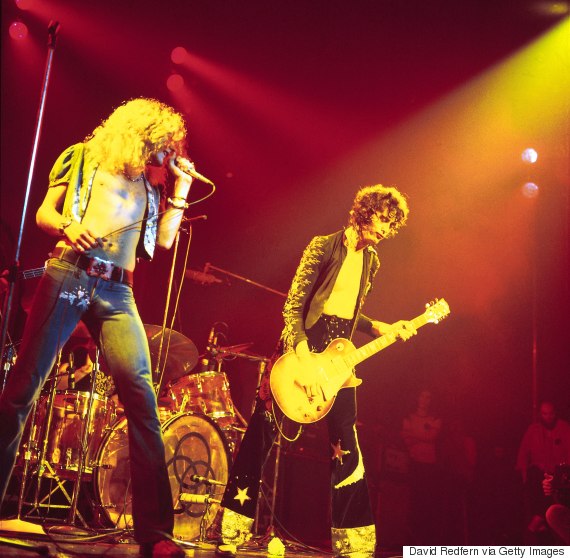 Presence, In Through The Out Door, and Coda will each be available July 31 from Atlantic/Swan Song in the following formats:
Single CD – Remastered original album. Presence and Coda will be packaged in a gatefold card wallet. All CD and LP versions of In Through The Out Door will be wrapped in a brown paper page replicating its initial release.
Deluxe Edition (2CD and 3CD) – Remastered album, plus a second disc of unreleased companion audio. Coda will feature two companion audio discs.
Single LP – Remastered album on 180-gram vinyl, packaged in a sleeve that replicates the LP's first pressing in exacting detail. All vinyl versions of In Through The Out Door will also include the water-sensitive insert that replicates the inner sleeve from the album's initial release.
Deluxe Edition Vinyl – Remastered album and unreleased companion audio on 180-gram vinyl. Coda will feature two companion LPs.
Digital Download – Remastered album and companion audio will both be available.
Super Deluxe Boxed Set – This collection includes:

- Remastered album on CD in vinyl replica sleeve.

- Companion audio on CD in card wallet.

- Remastered album on 180-gram vinyl in a sleeve replicating first pressing.

- Companion audio on 180-gram vinyl.

- High-def audio download card of all content at 96kHz/24 bit.

- Hard bound, 72+ page book filled with rare and previously unseen photos and memorabilia.

- High quality print of the original album cover, the first 30,000 of which will be individually numbered.

LIKE US ON FACEBOOK | FOLLOW US ON TWITTER

Full track listings...

Presence

Track Listing

1. "Achilles Last Stand"

2. "For Your Life"

3. "Royal Orleans"

4. "Nobody's Fault But Mine"

5. "Candy Store Rock"

6. "Hots On For Nowhere"

7. "Tea For One"

Companion Audio

1. "Two Ones Are Won" (Achilles Last Stand – Reference Mix)

2. "For Your Life" (Reference Mix)

3. "10 Ribs & All/Carrot Pod Pod (Pod)" (Reference Mix)

4. "Royal Orleans" (Reference Mix)

5. "Hots On For Nowhere" (Reference Mix)

In Through The Out Door

Track Listing

1. "In The Evening"

2. "South Bound Saurez"

3. "Fool In The Rain"

4. "Hot Dog"

5. "Carouselambra"

6. "All My Love"

7. "I'm Gonna Crawl"

Companion Audio

1. "In The Evening" (Rough Mix)

2. "Southbound Piano" (South Bound Saurez – Rough Mix)

3. "Fool In The Rain" (Rough Mix)

4. "Hot Dog" (Rough Mix)

5. "The Epic" (Carouselambra - Rough Mix)

6. "The Hook" (All My Love - Rough Mix)

7. "Blot" (I'm Gonna Crawl - Rough Mix)

Coda

Track Listing

1. "We're Gonna Groove"

2. "Poor Tom"

3. "I Can't Quit You Baby"

4. "Walter's Walk"

5. "Ozone Baby"

6. "Darlene"

7. "Bonzo's Montreux"

8. "Wearing And Tearing"

Companion Audio

Disc One

1. "We're Gonna Groove" (Alternate Mix)

2. "If It Keeps On Raining" (When The Levee

Breaks - Rough Mix)

3. "Bonzo's Montreux" (Mix Construction In Progress)

4. "Baby Come On Home"

5. "Sugar Mama" ( Mix)

6. "Poor Tom" (Instrumental Mix)

7. "Travelling Riverside Blues" (BBC Session)

8. "Hey, Hey, What Can I Do"

Disc Two

1. "Four Hands" (Four Sticks - Bombay Orchestra)

2. "Friends" (Bombay Orchestra)

3. "St. Tristan's Sword" (Rough Mix)

4. "Desire" (The Wanton Song - Rough Mix)

5. "Bring It On Home" (Rough Mix)

6. "Walter's Walk" (Rough Mix)

7. "Everybody Makes It Through" (In The Light - Rough Mix)

SEE ALSO: