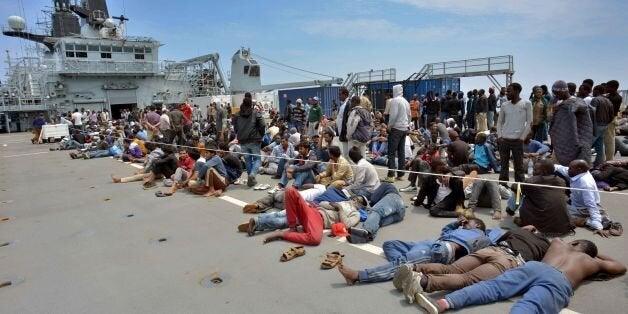 The Pope has criticised EU countries that "close the door" to migrants amid the growing crisis in the Mediterranean as the UK Government came under pressure to "rescue frightened people".
Pope Francis asked for "forgiveness" for the "persons and the institutions" failing to offer sanctuary as migrants flee countries including Libya.
The remarks came as Labour renewed criticism of the UK Government for last year announcing it would not support any future search and rescue operations, and sought assurances over the future of the Royal Navy flagship, which has rescued more than 2,900 people entering Europe across the Mediterranean.
In unscripted remarks, the Pope said in his weekly address: "I invite you all to ask forgiveness for the persons and the institutions who close the door to these people who are seeking a family, who are seeking to be protected."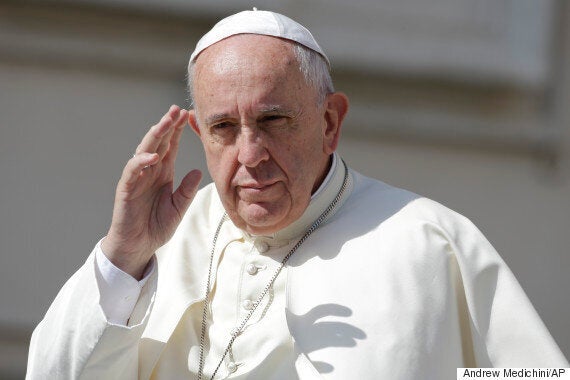 Pope Francis waves as he arrives for his weekly general audience, in St Peter's Square at the Vatican, today
During Prime Minister's Questions, Shadow Foreign Office Secretary Hilary Benn challenged Chancellor George Osborne, who was standing in for David Cameron, over rescue operations.
The Ministry of Defence this week confirmed HMS Bulwark is due to leave the Mediterranean at the beginning of July after its six-week deployment.
Mr Benn said the ship has done an "extraordinary job" in "rescuing frightened people" since being deployed by the Prime Minister at the height of the crisis in April.
He added it was a "grave error" to reduce support last year, and asked for assurances the UK would continue to help "save the lives of those in peril on that sea".
Mr Osborne said there is a question of maintenance for the vessel, but that Britain will "continue to play our full part in the search and rescue operation".
"No one should be in any way doubt Britain's determination to play its role in helping in this situation," he told the Commons.
"Taking people out of the water and rescuing them ... is absolutely essential. We are a humanitarian nation. But in the end you have to break the link that enables people to get on a boat and claim asylum in Europe and spend the rest of their life on the European continent. That is the draw."
Popular in the Community