Rotted wooden beams are the likely cause of the Berkeley balcony collapse that killed six students, the US city's mayor has signalled.
Tom Bates said initial findings by investigators suggested the wood was not properly caulked and sealed when the building was being constructed. It is believed the supports were damaged by moisture as a result.
"More than likely, it was caused by rain and water damage that was caused to the support beams," the mayor said.
Although he said it was "obviously a bad idea" for 13 people to be on the fourth floor balcony at one time, he stressed he was not blaming the victims.
The balcony has also been described as "decorative" by a former member of the panel which approved construction of the apartment in 2001.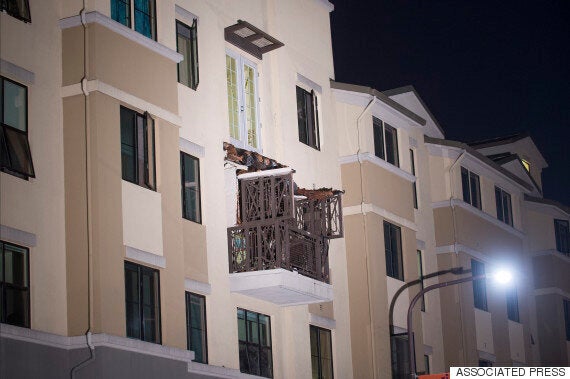 A fourth floor balcony rests on the balcony below after collapsing at the Library Gardens apartment complex in Berkeley
"It was definitely not large enough to be what the city would call an 'open space balcony,' where groups of people could stand outside," Carrie Olson told the SF Gate.
"This was meant just to be a place where someone could stand out for bit, get a breath of fresh air. Not for something like 13 people."
The city chief made his remarks after the first groups of parents arrived in San Francisco overnight to begin the unenviable task of visiting hospitals and mortuaries where their sons and daughters lie.
The victims - five from Ireland and one from California - plunged to their deaths from the fourth-floor apartment at Library Gardens in the university city's Kittredge Street.
They were among around 40 people attending a 21st birthday party in the early hours of Tuesday.
As well as the six killed, seven were seriously hurt, with two of them fighting for their lives.
Another balcony at the apartment complex has since been deemed "structurally unsafe" and a "collapse hazard". The owners have been ordered to demolish it.
Two other balconies were sealed off or "red-tagged" as tests continue.
An Irish Government minister has travelled to the US to give first hand support to the grieving families.
Jimmy Deenihan, responsible for diaspora affairs, was sent to San Francisco in a sign of solidarity.
Foreign Affairs Minister Charlie Flanagan said concerns were also turning to the impact the trauma would have on those who survived the accident and those who witnessed it.
"We are also conscious that many Irish students were not physically injured, but were left deeply shocked and saddened by the loss of friends and classmates in this terrible accident," he said.
Seven people remain in hospital in California.
The close connections between all the dead and injured - friendships which spanned south Dublin suburbs, old school links and university classes - prompted a raw outpouring of grief at home.
The dead were Ashley Donohoe, 22, an Irish-American from Rohnert Park, a city north of San Francisco, and her 21-year-old cousin Eimear Walsh, from Foxrock, south Dublin.
Ms Walsh studied medicine at University College Dublin (UCD), as did Lorcan Miller, also from south Dublin who was described by former teachers at St Andrew's College Booterstown as an exceptional person and perfectly suited to his chosen career as a doctor.
Headmaster Peter Fraser recalled him.
"The one thing speaking to colleagues this morning was the fact that he was positive, engaging, a decent boy who was incredibly talented, but normal, modest and balanced about it all. He was hugely popular," he said.
Niccolai Schuster, from Terenure in the Irish capital, was also at UCD and studying history and politics.
Another link was the death of Olivia Burke, also from south Dublin, and Ms Walsh's friend from their school days in Loreto College Foxrock. She studied at Dun Laoghaire Institute of Art, Design and Technology.
Bernadette Prendiville, principal at Loreto, said: "They were just two beautiful students."
Eoghan Culligan, a student at Dublin Institute of Technology, was a passionate gaelic footballer and had gone to St Mary's College in Rathmines, Dublin with Niccolai Schuster.
They were all 21 and in the US on J1 working visas for the summer, a rite of passage for young people at college in Ireland.
Books of condolences were being opened in the Mansion House and St Patrick's Cathedral in Dublin, also in Cork and Galway while an online version on the UCD website was inundated with more than 8,000 messages in a few hours.
The Irish Tricolour flew at half-mast at Government Buildings in Dublin while Ireland's Dail parliament held a minute's silence and suspended normal business as a mark of respect.