Protesters brandishing placards have started converging on Britain's financial capital to demonstrate against Government austerity and spending cuts.

Organisers said they expect hundreds of thousands of people from all over the country to flock to London for the rally - anticipated to be the biggest in years.

Celebrities including singer Charlotte Church and comedian Russell Brand are expected to be among the crowds who will march through the capital today.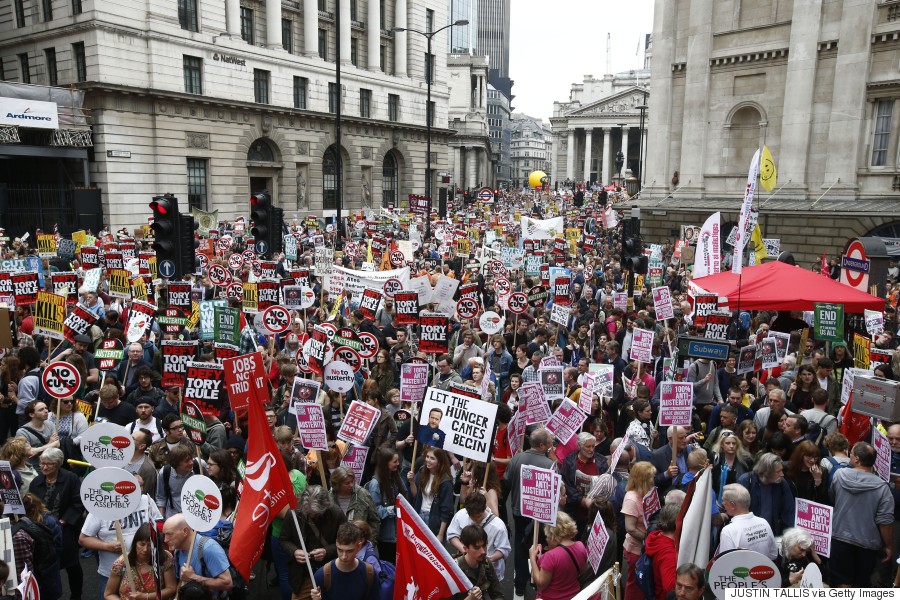 Crowds gathering on Saturday
But a Conservative Westminster Councillor, Richard Holloway, tweeted dismissively using the protest's #EndAusterityNow hashtag. He told the marchers to "go ahead and wave your banners" while the "grown ups" continued with running the country.
Dear #EndAusterityNow. You go ahead and wave your banners. The grown ups will get on with running the country.

— Richard Holloway (@rrwholloway) June 20, 2015
On the march, Sian Bloor, 45, a primary school teacher from Trafford, near Manchester, warned that children "are being robbed of their childhood" because of swingeing Government cuts.
She said: "We have seen a huge impact on our work at primary school.
"I regularly bring clothes and shoes for children and biscuits for their breakfast, just so they get something to eat.
"You can see how children are being affected by the cuts.
"Children come into school concerned because they are being thrown out of their house and have nowhere to live for the upteenth time that year because their parents' benefits are being cut.
"They are being robbed of their childhood."
On the move. #EndAusterityNow https://t.co/qtBIneoGcd

— Community Care (@CommunityCare) June 20, 2015
Sam Fairbairn of the People's Assembly, which is organising the protests, said: "It will be the start of a campaign of protest, strikes, direct action and civil disobedience up and down the country.
"We will not rest until austerity is history, our services are back in public hands and the needs of the majority are put first."
Looking forward to upbeat, positive #EndAusterityNow demo for social justice. Let's treat it as a launchpad to organising in our communities

— Owen Jones (@OwenJones84) June 20, 2015
This sign would be funnier if you didn't cut our education #EndAusterityNow pic.twitter.com/Ay6zmQEJLp

— HeardinLondon (@HeardinLondon) June 20, 2015
.@natalieben and @CarolineLucas join thousands marching today for an alternative to austerity. #EndAusterityNow pic.twitter.com/bDyKjV9VDd

— The Green Party (@TheGreenParty) June 20, 2015
76% didn't vote for this Govt - Osborne has no mandate for austerity. He wants to shrink state not cut deficit #EndAusterityNow #JuneDemo

— Caroline Lucas (@CarolineLucas) June 20, 2015
Come on. Austerity works! As long as you define it as moving all wealth/power to the rich at the expense of the vulnerable #EndAusterityNow

— David Schneider (@davidschneider) June 20, 2015
Here we go #EndAusterityNow pic.twitter.com/KTfrvEUBX0

— Chiara Capraro (@chiaracapraro) June 20, 2015
At the start of the #EndAusterityNow march in #London. Let's get this party started! pic.twitter.com/jUbl77LdGI

— Kathryn Snowdon (@Kathryn_Snowdon) June 20, 2015
I'm joining @artsemergency on the #EndAusterityNow march today. Come join the protest & say hello. #AEBloc

— Tiernan Douieb (@TiernanDouieb) June 20, 2015
Getting ready to go to "End Austerity Now" march & rally @pplsassembly #EndAusterityNow pic.twitter.com/Xb0KygZZoF

— Diane Abbott (@HackneyAbbott) June 20, 2015
Solidarity. United against racism, inequality, poverty. #EndAusterityNow #NoOneIsIllegal pic.twitter.com/rmmnEFS49v

— Right to Remain (@Right_to_Remain) June 20, 2015
March strong and proud today b/c we are many and they are few #EndAusterityNow

— Harry Leslie Smith (@Harryslaststand) June 20, 2015
Anti-nuclear activists are among those taking part.
Kate Hudson, general secretary of the Campaign for Nuclear Disarmament, said mass mobilisation was key to persuading the new Government not to renew the Trident nuclear weapons.
Lindsey German, convenor of the Stop The War Coalition, said: "I will be marching because I am fed up with all the main parties saying they are going to promote austerity. They have made the rich richer and the poor poorer and they're going to continue."
Union leaders and campaign groups will highlight the impact of spending cuts on public services, the NHS, welfare and education, and warn of the effects of fresh cuts expected to be announced in next month's Budget.
George Penny, 18, from Cheltenham, wore a top hat, gold frock coat, silver paisley waistcoat and tie for the march.
The student, who has just finished his A levels, said: "I'm a strong believer that the Tory politics of austerity are fundamentally failing and on economic and social level."
He said he has seen friends with mental health problems have their benefits cut.
He branded the cuts "morally repugnant" and said it was his duty to protest.
John Rees, one of the march's organisers, said people are angry because they hoped to get "a government that might ameliorate cuts, and they have got a government that is going to double austerity".
But he said that while protesters are angry with the Government, he is expecting the march to have a "festival atmosphere".