When asked to name a current British star – male or female – winning Down Under, who are the three names that immediately come to your mind?
Should any proof be required of Ed Sheeran's transnational appeal, we need look no further, or in fact as far away as, what's happening on the hit parade Down Under. From the stats on offer, it seems our British boy wonder has 'taken' Australia and some.
This week, Huffington Post UK Entertainment are celebrating those home-grown talents in music, film and TV who've seen their names go up in lights far beyond our native shores.
The Yorkshire-born singer-songwriter had Australia's biggest-selling album of 2014, has completed a sell-out arena tour already in 2015, and will be returning for stadium duty before the end of the year. More significantly, he'll be the first act to play stadiums as a solo act, with no band.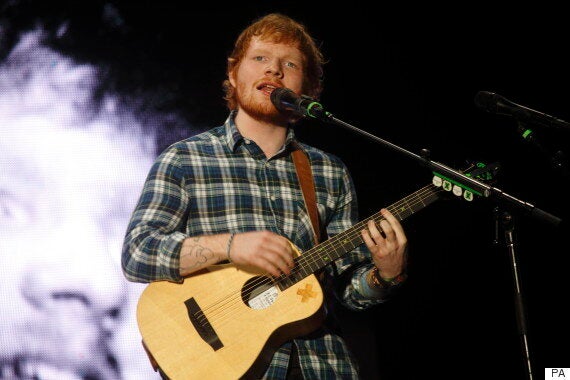 Ed Sheeran might make it look easy, but he's actually worked very, very hard for Australian success
"He does way more interviews than he needs to, is more interesting than most pop stars, and has widened his appeal from kids to their parents as well," says Cameron.
"He's even filmed a cameo in 'Home and Away' and played the AFL Grand Final with Tom Jones last year. The next tour will be his sixth visit here on two albums, which is impressive considering he's in demand all over the world."
Florence and the Machine are enjoying similar rewards for their efforts in the small clubs and arenas across the vast continent, selling an impressive 15,000 copies of their new album in the first week of release, and preparing to headline one of Melbourne's premier music festivals, Splendour in the Grass, soon after their Glastonbury duties back here.
It's not just them cleaning up Down Under. Sam Smith has done there what he's done in the US, with fewer gigs tan Ed but just as much of an enthusiastic trip.
"He was in Sydney when he found out about his vocal hemorrhage," reports Cameron, "but won over a lot of local fans by coming here for a holiday over NYE and posting a lot of photos on social media."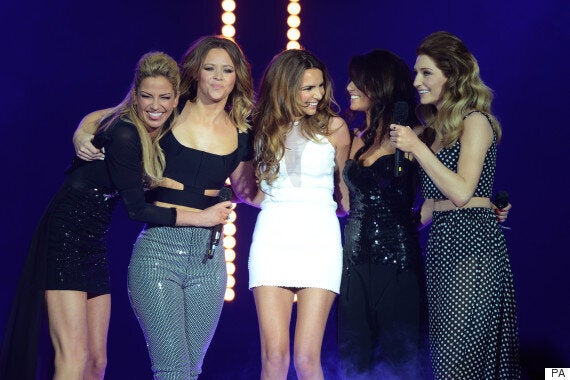 For some reason, Girls Aloud's clever, quirky pop didn't take off...
How have they done it? Well, for one thing, according to Cameron, Australian fans will always reward the efforts of British artists to make the journey – "We know how far away we are from the rest of the world."
He cites the stamina of Robbie Williams, one of the biggest British sellers of the past 15 years in Australia, quite the opposite of how he famously lacked to land in the US. There was no Take That legacy for Robbie to build on, either – 'Back for Good' was their only hit in Australia – and his own anthem 'Angels' peaked at number 40. But Robbie was unbroken…
"Robbie Williams was a huge, huge star when he first came to Australia to work 'Angels'. And because Take That weren't that big nobody cared about him," remembers Cameron. "Luckily he just took the piss in interviews because he knew he was starting again.
"It wasn't until Rock DJ that he had a major hit," he adds. "Then it was like instant conversion and his Greatest Hits album sold over half a million copies and there's close to two million when you factor in singles, albums, DVDs. And no one still cares about Take That here.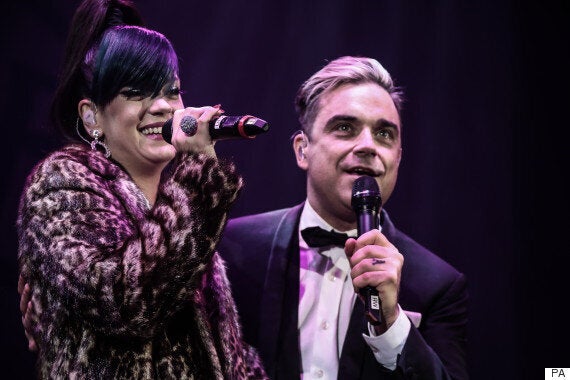 ... but the Aussies took Lily Allen and Robbie Williams to their hearts
"Robbie is definitely one of the most popular British acts here, he played stadiums which is very rare for a British pop act." (Exhibit A is Adele, as usual bucking the trend with a million copies of '21' sold in Australia, and not a tour date ever in the calendar.)
Looking at the last few decades, and it's all the usual suspects who have flown the flag for British music in the Aussie charts. The Beatles paved the way for Queen, Dire Straits, Pink Floyd, Led Zep, Dire Straits and, yes, Su-Bo. Cameron thinks the Australians, with their close cultural connections to the UK, are ready and willing to receive British musical visitors.
"A lot of British acts feel at home when they come here, they just find the weather and attitude are better.
"Acts like Robbie and Lily Allen also have that particularly British tone to their voice and lyrical topics, which can alienate Americans but is also part of our culture growing up with British TV comedies."
For radio listeners, it's those British artists who've cracked American radio who will generally repeat their success in Australia. While One Direction and Olly Murs can be heard on Bondi Beach, Girls Aloud, Will Young and Little Mix haven't done it. The first Adele album was ignored by Australian radio. According to Cameron, they hated 'Rolling in the Deep' until it was a hit in America then they started playing it. The music writer can also cite Tinie Tempah - "a few hits here, but only the songs that worked in the US" – oh, and Jedward, for which he has as little explanation as the rest of us.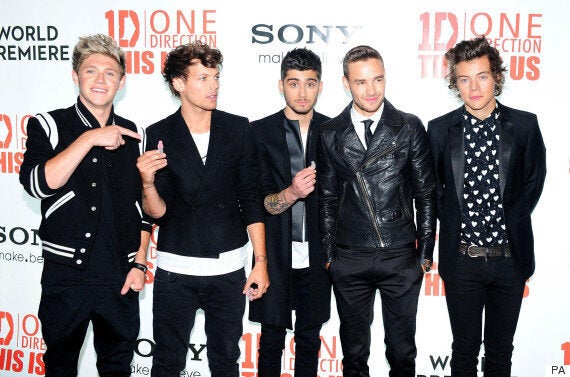 One Direction's US success no doubt paved the way for popularity Down Under
On the other hand, "We don't really tend to like British acts who try and sound American, like Jessie J, the same way we don't really like Australian acts who try and sound American.
"It's very transparent so it's nice when someone like LIly Allen, who's ultra-British, works."
Aside from the mega-sellers listed above, it seems that even the most middle-lane chart performers in the UK can be guaranteed of a warm reception and a cool beer if they and their guitars make the journey.
"British or Welsh or Irish rock bands who come here (even if they've had no big hits) can generally play venues knowing that sometimes up to half the audience are expats," reports Cameron. "I've been to Manic Street Preachers shows here where there's a sea of Welsh flags."
Two bands who don't generally get mentioned in the same sentence are Girls Aloud and the Pet Shop Boys, but Cameron uses them both as examples of slightly too-clever pop to appeal to the Aussie masses. On the other hand, plenty of Australian bands have picked up similarly high-falutin' offerings and brought them back here – think, The GoBetweens, The Triffids, Nick Cave. And this still happens, apparently. While there's a fair exodus Stateside in search of fame and fortune, The Temper Trap moved a while ago from Melbourne to London, perhaps hoping to bump into longtime resident Kylie, only recently returned to her native isle.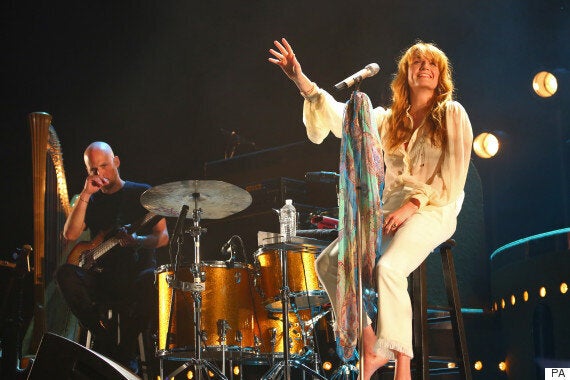 Florence + The Machine will be headlining Splendour in the Grass in Australia in July
All in all, then, there are innumerable ways of making it big Down Under, but one thing's clear – there's a British 'brand' to a song that we Brits might not be able to spot, but is instantly recognisable to Aussie ears…
"It's an attitude," says Cameron. "From the accent to the lack of polish. When that breaks through, as with a Lily or a Robbie or an Adele, it stands out."
"As ever though it comes down to songs, though. If the songs are right, that's what people will connect with."
In return for his fascinating insight into what works Down Under, I asked Cameron to give me three Aussie artists he thinks will be natural music for British ears…

Flight Facilities - Sydney dance duo making classy house music and harking back to the days of Soul II Soul when dance acts made proper records not just singles and filler. They've even done a song with Kylie.

Jarryd James - Local singer/songwriter who looks like a plumber but sings like an

angel - his first single Do You Remember is the song Justin Timberlake needed on his last album.

Guy Sebastian - he's never really had any success in the UK, but Eurovision was a great launching platform. They should re-release his global (except the UK) hit Battle Scars to show he can do credible pop not just party-starting fare.
Popular in the Community