If you were asked to think of a good way for young, British actors to learn their trade and work their way up the ladder to Hollywood's dizzying heights, what would your answer be? A solid start at a performing arts school makes sense, before perhaps some work as an extra, to get used to being on set. After this, small roles in notable shows could follow, before the step up the big leagues of TV drama and starring roles alongside Sheridan Smith. Only then could an actor even think about making the leap across the pond, right? Wrong.
Read more about the Brits flying the flag for music, TV and film in our special #BRITSBLITZ section:
You see, us Brits are all too keen to overlook one of the most promising areas of the UK's entertainment industry - the Great British soap opera. 'EastEnders', 'Hollyoaks', 'Coronation Street' and 'Emmerdale', are on our screens every day, watched by millions of people, yet ask a passer-by what they think, and you'll no doubt be met by a comment about how mediocre they are.
But next summer, Ben Hardy, who was previously better known as Peter Beale, will star alongside Jennifer Lawrence and Nicholas Hoult in one of the year's most hotly-anticipated blockbusters, 'X-Men: Apocalypse', and he's not the only star to swap a soap set for a Hollywood one. So how are they doing it?
As part of our #BritsBlitz series, we're charting the hottest, British stars who are flying the flag abroad. Now, we're turning our attention to Ben Hardy, and the soap stars before him who've found success in the States…
Born in 1991, Ben, whose actual surname is Jones, grew up in Dorset, and little is known about the time between his schooling and the 'EastEnders' role that he nabbed in 2013 - aside from a stint in the play, 'The Judas Kiss'. It's not uncommon for soaps to pick budding actors and while this doesn't always work - Ben was the sixth actor to play Peter Beale - Ben was a great fit, and became immediately popular with fans.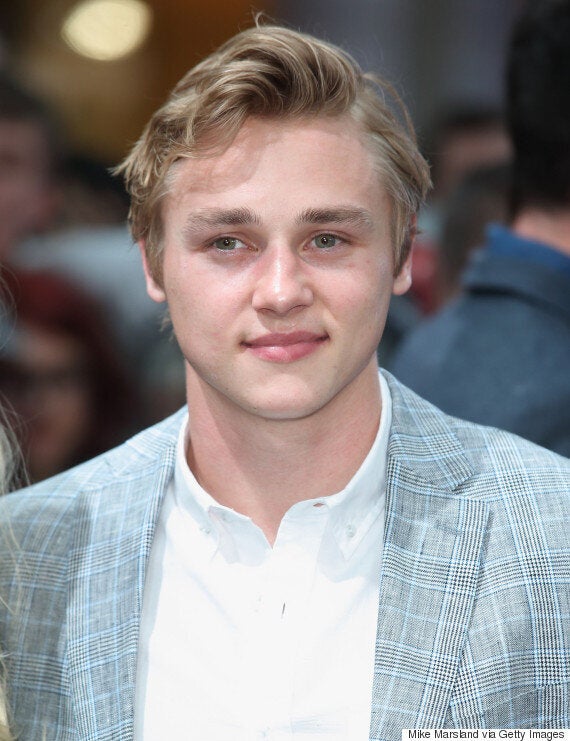 His introductory storyline saw Peter arrive in Walford for Ian Beale's (Adam Woodyatt) new restaurant opening, after which he decided to stick around indefinitely. Quickly, Ben was pegged as the Square's "new heartthrob" and as is de rigeur, he shared his excitement at landing the role, stating: "I'm really excited to be joining the fantastic cast of 'EastEnders' - a show which my family have watched for years. I can't wait to step into the shoes of a character with so much history and am looking forward to getting stuck in."
In an early interview with The Sun, Ben confirmed that he was happy kissing on screen, saying: "This is my first telly role but I've done countless kissing scenes in the past. The last play I did, I was naked, simulating sex! So for me a kissing scene on 'EastEnders' will be a doddle. I've got my first topless scene coming up. I won't be stepping out the shower yet, it's more taking my T-shirt off to help a young lady. That's all I can say."
However, Ben wasn't quite as ready as he thought, and while the scenes were fine, he struggled under the pressure of his new-found fame. Regardless of what anybody says about soaps, their actors are put in a unique position. In no other area of the industry - films, theatre or the like - are you thrust into people's living rooms on an almost daily basis. Even viewers who think they just have soaps on in the background can probably identify the actors.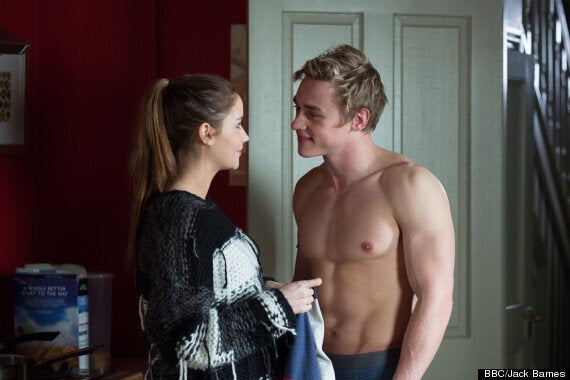 Ben's shirtless scenes caught everyone's attention
Months after landing the role, Ben admitted to the Daily Mail that he was still learning how to deal with the stardom 'EastEnders' brought. "I didn't realise the impact it would have on my life," he explained. "The show is so popular that lots of people approach you and ask for photos. Everyone's lovely, but sometimes if you'd rather be on your own it's the last thing you want to do."
Nevertheless, by the time Ben left 'EastEnders', after months at the centre of the huge 'Who killed Lucy Beale?' storyline, he was in a much better place. As his on-screen character gained more airtime - and got away from the market stall - Ben learned to deal with fame and, by the time he left following the plot's climax, he was happy posing topless on the cover of magazines. But he did remain insistent that he wasn't really that popular, despite his swoon-worthy Attitude magazine feature. "I don't really think of myself as a heartthrob. I find it weird. It just doesn't seem right, you know?" he told the publication. "Maybe they like Peter because he's a nice lad?" Yes Ben, we're sure that it's.
Then in February 2015, 24 hours after Peter bid farewell to Walford, in favour of New Zealand, news of Ben's new starring role was revealed. So how did he do it? This brings us back to the nature of soaps. Dismissing them is easy, but in actual fact, their stars learn the acting trade the hard way, and the environment is like no other.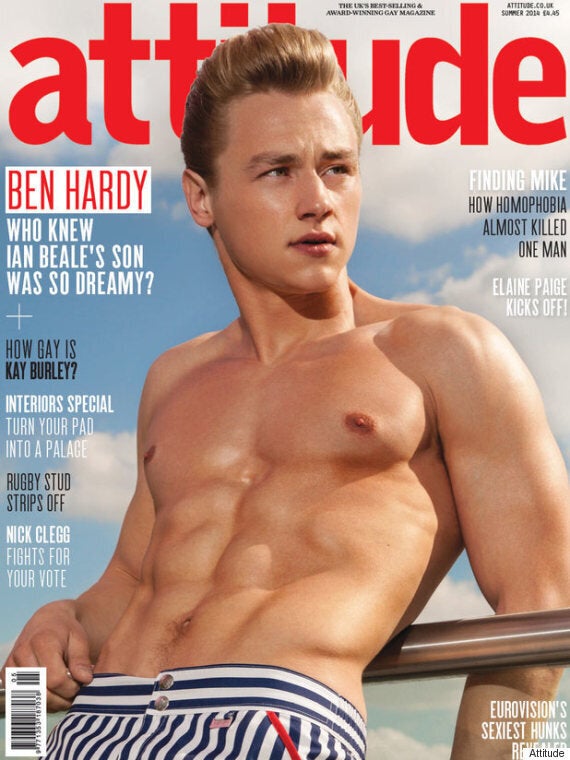 When he signed up for 'EastEnders', he compared it to the theatre, explaining: "On stage you rehearse for five weeks and it goes out to 300 people. In 'EastEnders' you get ten minutes to rehearse and seven million people watch it! After such a short rehearsal time you often feel there's more to give. It's frustrating but you just have to put it to one side and get on with your next scene." If you ask us, that sounds like the perfect preparation for the pressures of the film world.
Ben's now filming 'X-Men: Apocalyse', alongside an all-star cast including Hugh Jackman, Jennifer Lawrence and fellow Brit Nicholas Hoult. His name has gone from mentions in British weeklies, and soap spoilers, to articles in the Hollywood Reporter and Deadline. His character, Angel, is already attracting a lot of attention, and when the first artwork for Ben's huge wings was released on Instagram, publications around the world reported on the exciting news.
Of course, as previously mentioned, Ben isn't the first soap star to make it big. Here at HuffPost UK Entertainment, we've previously charted the rise of many stars, including 'Hollyoaks' alumni Roxanne McKee and Nathalie Emmanuel, who both swapped Cheshire for Westeros. Then there's former 'EastEnders' star Michelle Ryan, who was one of the first to make the switch from soaps to the States, by scoring a role in the (doomed) 'The Bionic Woman' back in 2007.
'Pacific Rim' actor Robert Kazinsky left 'EastEnders' in 2009, and after months of failing to land anything worthwhile in Blighty, decided to chance it overseas - where his success was almost instant. "I spent eight months auditioning in England, and no one would give me a job," he told the Guardian. "I was broke, so I did a Radox advert and became a car mechanic. But then I landed a small role in [George Lucas's] 'Red Tails' and moved to LA. I spent another 18 months auditioning here: nothing. But finally, out of nowhere, I landed some parts and it's all just snowballed from there."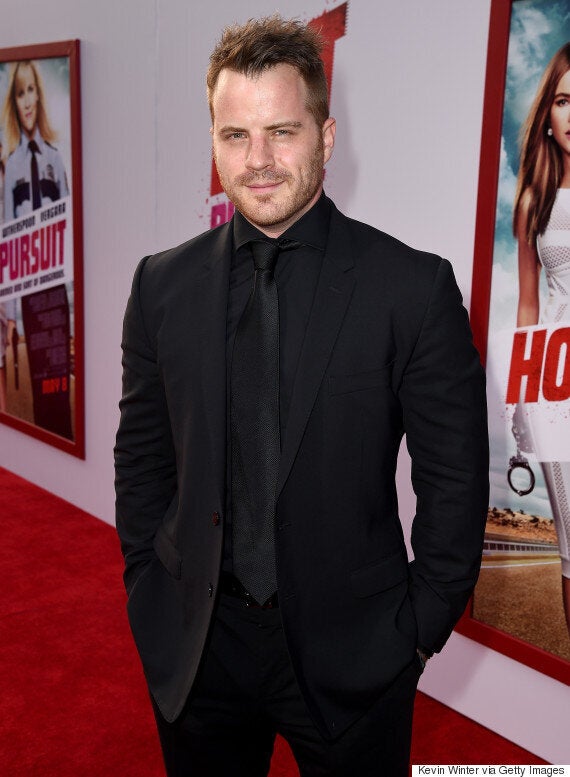 Rob Kazinsky is another British soapie who has succeeded in the States
Rob also echoed that the work ethic taught on soaps is the perfect preparation, adding: "On sets, there's always someone who'll get upset with me if I try to make my own cup of tea. They'll say, 'That's my job. I'm paid to do that.' I have to explain that, where I come from, you make your own tea. In LA – and this is generalising a lot – there are a lot of people who want to be a Kardashian rather than an actor, so they're expecting to be treated like a celebrity. Coming from the UK, you just don't think like that, and that generally goes down well."
So what can we do, while the stars who've provided the backdrop to our evenings at home are busy finding fame and fortune in the US? Simple - we need to stop dismissing soaps, and start realising - as Hollywood has - that some of the UK's greatest budding stars might currently be practising their trade in Walford, The Woolpack, or behind the bar at the Rovers Return...