The Trews star told followers in his latest YouTube video that he wanted to "help" the woman, as she appeared to be dealing "with hardship".
On the expletive-riddled rant, he said: "Amidst the crowds of people who wanted to shake hands and get autographs, there was this one woman who was, like, a bit red with rage, shouting and swearing.
"And she was going 'you upper class maniac'. And I honestly sort of felt like 'oh - is she alright?' - that was the feeling I had.
"One of sympathy and empathy. Like you're watching someone deal with hardship.
"And I thought, I wonder if I could help that person. And the organiser went 'not really, this looks like someone who's deep, deep in rage."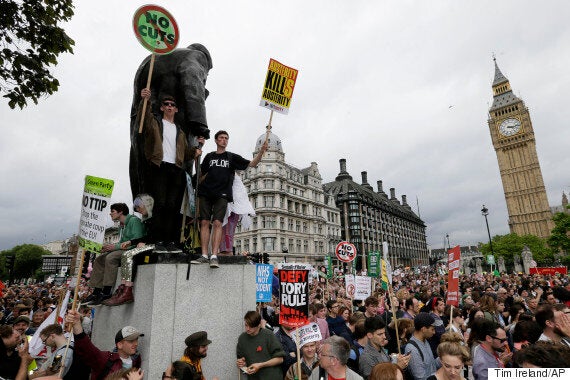 Demonstrators outside the Palace of Westminster protesting austerity
Brand also used his seven-minute vlog to lay heavily into the Daily Mail, the national newspaper with whom he has a long-running feud.
He accused editors of only focusing on the one aspect of Saturday's events that might have shown him in a negative light because it "fits in with their narrative".
Brand also claimed the paper was "weak, vulnerable" and spoke "nothing but nonsense".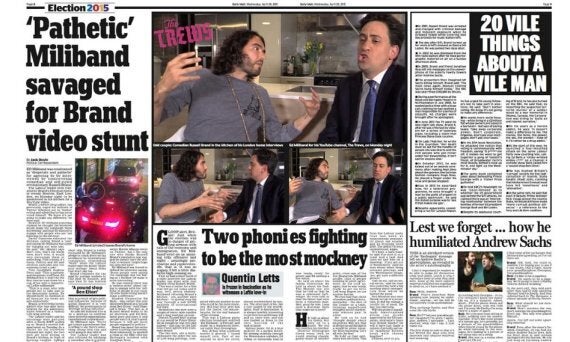 A two-page spread from The Mail after a special Trews featuring Ed Miliband during the election campaign
The 'Revolution' author also told of plans to launch a "new wave of Trews activism", with the creation of a 'Love The Police' campaign.
"The police force are our police force," he told viewers, "ordinary working people trying to do a job.
"Is it their fault that they've become the henchman of our establishment? Is there a way for the police to be once more introduced into our communities? This is a new wave of Trews activism."
He urged those who typically identified as "enemies" of the authorities to "positively embrace the police, protest on behalf of the police, bring the police back to us, support them".
In a plea to win over members of the force, Brand rallied people to urge that officers receive better wages, be able to form trade unions, and oppose the industry's "privatisation".
But Monday's post was not the first time Brand urged for there to be more "love" for authorities.
In a video posted on March 13th this year, he called for "getting the police and Army on side" by winning over "the henchmen of the establishment".
"The police get fucked over, the police are getting shafted, they don't get proper pensions, they can't form unions, they're unhappy, their wages are being cut, they don't get proper overtime.
"The police - of course, there's institutionalised racism, Hillsborough, Stephen Lawrence, all terrible - but what we're talking about now is 'how can we make the police force our police force?'"
"I believe that we should protest on behalf of the police."
But Brand's latest comments angered many critics - and quite a few supporters too.
Other's defended The Trews presenter's plea.
Popular in the Community