Go to the beach, they said. It will be fun, they said.
With exploding suncream, mosquito bites and sand in all the wrong places to contend with, it can be hard to actually relax on your summer beach getaway.
Luckily, the team at money saving site PromotionalCodes.org.uk have pulled together some hacks, including beauty tips to help soothe sunburn and stop basically everything in sight from sticking to your skin.
Whether you're chilling on the British coast, or jetting off on an exotic vacay, ensure your holiday goes without a hitch with these top beach hacks:
1. Don't forget the baby powder
Fed up of sandy skin after a day at the beach? Use baby powder to instantly dry out the sand that's usually impossible to get rid of.
2. Keep sun cream separate
While grabbing a resealable bag for your electricals, bring an extra one to store your sun cream in. This way, you can avoid any stressful spillages in your bag.
3. Repel mosquitos by applying creamy baby oil
After a budget alternative to horrible smelling insect repellents? Try applying creamy baby oil to your skin – it'll keep you moisturised, too.
4. Use yoghurt to treat sunburn
If you've forgotten the after-sun and aloe vera, natural yoghurt is your new best friend. It soothes burns and is easy to come by for holiday emergencies.
5. Place cotton pads in powders and blushes
Before throwing make-up into your beach bag, avoid damaging it by placing cotton pads into powder and blusher containers.
6. Use lemon juice to lighten hair
Give the sun a helping hand when it comes to hair lightening by adding some lemon to your hair before heading out; a definite money saver compared to salon highlights.
7. Use coconut oil to reduce frizzy hair
Keep your hair hydrated on the beach and avoid frizz by bringing coconut oil. Make a mix of coconut oil and water and spray it to your hair to keep it healthy – here's where you could add your lemon for lightening, too.
Iced tea isn't just for keeping hydrated - although that is a major bonus - it's also great for soothing sunburnt skin. Dip a corner of your towel in the cool tea and place it on your sunburn for a soothing effect.
9. Leave your flip-flops face down
When you ditch your shoes at the beach, take the time to turn them face down to avoid uncomfortably hot feet when it's time to leave.
10. Disguise your valuables
In the run-up to your trip, start saving empty sun cream bottles and lip balm containers to hold your keys and money while you're at the beach.
11. Choose your snacks wisely
It's easy to become dehydrated sat out in the sun, so make sure you're snacking on fruit and veg to help you out along the way. These have more water in them than other options, plus you won't feel guilty as you eat them.
12. Protect your phone in a resealable plastic bag
Keep sand and water out without having to leave your phone at the hotel by placing it inside a resealable plastic bag. You can even use the phone through the bag to keep it extra protected. Don't forget to pack an additional bag for your camera, too.
13. Keep dryer sheets in your suitcase
Keeping dryer sheets with your clothes not only keeps everything fresh, they also help to repel insects when you're out and about. Leave some with your towel and reduce the risk of insects approaching you on the beach.
14. Be sure to pack a book
While e-readers may be tempting because they're light and easy to carry, this isn't always an advantage. A traditional book has an extra purpose – it'll weigh down your towel!
15. Make pockets in your beach towel
Stuck for storage? If your favourite beach tote bag is lacking in pockets, try adding some to your beach towel by simply sewing squares onto it.
Got all that? Now go forth and enjoy your holiday!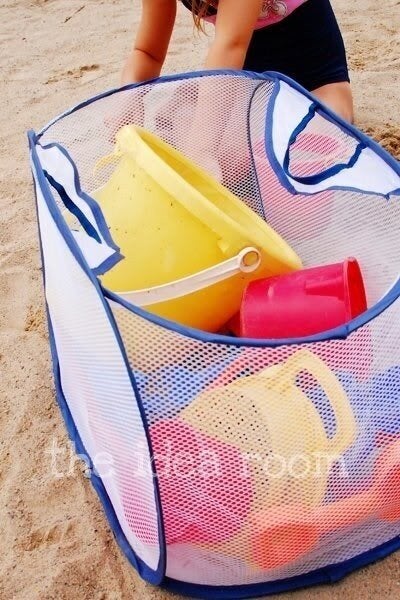 Best Life Hacks For The Beach!
Popular in the Community