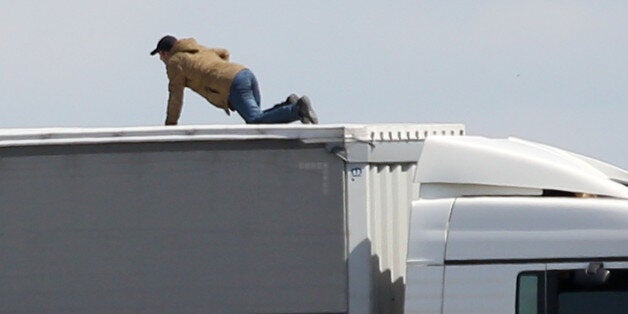 Home Secretary Theresa May has claimed a "significant number" of would-be migrants have been stopped from entering the UK via Calais in the last two days as David Cameron said the border chaos was "totally unacceptable".
The Prime Minister also announced Britain is considering more border agents and sniffer dogs to help the French authorities tackle problems, on top of a £12m investment, stemming from the ferry worker strike across the channel.
The issue of hundreds of migrants attempting to board lorries amid the Calais port strike and the closure of the Channel Tunnel came to a head in Parliament today.
One Conservative MP called for action to "bust the myth" that the UK is "some sort of El Dorado" where "they will get jobs, benefits and support services".
Mrs May was called to the Commons to answer an urgent ministerial question tabled by Labour over the consequences of the strike, which stopped ferry traffic, forced drivers to try to use the Eurotunnel service instead and caused long queues on the roads into Calais.
The minister praised officials on both sides of the channel and highlighted how extra security measures were put in place to prevent migrants climbing on board slow-moving lorries.
She told MPs: "All freight vehicles passing through the Calais ports undergo searching by both the French authorities and the UK's Border Force before boarding a ferry or train.
"During the course of yesterday's disruption and since, Border Force and the French authorities have successfully identified and intercepted a significant number of would-be migrants."
She renewed the argument that more must be done to "break the link" between migrants getting in a boat in Africa and heading for Europe to settle, as well as making it tougher for illegal immigrants heading to Britain.
Tim Loughton, Tory MP for East Worthing and Shoreham, warned that if the cross-channel border became known as a "weak link" then "many thousands more would pour into Calais".
He asked: "Those people who are trafficked to Calais believe that we are some sort of El Dorado, where they will get jobs, benefits and support services.
"The truth is that they absolutely will not and that they will be illegal."
The strike also left Ukip leader Nigel Farage stranded in Belgium, who complained bitterly about the migrant crisis on Twitter.
During Prime Minister's Questions, Mr Cameron said it was important to work with the French and there was "no point either side trying to point the finger of blame".
But he added: "We have all been witnessing totally unacceptable scenes there over the past day."