In a splash detailing First Minister Nicola Sturgeon's alleged links with "vile cybernat trolls", the newspaper claimed to reveal the SNP leader had met and chatted on social media with an "internet abuser".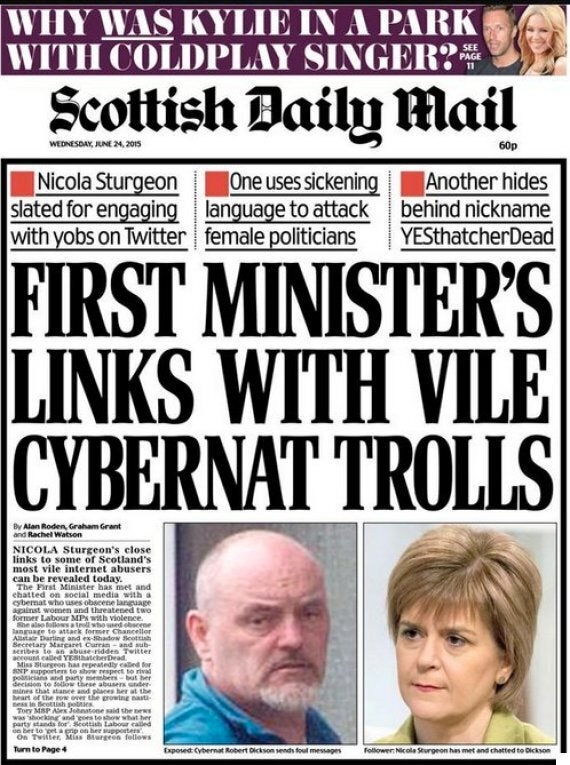 Wednesday's Scottish Daily Mail front page
A picture of the article was tweeted by the publication's Political Editor, Alan Roden, who captioned it "Nicola Sturgeon and the vile Internet trolls".
Roden also tweeted a link to "some of the vile Tweets".
The article claims that Robert 'Rab' Dickson, tweeting from the handle Roy1Batty, sent a barrage of abusive messages to politicians online.
It alleged that Dickson told his ex MP Jo Swinson she was a "pole climbing vicious halfwit", called Scottish Labour's interim leader Kezia Dugdale a "thick bitch", and referred to former Tory employment minister Esther McVey as a "c***".
It was claimed he used the C-word 69 times in some 38,000 tweets, and accused Sturgeon of following the man on Twitter, as well as having said it was "lovely" talking to him after the pair met at a rail station.
Dickson also mocked the paper for its choice of photo and claimed he'd lost two followers.
The Mail's article was also quickly picked up on by one of Sturgeon's colleagues - SNP MP Pete Wishart, who represents the constituency of Perth and North Perthshire.
He decried the Mail's front page for ignoring other topical topics, including the migrant crisis in Calais, deaths of those fleeing across the Mediterranean, and the government's latest U-turn on an EU referendum.
Wishart's attack on the paper was quickly echoed by others, some part of the so-called 'cybernat' collective.
Those claims were rubbished by both the Scottish and UK Governments, as well as by HM Treasury.