The Scottish Daily Mail's latest article on so-called 'cybernats' has prompted a bitter row, with Twitter users and an SNP MP wading into the debate on Wednesday's front page.
In a splash detailing First Minister Nicola Sturgeon's alleged links with "vile cybernat trolls", the newspaper claimed to reveal the SNP leader had met and chatted on social media with an "internet abuser".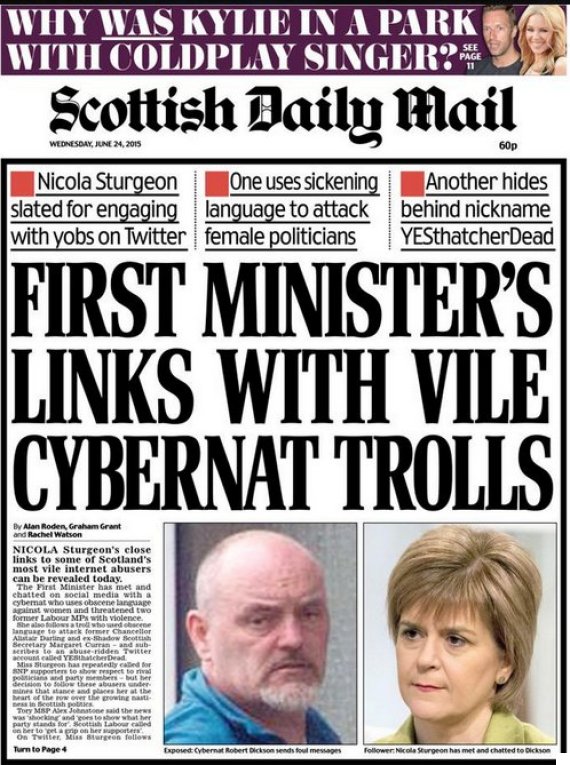 Wednesday's Scottish Daily Mail front page
A picture of the article was tweeted by the publication's Political Editor, Alan Roden, who captioned it "Nicola Sturgeon and the vile Internet trolls".
Roden also tweeted a link to "some of the vile Tweets".
Just some of the vile Tweets from the internet troll exposed in today's Scottish Daily Mail: (*Offensive language) pic.twitter.com/t2jdITcTCA

— Alan Roden (@AlanRoden) June 24, 2015
The article claims that Robert 'Rab' Dickson, tweeting from the handle Roy1Batty, sent a barrage of abusive messages to politicians online.
It alleged that Dickson told his ex MP Jo Swinson she was a "pole climbing vicious halfwit", called Scottish Labour's interim leader Kezia Dugdale a "thick bitch", and referred to former Tory employment minister Esther McVey as a "c***".
It was claimed he used the C-word 69 times in some 38,000 tweets, and accused Sturgeon of following the man on Twitter, as well as having said it was "lovely" talking to him after the pair met at a rail station.
Seemingly impressed with the added attention, Dickson's account wasted no time proudly re-tweeting Roden and others using the #ThingsIdRatherDoThanReadTheMail hashtag.
Dickson also mocked the paper for its choice of photo and claimed he'd lost two followers.
Here's another pic of me for the DM...it's from 1978...but it captures my zeitgeist I think. pic.twitter.com/GBC40l3qR8

— Rab Dickson (@Roy1Batty) June 24, 2015
The Mail's article was also quickly picked up on by one of Sturgeon's colleagues - SNP MP Pete Wishart, who represents the constituency of Perth and North Perthshire.
He decried the Mail's front page for ignoring other topical topics, including the migrant crisis in Calais, deaths of those fleeing across the Mediterranean, and the government's latest U-turn on an EU referendum.
Calais immigrant crisis, deaths on the med, EU referendum, Scot bill. What's illing the 'fail'? Cybernats, of course pic.twitter.com/bV0zcrufzm

— Pete Wishart (@PeteWishart) June 24, 2015
Hold the Fail front page - 'Cybernats ate my Hamster'. Inside - our Tory posh boy columnist says 'cybernats, they must now be rounded up'

— Pete Wishart (@PeteWishart) June 24, 2015
Wishart's attack on the paper was quickly echoed by others, some part of the so-called 'cybernat' collective.
The Daily Mail can be useful?............ pic.twitter.com/LGqYu8Ly7R

— Ron Windward (@ronwindward) June 24, 2015
@ronwindward@Roy1Battypic.twitter.com/21EZAe9XFv

— Freedom Come-All-Ye (@Reido80) June 24, 2015
@patronsaintofca@Roy1Batty@PeteWishart@PetrieGeorge scotlands most hated rag tries to smear scotlands most popular politician. good luck

— david morgan (@MorganDavid32) June 24, 2015
A few folk who swear on twitter r considered more important to Scottish Daily Mail readers that a Lab Peer who allegedly raped boys in WM.

— Scott Harrison (@ayewecan) June 24, 2015
The Scottish Daily Mail is going on about "obscene language about women" on its front page. The Daily Mail.

Let that sink in for a moment.

— Melisandreilidh (@EilidhL_) June 24, 2015
May have discovered why @AlanRoden is in a huff about who Nicola Sturgeon follows on Twitter. pic.twitter.com/hZKFGRAq0m

— Wings Over Scotland (@WingsScotland) June 24, 2015
Lick Katie Hopkins face. #ThingsIdRatherDoThanReadTheMail

— rabheaney (@rabacrabbit) June 24, 2015
@WingsScotland@iclare1@JournoStephen@AlanRoden Might as well splash "Sturgeon knows Kevin Bacon" based on 6 degrees of separation theory

— Tom Stevens (@E_T_Stevens) June 23, 2015
@PeteWishart Oh another SNPbad article in The Scottish Daily Mail? Usual from the Cowardly,Guttersnipe, Pathetic, Scotland Hating Rag

— gordon kinsella (@gordonkerfuffle) June 24, 2015
@PeteWishart@_Paul_And_ how does this rag still sell copies in Scotland?

— Bill Melvin (@wtmelvin) June 24, 2015
@PeteWishart the #dailyFail know nothing else than to continue their own demise - their lies know no end #distraction@DailyMailUK

— Steve (@stevemcghie) June 24, 2015
@PeteWishart that papers got a cheek to put the word Scottish in its title. Nicola Sturgeon should sue them for slander.

— Jeanie Black (@MacPean) June 24, 2015
@Roy1Batty@PeteWishart@PetrieGeorge An irrelevant Tory comic that very few in Scotland actually read never mind give a fuck about.

— Robert Bryce (@rb2003) June 24, 2015
@KatieKhaleesi Have my next prostate exam from Edward Scissorhands. #ThingsIdRatherDoThanReadTheMail

— Adam Sanderson (@MacSpadger) June 24, 2015
I'm trying to decide between reading the Daily Heil's latest fucking id-squawk about cybernats or pouring molten lead in my own fucking eyes

— Malcolm Tucker (@Tucker5law) June 24, 2015
The latest move comes as The Daily Mail's English edition, along with The Telegraph, Times and Express, carries details of alleged plans by Scotland to pull out of £2.2 million-a-year funding commitments to The Queen.
Those claims were rubbished by both the Scottish and UK Governments, as well as by HM Treasury.
Read more: