A row has erupted between the SNP and the London-based press over claims by a Buckingham Palace source that Scotland would cut £2.2 million-a-year in funding for the monarchy if further devolution plans went ahead.
In briefings several Fleet Street papers including The Times, Telegraph and Daily Mail, the Palace claimed that if Scotland took control of its Crown Estates north of the border there could be a serious shortfall in Royal revenues.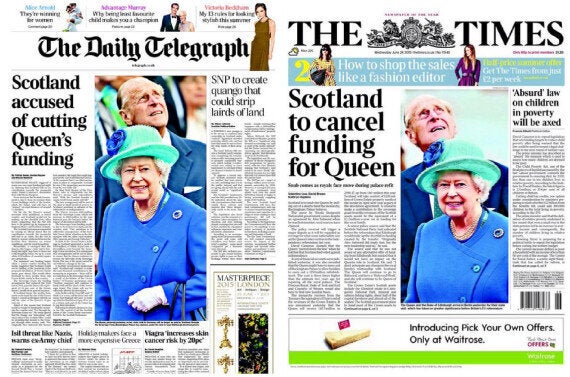 The Telegraph and The Times' Wednesday front pages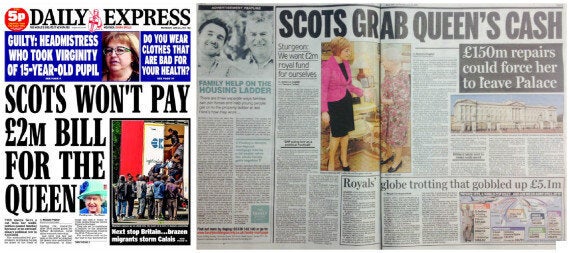 The Daily Express' front page and The Mail's inside splash
But both the UK and Scottish governments strongly denied the allegations, and said devolution would not have any negative impact on Holyrood meeting its legal and constitutional obligations.
The denials sparked outrage from many SNP supporters, some dismayed that the story was not, in fact, true.
A spokesman for Her Majesty's Treasury said the sovereign grant would not be "adversely affected" by devolution.
A Scottish Government spokeswoman added: "Scotland will continue to make the same financial contribution to the monarchy as at present - there will be no reduction in the sovereign grant as a result of devolution of the Crown Estate."
One royal aide reportedly said negotiations were continuing between Westminster and Holyrood over financing, and said Scotland would continue to make contributions to the British monarchy, even if the profits from crown assets were not returned south of the border.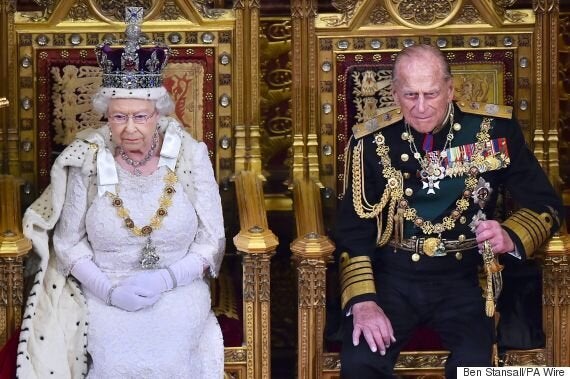 The Queen pictured with her husband, Prince Philip, at the State Opening of Parliament, earlier this year
An SNP MP was quick to rubbish the allegations in the newspapers, insisting any claims Scotland would not pay its contribution to The Queen were "bogus".
Neil Gray, who represents the constituency of Airdrie & Shotts, re-tweeted a rebuttal of the accusation.
His post stoked outrage from disappointed SNP supporters keen to see the Crown Estate funding cut.
Media outlets were criticised on Twitter for running a story outrightly denied by the UK and Scottish governments.
Neither The Times nor The Daily Telegraph responded to a request for comment by the time this story went live.
Popular in the Community