Watching a makeup artist transform herself into Barbie never fails to amuse us, but seeing the transformation take place in less than 90 seconds is truly a sight to behold.
Kandee Johnson's Barbie makeover first became a viral sensation in October 2014 when she shared a 13 minute long video tutorial, which has been viewed more than 11 million times.
The beauty vlogger has now found a novel way to breathe new life into her popular tutorial by speeding up the process in a timelapse video.
"This is the first hi-speed transformation I've done, so let me know if you want more," Johnson wrote on YouTube. "I thought Barbie would be fun, because I'm not sure people want the step by step 'how to look like Barbie' instructions."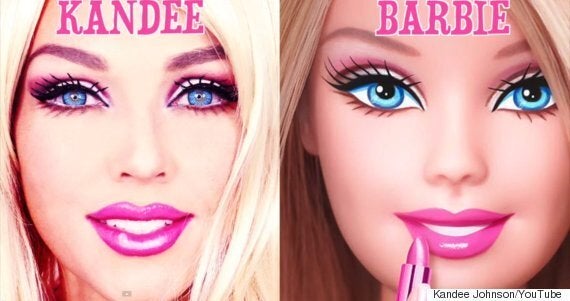 Johnson recreates Barbie's "classic" look complete with glossy pink lips, drawn on "crazier, thicker eyelashes" and of course pretty pink eyeshadow.
"This is just a fun and fast way to see me go from 'Human girl to Barbie' in less than two minutes," adds Johnson before making a cheeky reference to the cult-hit Barbie Girl by Aqua.
"DISCLAIMER: No one paid me to be a barbie girl, in a barbie world, wrapped in plastic, it's fantastic. You can brush my hair..."
Need a little longer to take it in? Watch Johnson's full length transformation in the video below:
Related