A 16-year-old from Birmingham fulfilled his last wish by marrying his school sweetheart - just days before he tragically lost his battle with leukaemia.
Omar Al-Shaikh had received the all-clear last October but was told earlier this year was told the acute myeloid leukaemia had returned. Doctors told him he had just three months to find a stem cell donor, but struggled to find a match due to Omar's Romanian-Jordanian heritage.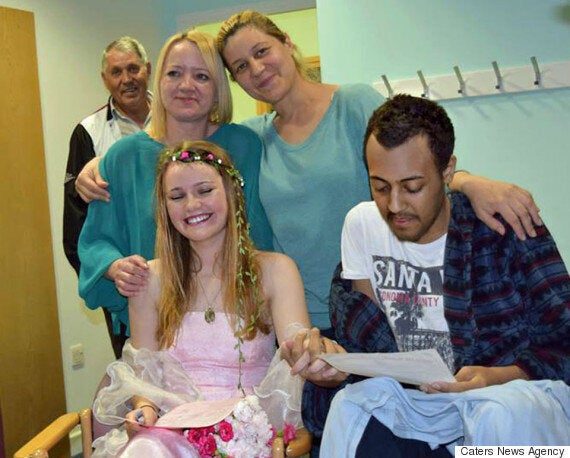 Omar and Amie with Omar's mother, Mira and Amie's mother, Becky
In June, doctors broke the news the chemotherapy had been unsuccessful, and the cancer had spread to his bone marrow, giving Omar only days to live.
On Friday, Omar married his girlfriend Amie Cresswell, in a service at the Queen Elizabeth Hospital in Birmingham, just three days before he died. He proposed to Amie with a ring made of flowers, saying he "wanted the whole world" to see them marry, the Birmingham Mail reported.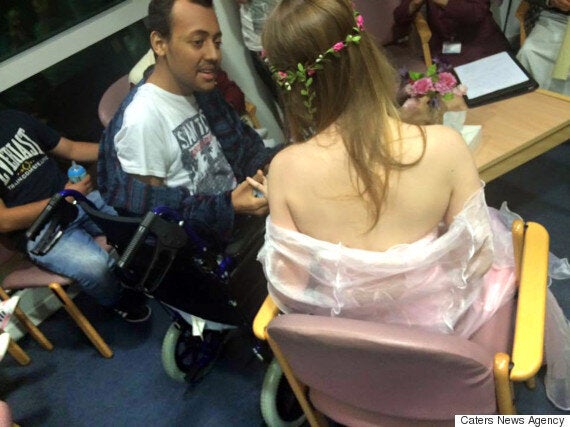 Omar slips his flower ring onto Amie's finger
"It was very sad, but really lovely," family friend Jo Khalaf, whose son Sam is also battling leukaemia, told the newspaper.
"He asked for someone to find a flower. He said he needed to make a ring. Omar just couldn't stop smiling, it was really nice."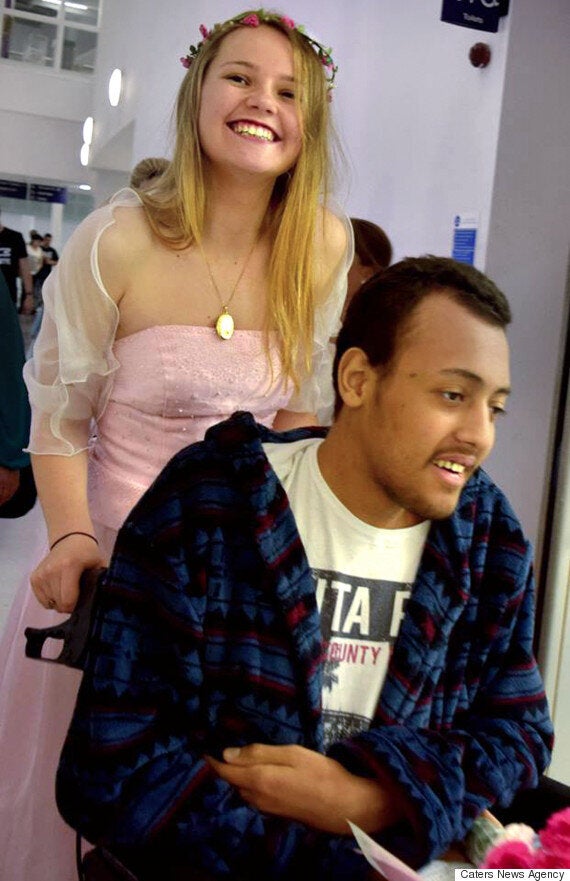 The heartbreaking moment two teenage sweethearts tied the knot only three days before the husband died from leukaemia.
Amie said she was still "absolutely heartbroken."
"Omar wanted to get married before he died and when he proposed I just jumped at the chance. We had talked about getting married but never imagined we would be 16. We thought we would grow old together."
The 16-year-old added: "I knew I wanted to stand by him through it all. He is such a lovely soul, I wanted to spend as much time as I had with him as possible."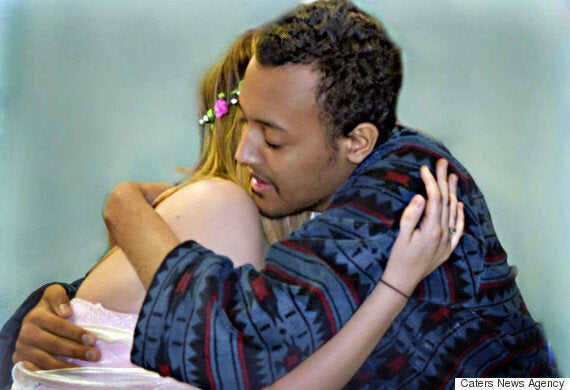 The newly married couple share an embrace
The pair while Omar was in remission, and according to Omar's mother, fell in love at the teenager's 16th birthday party.
"They were in school together and when Omar was first sick and diagnosed in June last year she was a good friend and always visited," Omar's mother Mira said. "He was cleared at the end of October and came home and we had a party for his 16th and that was the day they fell in love.
"Then he was diagnosed again in March and she used to stay over at the hospital with him every weekend.
"The minute she found out he only had days left to live she went to his bedside and stayed there every night."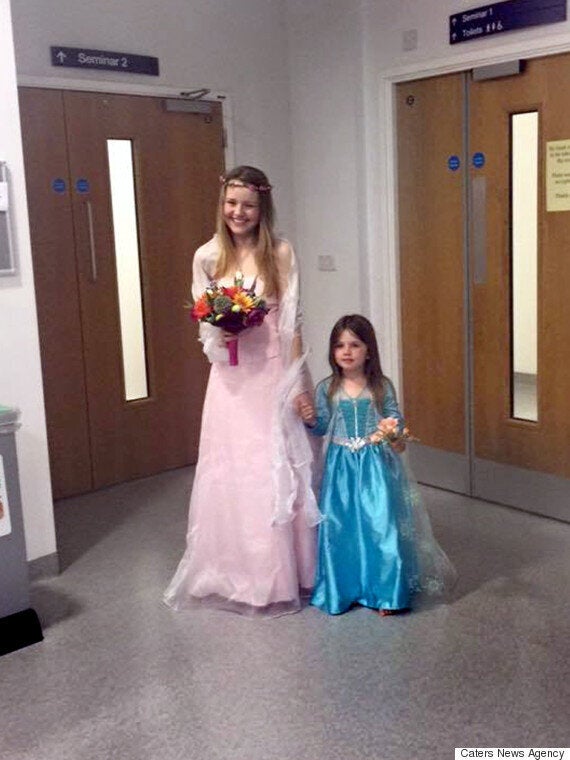 Amie with her bridesmaid Lulu
A Facebook page had been set up to try and find a potential donor, but to no avail. A spokesman for Anthony Nolan said as a result of the publicity, more than 350 people from the surrounding area had signed up to become donor.
The charity's chief executive Henny Braund said the staff were "deeply saddened to hear of the heart-breaking death of Omar".
"Our heartfelt sympathies go out to his family and we are thinking of them at this extremely difficult time.
"Omar was an extremely brave and humble young man who inspired huge numbers of potential donors to join the Anthony Nolan register," he said.
"Consequently, he leaves behind a truly life-saving legacy which will continue to have a positive impact on the lives of others for many decades to come."
Popular in the Community