• 37 dead in terror attacks on two luxury Tunisian hotels
• Six nationalities among the dead
• Local radio claims majority of dead are German and British
• One Irish woman believed to be one of those killed
• At least one gunman armed with a Kalashnikov stormed the beaches
• Weapon was concealed in a beach umbrella
• One gunman killed by police and a further suspect has been arrested
• Deadly attack occurred during Ramadan fasting hours
• 36 people have been wounded
At least 37 people have been killed in terror attacks on two luxury hotels in a Tunisian tourist resort.
Gunfire and explosions were reported on the beach at around midday on Friday between the Soviva and Imperial Marhaba Hotels in the seaside town of Sousse, a popular holiday destination for Britons.
In the immediate aftermath of the attack, Interior Ministry spokesman Mohammed Ali Aroui said one gunman had been killed in a firefight with security forces at the scene, while another had fled.
PHOTOS: Police on Tunisia hotel attack site, dead bodies covered w blankets http://t.co/KQd5FNwhch pics by @MedOmarTN pic.twitter.com/3TvdVnivKT

— RT (@RT_com) June 26, 2015 An injured woman is carried away from the scene
Amid local media reports that a further suspect had been arrested, Aroui later said the gunman killed by police was acting alone when he launched the attack.
There were no details about the nationalities of the victims, but during the holy month of Ramadan Tunisia's Muslim population is less likely to go the beach, so those there would have been predominantly foreign tourists.
Local radio has said those killed in the resort of Sousse were mostly German and British. An Irish woman in her 50s is believed to be one of the dead and Aroui warned the death toll could rise.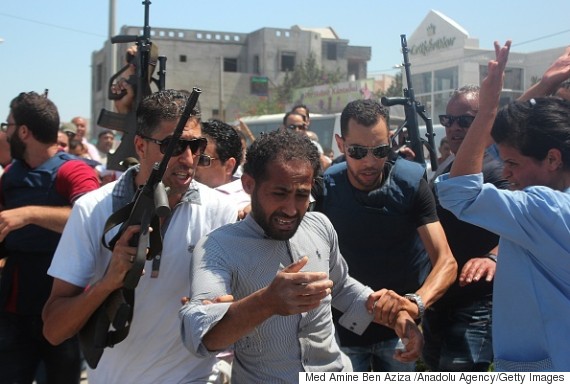 Police were seen detaining this man in the aftermath of the attack
Rafik Chelli, Tunisia's secretary of state for national security, said one of the gunmen was a student from the town where the beach was attacked.
He added the man hid his Kalashnikov rifle under a beach umbrella before opening fire. "He entered by the beach, dressed like someone who was going to swim, and he had a beach umbrella with his gun in it," he said.
British tourist David Schofield told Sky News that he was by the pool when he heard "quite a large explosion".
Gunshots on the beach, mass panic here. Confusion rife. (@ El Mouradi Palm Marina in Sousse, Gouvernorat de Sousse) https://t.co/PJEFK6jS6e

— Gary Pine (@garypine) June 26, 2015
"We heard people saying there were guns on the beach. People were shooting on the beach. People are running around the hotel. No-one has really been told what to do."
Susan Rickets told the channel she heard what sounded like machine gun fire.
Images are circulating online showing a grey-haired man lying face down on a beach in his swimming shorts with blood seeping from an apparent head wound. Next to him lies the body of a woman, covered by a towel. Empty sunloungers can be seen behind them.
Footage shot in the aftermath shows people hurrying to help an injured woman from her sunlounger, gently lifting her off and carrying her to safety.
British tourist at Tunisia hotel describes the scene of terror attack on beach https://t.co/SYUq4hw2VZ

— Sky News (@SkyNews) June 26, 2015
There are unconfirmed reports at least one of the gunmen was wearing a police uniform as a disguise, while other sources claim one of the attackers was dressed in beachwear.
At least 36 people were wounded in the rampage.
Elizabeth O'Brien, an Irish woman on holiday with her two sons in the resort, described how she grabbed her children and ran for their lives when they heard gunfire erupting from one of the hotels.
"We were on the beach, my sons were in the sea and I just got out of the sea. It was about 12 o'clock and I just looked up about 500 metres from me and I saw a (hot air) balloon collapse down, then rapid firing, then I saw two of the people who were going to go up in the balloon start to run towards me - because I thought it was fireworks," the Dubliner told RTE Radio.
LATEST UPDATES: Britons hiding in hotel rooms in Tunisia after gun attacks on nearby beach http://t.co/0MBhUmTA4M pic.twitter.com/qvOqiTyJLm

— Philip Thomas (@skyphilipthomas) June 26, 2015
"So, I thought 'oh my God, it sounds like gunfire', so I just ran to the sea to my children and grabbed our things and as I was running towards the hotel, the waiters and the security on the beach started saying 'run, run run!' and we just ran to our room, which is like a little bungalow."
According to @Jawhara_FM the terrorist was wearing a police uniform as a disguise #Tunisia #Sousse

— AhmEd Hamza (@ahmedhamza87) June 26, 2015
No one yet has taken responsibility for the attacks, though Tunisia has been on high alert since March when Islamist militant gunmen attacked the Bardo museum in Tunis, killing seventeen tourists and two Tunisians.
Sousse is a city on the east coast of Tunisia, about 87 miles (140km) south of the capital, Tunis. Around 1.2 million tourists visit Sousse every year, drawn by the hotels, sandy beaches and culture. Indiana Jones action film Raiders of the Lost Ark was filmed in the city in 1981.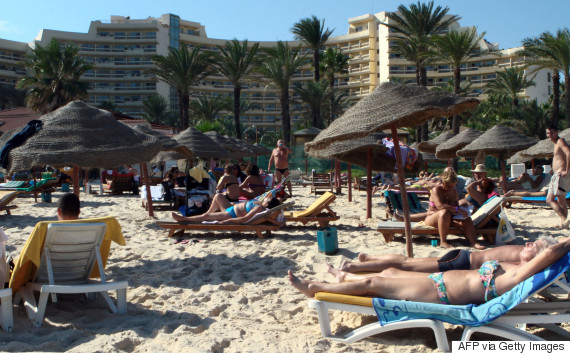 Holidaymakers on the beach under attack (file picture from 2013)
Thomas Cook, which has holidaymakers in the resort, said: "Thomas Cook has been advised of an incident that occurred earlier today in Sousse, Tunisia.
"At this time, details are not clear as to which property(ies) have been affected, with conflicting news reports.
"We are currently gathering information and will provide an update as soon as possible. Our teams on the ground are offering every support to our customers and their families in the area.
"We will continue to monitor the situation, working closely with the FCO and local authorities."
It comes on the same day a man was decapitated and an Islamist flag was raised at a factory in the French town of of Saint-Quentin-Fallavier between Lyon and Grenoble. In Kuwait, a suicide bomber killed at least 25 people at a Shia mosque.
British Prime Minister David Cameron says the government's crisis committee, COBRA, will meet on Friday in response to the attacks in France and Tunisia.
He offered condolences and "our solidarity in fighting this evil of terrorism."
"The people who do these things, they sometimes claim to do it in the name of Islam," Cameron said. "They don't. Islam is a religion of peace."
He said the attackers acted from "a twisted and perverted ideology we have to confront with everything we have."
My thoughts are with all those caught up in today's appalling attacks. I will chair COBRA in London at 4pm.

— Philip Hammond (@PHammondMP) June 26, 2015
Absolutely horrifying news from #Tunisia. Thinking of those affected and families worried about loved ones

— Nicola Sturgeon (@NicolaSturgeon) June 26, 2015