Hundreds of protestors gathered outside the Chinese Embassy in London on Friday to oppose the Yulin Dog Meat Festival.
Demonstrators stood on the pavement outside the embassy from 2pm, holding banners and chanting slogans, while motorists tooted their horns in support.
Up to 10 million dogs are believed to be killed for their meat in China every year and some 10,000 canines and cats, many of whom are reportedly stolen pets still wearing their collars, are killed for the festival.
Millions of people from across the world, including Ricky Gervais and Simon Cowell, signed the petition calling on the Chinese government to stop the festival this year, but it went ahead anyway.
On Monday shocking scenes of dogs cramped in cages and aggressive handling of the terrified animals emerged.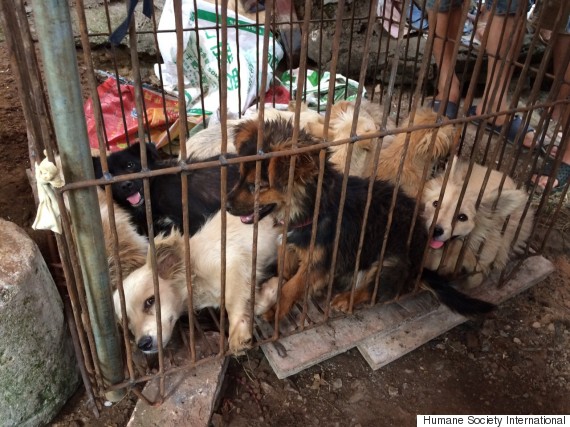 Puppies in cages at the live dog market in Yulin
There is now growing pressure on the Chinese government to stop the festival, which has been running since 2010, from taking place next year.
One of the organiser's of the London demonstration, Dominic Dyer, told the crowd he felt "horrified", along with millions of other people around the world by the dog meat festival.
He said: "It's a horrible, horrible business, and we are here to make our voices heard."
The Huffington Post UK approached the Chinese Embassy for comment but did not receive a response.
Hundreds outside Chinese Embassy in London now Stop Yulin RT pic.twitter.com/KyYR2HWYYY

— dominic dyer (@domdyer70) June 26, 2015
#StopYuLin2015 making noise at the Chinese embassy against horror of Yulin pic.twitter.com/U9WQjUMeXK

— Karen Page (@karenlovesbarns) June 26, 2015
Protest to #endyulinfestival outside Chinese embassy now. People speaking for the voiceless. @rickygervais pic.twitter.com/aiJ9vlISq1

— ANIMAL ADVOCATE Ⓥ (@_AnimalAdvocate) June 26, 2015
#endyulin protest outside chinese embassy London pic.twitter.com/a9xrh8GBx6

— MariaB (@Maria_Wildlife) June 26, 2015
Louie at Yulin protest, Chinese embassy, London - stop the slaughter, stop the torture. pic.twitter.com/sGyLG8GOMu

— Robert Cheney (@Robert_w_c) June 26, 2015
Happening right now. Chinese Embassy LONDON #StopYulinFOREVER #NotoDogMeat @notodogmeat pic.twitter.com/8b4aRE7c6v

— Brett Allan (@buddhaboy74) June 26, 2015
Angry anti yulin demonstrators outside the Chinese embassy. Good on em! pic.twitter.com/r6Tw5oJX0J

— Jasmine Birtles (@Jasmine) June 26, 2015
Beautiful! #Yulin2015 protesters outside the Chinese Embassy. You go guys! 😊 #StopYuLin2015 #dogmeattrade #torture pic.twitter.com/tMBfamjIdD

— Jodi Nicholls (@Evalesco23) June 26, 2015
Thoughts (& support) w anti-Yulin protestors outside the Chinese Embassy today; the slaughter practices = utterly inhumane #EndYulinFestival

— Anne Dye (@AnneDyeResearch) June 26, 2015
#stopyulin come to Chinese Embassy Portland place NOW. Protest 2pm-5pm pic.twitter.com/Eroa1B60Pv

— MariaB (@Maria_Wildlife) June 26, 2015
Similar protests were held outside Chinese Embassies across the world on Friday, with dozens gathering outside the buildings in Dublin and New York.
More than 70 people peacefully protest at the Chinese Embassy in Dublin Ireland. #StopYulin #StopYulinFOREVER pic.twitter.com/QUsIbV68wo

— John Carmody (@Irishveganboy) June 26, 2015
Chinese Embassy in New York! pic.twitter.com/8idqtNO2Bp

— Anita Venturi (@AnitaVenturi1) June 26, 2015
SEE ALSO: