Diddy suffered a rather unfortunate accident while performing at the BET Awards on Sunday night after suffering a fall on stage.
The rapper was one of several big names from the hip-hop community who came together for a group performance of Bad Boy Records' biggest hits, alongside Faith Evans and Lil' Kim.
However, viewers at home were shocked when Diddy temporarily disappeared from view, after falling directly into a hole in the middle of the stage, that Lil' Kim had used to make her entrance earlier in the performance.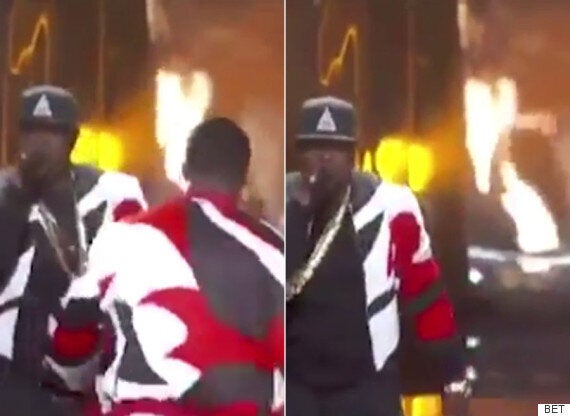 Now you see him... now you don't
Clearly channelling his inner Madonna, Diddy quickly pulled himself out of the hole and continued the performance as if the embarrassing faux-pas never even happened.
What a professional, right?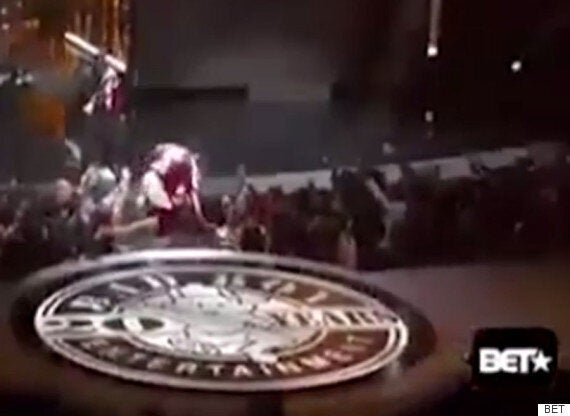 Diddy climbs out of his hole
Perhaps unsurprisingly, Diddy has since spoken about the group performance on his official Twitter page, but left out the part about disappearing into a hole in the middle of his number.
The BET Awards, now into its 15th year, honours the year's biggest contributions to the world of music, TV and film from African-American entertainers.
Nicki Minaj was the big winner on the night, taking home two of the six awards she was nominated for, including the Viewers' Choice Award for her controversial 'Only' music video, which also stars Drake, Lil Wayne and Chris Brown.
Chris also had a successful night, scooping the Best Male R&B/Pop Artist prize, as well as the FANdemonium award.
Diddy is in good company, though, as he clearly isn't the only star to have taken a tumble on stage...
Popular in the Community