Richard Hammond and James May were joined by an unexpected guest during their final 'Top Gear' show on Sunday night, to fill in for the absent Jeremy Clarkson.
SEE MORE:
Making light of the 'elephant in the room' (that would be Jeremy getting booted off the show in the middle of taping the last series, for lamping a producer), the duo filmed their final 'Top Gear' segments without Jeremy, or a studio audience, but with a giant elephant standing in the corner.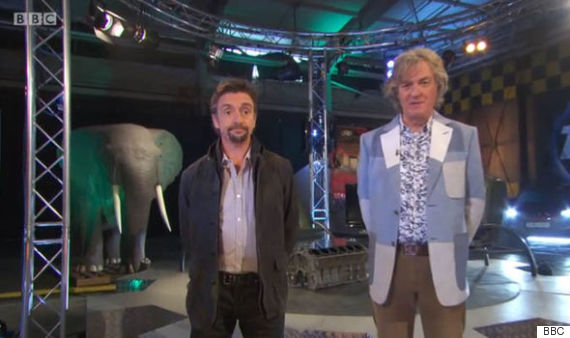 James May, Richard Hammond and a giant statue of an elephant
The last episode of 'Top Gear' was compiled of specially-filmed studio segments, hosted by Richard and James, as well as previously-recorded footage, taped before Jeremy was sacked from the show.
Before it aired on Sunday, Jeremy made one last dig at the BBC on his Twitter page, accusing them of not giving his final 'Top Gear' episode the publicity he deserved.
He wrote: "Strange that BBC News is talking down the last Top Gear tonight. Do they not want big ratings for some reason?"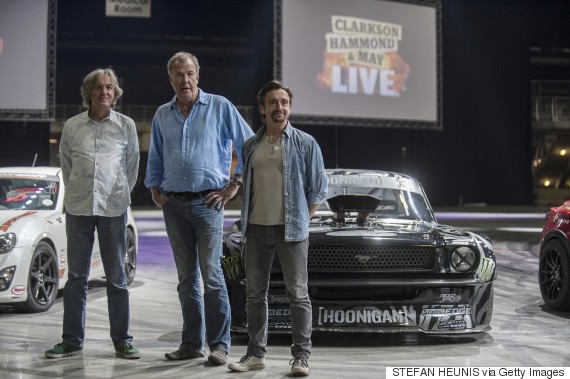 Clarkson, Hammond and May
Clearly agreeing with his former co-presenter, Richard added: "Oh, is it on? Always liked that."
Jeremy later tweeted a message of thanks to his supporters, adding: "So sad and sorry it's ended like this."
Many many thanks for all your support and encouragement over the years. So sad and sorry it's ended like this

— Jeremy Clarkson (@JeremyClarkson) June 28, 2015
After stepping down from the show when Jeremy was axed, Richard and James are now thought to be close to signing a deal to front a new cars show, alongside the controversial TV personality.
Conflicting reports have suggested the trio could be hosting a new show on ITV, or on-demand streaming service Netflix.
Meanwhile, 'Top Gear' recently announced that Chris Evans will be taking over Jeremy's leading presenting role on the show, with co-presenters to be confirmed in due course.
LIKE US ON FACEBOOK | FOLLOW US ON TWITTER