Dave Sims isn't your average Tour de France contender and that's mainly due to his vehicle of choice.
You see, Sims won't be riding the 2,087 mile route on a I've-had-to-remortgage-the-house, high-end bicycle.
Oh no, Dave Sims will be riding the Tour de France on a Raleigh Chopper. How vintage.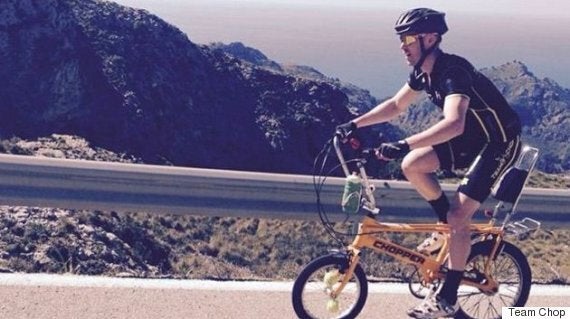 The cyclist hopes to raise money for Help for Heroes because he was inspired by a former service woman and para-olympian who he met in the Majorcan mountains last year.
"I was amazed that she had just hand cycled up one of the biggest mountains in Majorca and she still had 40 miles to get back to camp," he wrote on the TeamChop website.
"For her, it was just another day in her training camp. To me, I just thought 'wow'.
"I will always remember her focus and pure stubbornness that allowed her to climb a six mile long mountain with her arms alone.
"When I'm in a dark place on my sixth consecutive mountain stage I hope to remember our encounter and display the sheer single mindlessness that she demonstrated."
Sims hopes that the money raised from his epic bike ride will help fund specially-adapted sport equipment for service men and women, much like the lady he encountered in the Majorcan mountains.
He said that the success of the Invictus games - a sporting event for wounded, injured and sick service personnel - has inspired him to push the limits when it comes to taking part in physical feats.
For those who think he's slightly bananas tackling the Tour de France on a child's bike, he has five words: "It's NOT about the bike.
"When I read the Velominati 'rule book' about cycling I tore it up," he said. "My coaching ethos is rightly centred on helping an individual to reach their maximum potential on a bike.
"But this is the point, it can be any bike to me... I see as much potential in a 1980's kids bike as a De Rosa Protos. I respect the human on it, not the machine it's powering.
"Without me the bike is nothing."