The Lionesses suffered a heartbreaking defeat on Wednesday when an own goal ended their dreams of a World Cup victory, but the team's efforts have transcended far beyond the football pitch as the players put women's football on the map.
Everyone is talking about women's football, and the reactions - particularly in the face of such a close defeat in yesterday's semi-final - have been nothing but positive.
When Laura Bassett's own goal in stoppage time put England 2-1 to Japan, scuppering the team's chances of reaching the World Cup final, the pain felt by the players resonated across the nation.
A first half penalty by Fara Williams after a dubious fall leveled the score following a Japanese penalty tucked home by captain Aya Miyami.
England came close to extending their lead in the second half, Toni Duggan rattling the bar before Ellen White drew a smart save from Japan stopper Ayumi Kaihori. As extra time approached, a rare break from Japan down the right saw Bassett's clearance loop over Karen Bardsley and into the net off the crossbar.
Women's football is given a fraction of the coverage that their male counterparts receive and yet the men's team has not reached a World Cup semi-final since 1990 in Italy.
While at first many of us would have struggled to have told you when the women's World Cup was taking place, let alone its key players, the nation just cannot stop talking about women's football.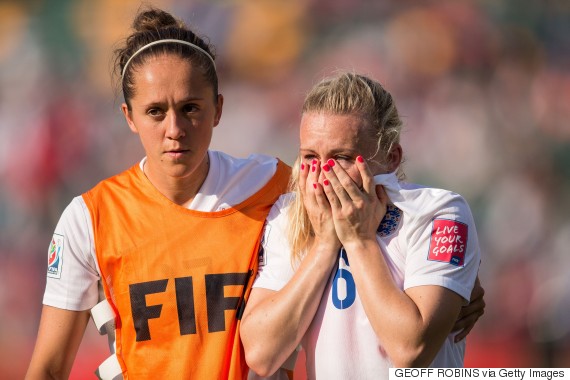 Laura Bassett is visibly upset following England's defeat during FIFA Women's World Cup semi-final match against Japan
The Lionesses' roar during the Canadian tournament travelled across the Atlantic Ocean and English fans, many of whom are new to the competition, have shown their support in the thousands.
The FA's Director of Women's Football, Kelly Simmons, sums it up pretty well:
Heartbreaking way to finish. So proud of the #lionesses. Painful now but a legacy of new fans and more girls inspired to play

— Kelly Simmons (@KellySimmo1) July 2, 2015
The Lionesses are proud of their performance, and so they should be.
Not the result we deserved tonight and its absolutely heart breaking but I have never been prouder of this team and these players #lionesses

— Casey Stoney (@CaseyStoney) July 2, 2015
Football can be so so cruel. 😔😔😔 Absolutely gutted but so proud to be a part of this team. #ENG #Lionesses

— Siobhan Chamberlain (@Sio_Chamberlain) July 2, 2015
The consensus among their male counterparts is also that they should hold their heads high.
Despite the gut-wrenching nature of the defeat, England's women were terrific and should hold their heads high. Great effort!

— Gary Lineker (@GaryLineker) July 2, 2015
congratulations to @england women and @stephhoughton2 because only positives can come from what you've done this summer! #Lionesses #beproud

— Jack Butland (@JackButland_One) July 2, 2015
And the rest of the reactions from both celebrities and the public have been incredibly positive.
You have to feel for the #Lionesses this morning. Ok so close, so unlucky, but what an achievement.You have put #womensfootball on the map.

— Rob Smith (@Rob_KICBOSS) July 2, 2015
Still an incredible achievement to reach semi-finals & one our men's team should be inspired by #Lionesses https://t.co/pWzegWZtJi

— LORNA WARD (@lornawardnews) July 2, 2015
Totally agree!. "Gutted, but this whole #ENG team have helped change the face of women's football 4 the country. Heroes all! #Lionesses"

— Professor Joan Duda (@JoanDuda) July 2, 2015
Absolutely gutted for the #Lionesses. They should all be immensely proud of what they have achieved on and off the field....We all are!!

— Charlotte Edwards (@Lottie2323) July 2, 2015
.@laurabassett6 So proud of you Laura - the whole country is. Hold your head up high and laugh. Next time, eh? #Lionesses we heard you roar.

— Jason Isaacs (@jasonsfolly) July 2, 2015
So proud of our #Lionesses, you've raised the profile of women's football & got to the semi finals, you did #England proud @VauxhallEngland

— Michelle (@ms_shotglass) July 2, 2015
@FranKirbyy heartbreaking yes but so so proud of everything u girls achieved. Women's football has gained respect worldwide ⚽ #Lionesses Xx

— Roz Gray (@RGray46) July 2, 2015
Gutted for the girls and all the staff. Football can be a tough game but they can be proud of inspiring a generation #Lionesses

— Nick Levett (@nlevett) July 2, 2015
Absolutely gutted but the #Lionesses have exceeded expectations. It's 2am and everyone's talking about women's football! #WeCanPlay

— Amber Wildgust (@AmbeRoseW) July 2, 2015
Horrid ending but the fact that I, along with millions of others, are up watching at 2am shows what this #Lionesses team have achieved #ENG

— Adam Wild (@Adam_Wild) July 2, 2015
Speaking after the game, coach Mark Sampson said: "It really is heartbreaking. I think we have to first and foremost congratulate the players for an incredible tournament. Laura Bassett's name is on that scoresheet but she has epitomised the team. She has been courageous, strong and she doesn't deserve that [to score an own goal]."
The 32-year-old Welshman added: "She is a hero, an absolute hero, that is how she will be remembered. I've told them it's OK to cry, they left everything on the field and it's a really tough way to go out. I'm so proud of them. We came here as a huge underdog with the weight of a nation on our back. We had critics and they have inspired a nation and they deserve to go home as heroes."
A crowd of 31,467 watched Japan progress to Sunday's showpiece in Vancouver where the 2011 champions will meet the USA. England lost their opening match in the tournament to France, but fought back with a succession of four 2-1 victories, earning the team a spot in the semi-finals.
Toni Duggan's effort hits the bar! https://t.co/jnrEWbuGr9

#FIFAWWC #JPNENG #Nadeshiko #Lionesses @toni_duggan

— Womens Soccer United (@WomensSoccerUtd) July 2, 2015
You'd think they'd have learned from the #FIFAWWC quarter-finals wouldn't you?! #Lionesses

July 2, 2015
SEE ALSO: