The Libertines have announced the title and release date for their new album 'Anthems For A Doomed Youth', less than a week after their surprise Glastonbury gig.
Pete Doherty, Carl Barat and their bandmates recorded the album in Thailand, where Pete recently completed a stint in rehab.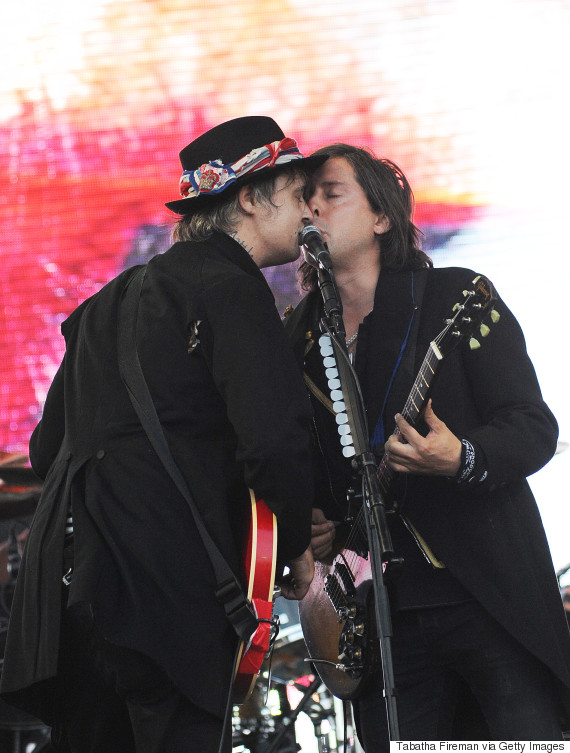 Pete Doherty and Carl Barat's famously tempestuous relationship is on the road to recovery again
The record, which is their first release since their self-titled 2004 effort, will be out on 4 September, days after their Reading and Leeds Festival headline performances.
'Gunga Din', the first single from the album, will receive its first radio play tonight (Thursday 2 July) on Annie Mac's Radio 1 show.
The full tracklisting is as follows:
'Barbarians'
'Gunga Din'
'Fame and Fortune'
'Anthem for Doomed Youth'
'Heart of the Matter'
'Belly of the Beast'
'Iceman'
'You're My Waterloo'
'Fury of Chonburi'
'The Milkman's Horse'
'Glasgow Coma Scale Blues'
'Dead for Love'
'Love on the Dole' (deluxe edition only)
'Bucket Shop' (deluxe edition only)
'Lust of the Libertines' (deluxe edition only)
'7 Deadly Sins' (deluxe edition only)
Last month, bassist John Hassall revealed that the band have been experimenting in the studio, stating that synths will be making an appearance on their new tracks.
"We've gone progressive... No, don't get scared," he joked to NME. "It's still The Libertines, but it would be weird if we came back and just did exactly the same thing."
The band's Glastonbury set has been hailed as one of the festival's highlights, and the Eavis family managed to keep the booking a secret, and their set wasn't confirmed until Carl led the group onto the Pyramid Stage.
Watch their rendition of 'Don't Look Back Into The Sun' below…
LIKE US ON FACEBOOK | FOLLOW US ON TWITTER