With the hot weather looking set to stay, we can't think of a better way to spend the weekend than to invite some friends over for a BBQ.
In the above video, chef Rich Harris from Scoff demonstrates how to make delicious BBQ prawns with aioli that are guaranteed to impress your mates.
All that's left to do is crack open some beers.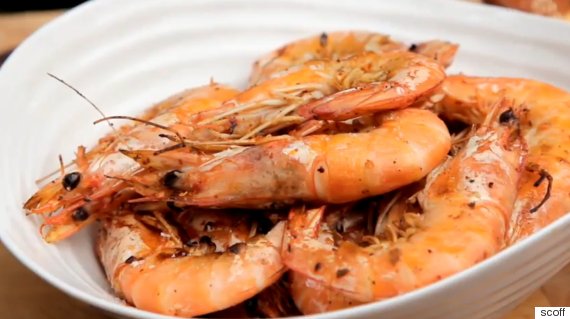 Serves: 4
Prep: 2 hours
Cook: 2 minutes
Ingredients:
24 Raw tiger prawns with shells on
1 tsp chilli flakes
1 tbsp Olive oil
Sea salt
Black pepper
2 egg yolks
2 tsp Dijon mustard
6 cloves garlic, peeled and crushed
150 ml vegetable oil
150 ml rapeseed oil
Juice of ½ a lemon
Lemon wedges to serve
Step 1: Prepare The Prawns
Marinade the prawns with the garlic, chilli flakes and olive oil. Then cover with clingfilm and refrigerate for 1-2 hours, or overnight if possible.
Step 2: Make The Aioli
Meanwhile, put the egg yolks, mustard and garlic in a food processor and blitz until smooth. With the motor still running, add the vegetable and rapeseed oils in a slow, steady stream until the mixture is thick. Add the lemon juice, blitz again and season to taste.
Step 3: Cook The Prawns
Preheat the barbecue to a high heat. Remove the prawns from the fridge and bring to room temperature. Cook the prawns for 1-2 minutes on each side until pink.
Step 4: Serve
Transfer to a platter and serve with the aioli and lemon wedges.
SEE ALSO:

Easy BBQ Recipes: A Welcome Break From Charred Sausages And Burgers