Tracy Barlow is set for a tough time in 'Coronation Street', after finding out that her mum Deirdre is dead.
In next week's shows (from Monday 6 July), viewers will see Tracy and Ken preparing for the matriarch's return, however instead, her friend Bev arrives and reveals that Deirdre has died suddenly.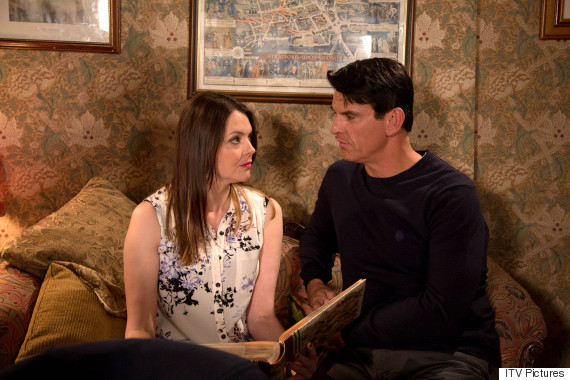 Tracy turns to Robert
The storyline will act as a final farewell to the character, played by Anne Kirkbride, who died earlier this year.
After learning the sad news and attending the wake, Tracy (Kate Ford) feels rejected by Ken and returns home alone.
Once there, her ex Robert arrives, and reveals that he's still in love with her.
As the pair share a smooch, Ken returns home, and let's face it, he probably won't be too impressed.
'Corrie' bosses have revealed a number of details about Deirdre's farewell storyline, and Bill Roache, who plays Ken, has promised an emotional farewell.
"It's very, very strange because we're actually filming the funeral of Deirdre and I had a scene as Ken where I'm given Deirdre's glasses, but of course Annie wore them for 30 years, so you certainly don't need any motivation for the acting," he said earlier this year. "We're always on the verge [of tears]."
Watch 'Corrie' on Monday 13 July to see the scenes unfold.
LIKE US ON FACEBOOK | FOLLOW US ON TWITTER